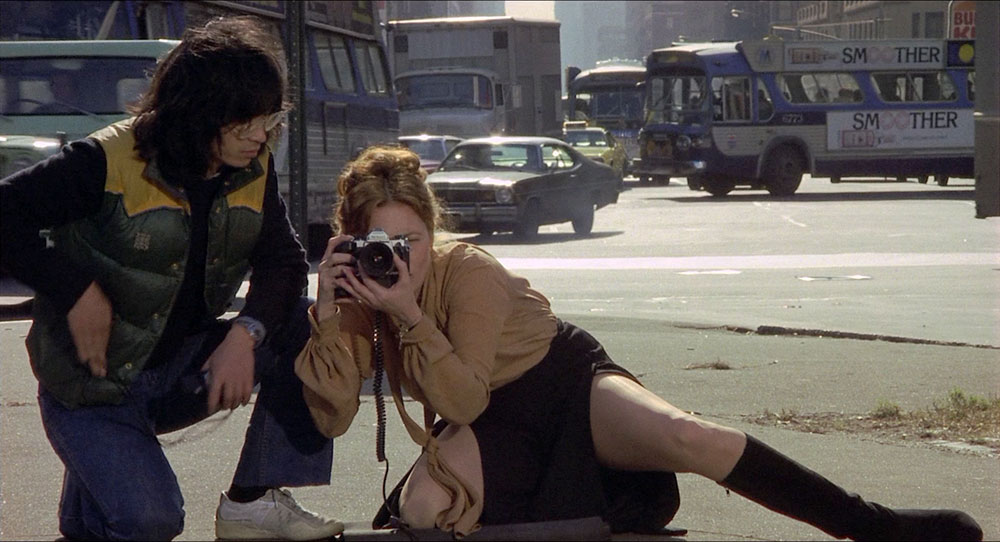 October 5th 2021
Written by a pre-Halloween John Carpenter and directed by a pre-Empire Strikes Back Irvin Kershner, 1978's fashion industry thriller Eyes of Laura Mars (1978) is loaded with talent behind the scenes and on screen (Faye Dunaway, Tommy Lee Jones and Brad Dourif have leading roles), but the star of the show is undoubtedly the dirty streets of period New York City.
The 1970s were rife with location film shoots in New York City, continuing the late 60s trend of character-driven stories that firmly planted themselves in the many disparate neighborhoods of the city. Films like Hi, Mom! (1970), Little Murders (1971), Ciao! Manhattan (1972), Jeremy (1973), and Claudine (1974) put the city in the foreground, frankly portraying it in a time of turmoil for many. But the second half of the decade teemed with genre fare, offering narrative thrills to match the gritty locales on screen. Dog Day Afternoon (1975), Taxi Driver (1976), Fingers (1978) and The Warriors (1979) were not only great films in their own right, but represented the city as well, if not better, than many of the dramas that opened the decade.
Without spoiling much of the fun of seeing Eyes of Laura Mars for the first time, the plot concerns a fashion photographer (Dunaway) who is capable of seeing murders committed as they happen, not unlike the similarly NYC-set The Clairvoyant (1982) or this year's Malignant. But the novelty of Kershner's film is its setting within NYC's fashion world. Eyes of Laura Mars is very much concerned with the act of seeing, and we witness murders carried out in POV, complete with lurid "peeping tom" voyeur moments of models in various states of undress. But it also offers the viewer a behind-the-scenes look at an industry at a specific time and place to which we seldom had a front row seat: the changing rooms, photo shoots and networking of a cultural sphere closely linked to the city it takes place in.
That's not to say that Eyes of Laura Mars is without the exterior grit of its contemporaries. One show-stopping sequence is set in Columbus Circle as Dunaway takes photos of three lingerie-clad models against a backdrop of burning cars. And, if that's not enough, there's a Tommy Lee Jones vs. Brad Dourif foot chase that rivals the famed on-the-ground pursuit in Report to the Commissioner (1975), another great NYC crime film from the 70s. In the pantheon of great New York films, Eyes of Laura Mars is rarely mentioned. It's hard to take that as a slight, considering the thousands of films shot in the city, with hundreds being shot in the 70s alone, but it stands the test of time as one of the very best. You'll at least never see Columbus Circle the same way again.
Eyes of Laura Mars is streaming on Prime