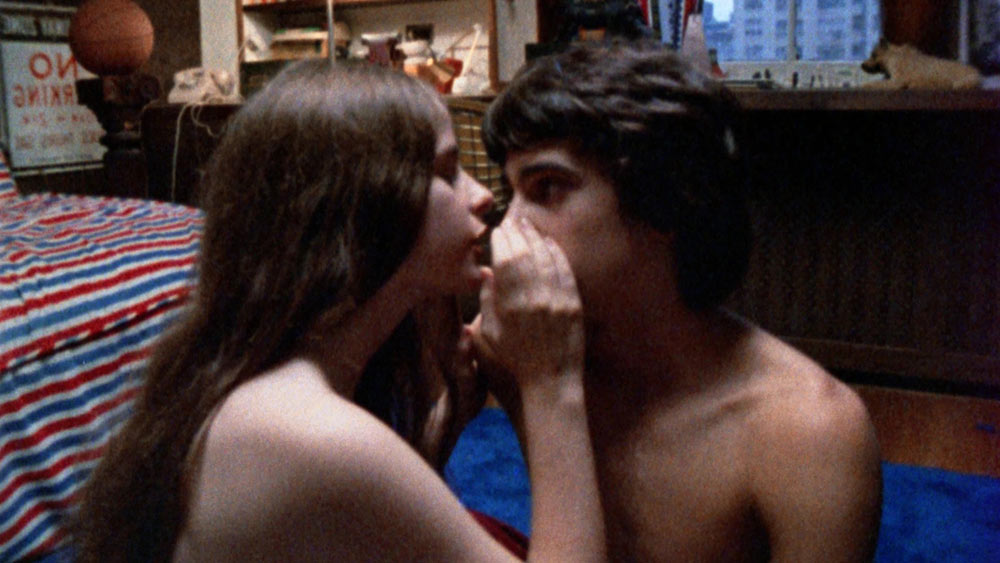 March 15th 2021
Interiors is a column by Cosmo Bjorkenheim that focuses on indoor New York City spaces on screen.
The production history of Jeremy (1973), an understated adolescent love story set mostly in Upper Manhattan, was beset with shabby feuds. Arthur Barron, a Columbia film professor with a couple of documentaries to his name, received writer-director credit, but after Cannes graced the picture with its Best First Film accolade, songwriter Joseph Brooks — credited with penning the film's theme song — publicly claimed to have written and directed "about 80%" of it. A Variety article published on the heels of Jeremy's Cannes nod details the sordid saga of accusations and unprintable insults and lends some credence to the story that Brooks conceived the idea, secured the initial funding, and directed the first six to seven weeks of the film's two-month shoot, only to be dishonorably discharged by an inimical producer.
Whoever deserves final credit — if the question of sole authorship has any meaning in an artform that requires the collaboration of dozens to hundreds of people — Jeremy can be enjoyed on its own merits as an artifact of 1970s New York (or "'Fun City"-era New York," as boutique label Fun City Editions — who have recently released a Blu-ray restoration of the film with Vinegar Syndrome — call it) that highlights aspects not commonly encountered in hackneyed representations of the "gritty" or "seedy" aspects of Mayor Lindsey's Gotham. Although we visit locales as far flung as Brighton Beach and the Belmont Race Track just across the Queens–Nassau border, the action mostly takes place on the Upper East Side and midtown Manhattan.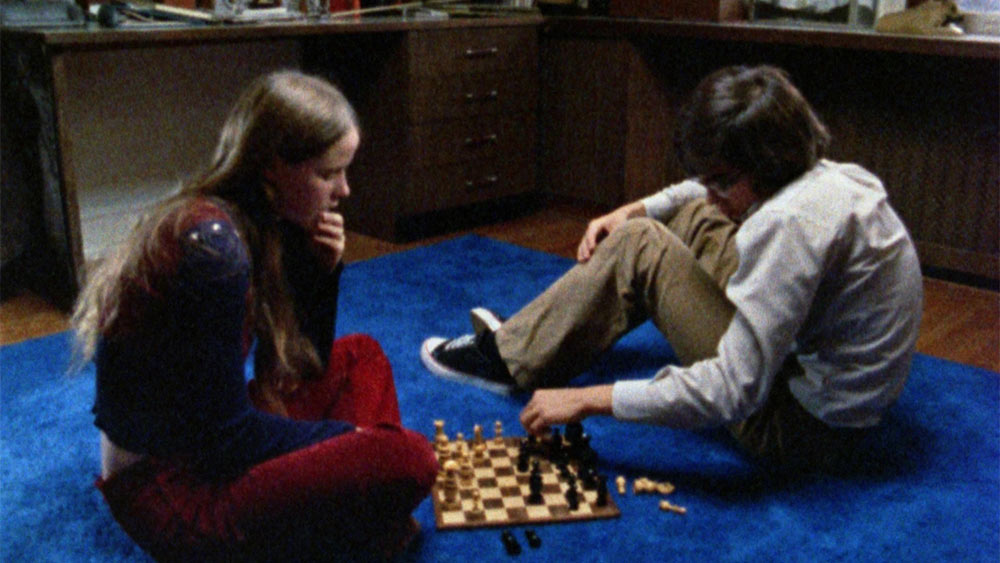 Robby Benson (who, in 1991, would voice the Beast in Disney's Beauty and the Beast) plays Jeremy Jones, a gangly sophomore at a performing arts high school. He spends his days practicing cello, playing basketball, and being berated by his square, adman dad. He falls for Susan (Glynnis O'Connor), an upperclassman dance major who has just moved to the city from Detroit. Both introverts, they hit it off and quietly explore the city together. Being cultured, their outings gravitate toward places like the New York City Center for performing arts on West 55th Street and the Metropolitan Museum. They also go to the movies and play chess in Jeremy's room. To put it bluntly, these teenage paramours are not exactly outdoor types — Jeremy's part-time job as a dog walker notwithstanding.
Thus, Jeremy takes place mostly in the kinds of public interiors that have been mostly off-limits to us for almost exactly a year. (Tomorrow is the anniversary of De Blasio's lockdown order of March 16, 2020, which, presumably wishing to preempt any confusion, mandated the closure of both "movie theaters" and "cinemas.") One of these interiors is the film's central locale: Jeremy and Susan's high school. Secondary education in the city was quite a different experience in 1973 than it was in 2020 — dining halls, sports, recitals, camaraderie — and it's only now, in the coming weeks, that some of that will start coming back. I get a pang of nostalgia when I see the drab interiors of a New York City public school, the shades of beige and celery, the worn linoleum, the reinforced glass. Paul Goldsmith's grainy 16mm cinematography adds to the overall griminess.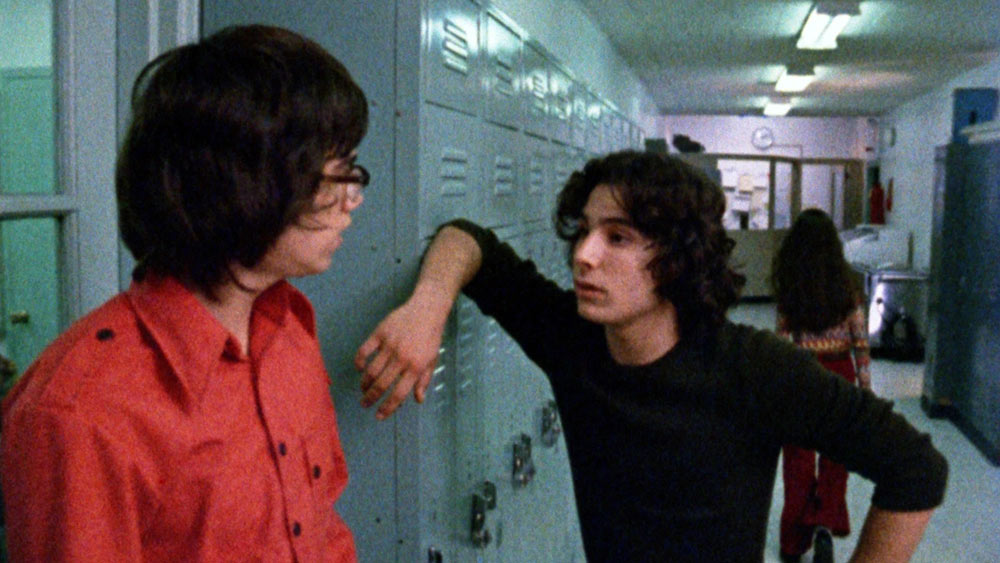 Aside from school, where do these privileged teenagers like to hang out? Before Jeremy gathers up the courage to speak to Susan, he stalks her in the vicinity of their school (it's implied that they attend the famed High School of the Performing Arts on West 46th Street) and near her Upper East Side home (somewhere between Park Avenue and Fifth Avenue). At one point he follows her into a big record store where she browses through their substantial "International" section. I knew that identifying this store would be a challenge, not least because Goldsmith's tight framing only allows us a brief glimpse of the facade and the neighboring building. There's an AFL-CIO office right next door, and next to that a parking garage. I spent hours scouring PDFs of archived Yellow Pages for labor union offices and record stores with adjacent addresses, but came up with nothing.
I finally resorted to asking my dad, who lived in Manhattan in the 1970s. He said it sounded like the old Sam Goody, which used to be at 235 West 49th Street. And sure enough, the block still looks almost exactly the same. The parking garage is still there, and next to that the Ambassador Theatre, whose marquee now advertises Chicago (which looks like it'll reopen at the end of May?) but in Jeremy it can be glimpsed bearing the title Ain't Supposed to Die a Natural Death, a spoken-word musical by Melvin van Peebles that played there from November 17, 1971 to July 30, 1972. The former Sam Goody itself now houses a boutique luxury hotel.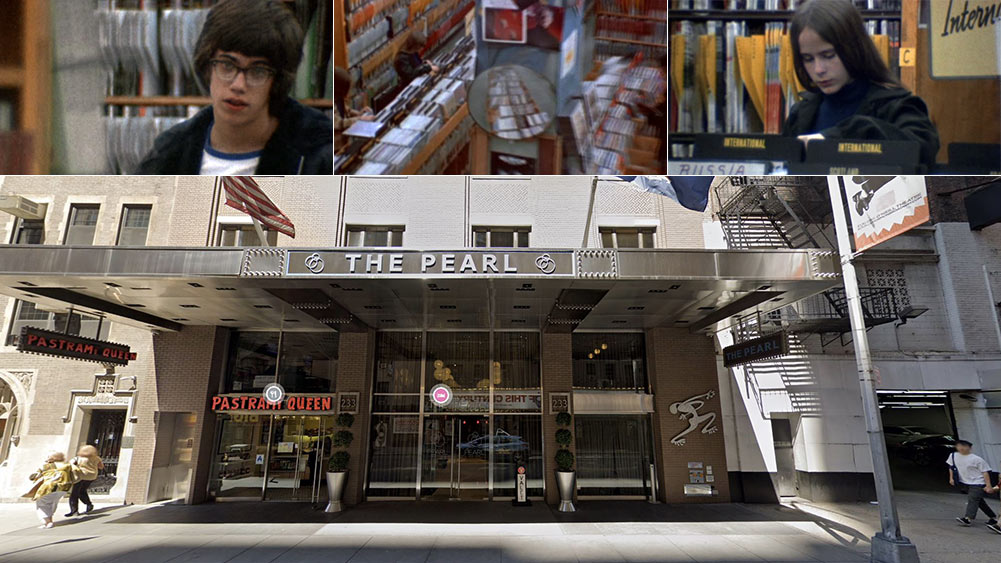 A good deal of Jeremy's time is spent at his cello teacher's apartment at 3145 Brighton 4th Street, right by the landmarked Riegelmann Boardwalk. An avuncular but stern man, the teacher (Leonardo Cimino) forces Jeremy to confront the hard truths of his avocation: "There's nothing wrong with being a good musician. You don't have to be great. Not everybody can be great." He gives Jeremy the kind of mentorship that must have become challenging when music lessons were shunted to Zoom, taking walks with him and encouraging him to candidly discuss his life choices and emotional well-being. "If I have to sacrifice a little warmth in the way I talk to you, you mustn't think it's from a lack of affection," he tells Jeremy. "Sometimes I think it's a lot easier to be a friend than a teacher." The music room feels the way I imagine a Manhattan psychoanalyst's office to feel: stuffy and dark, with knick-knacks from Africa and Oceania tastefully placed on shelves and mantels. This kind of intimacy is impossible to achieve remotely, and I imagine cello students and analysands will welcome the possibility of returning to these therapeutic burrows.
Jeremy has little to do with the way the thematic territory of Upper Manhattanites' foibles would later be retrodden by Woody Allen, but the jingle composer who claimed to have directed it, Joseph Brooks, also had a history of sexual assault that eventually caught up with him. (Brooks committed suicide in 2011 after being indicted for assaulting 13 women he claimed to be auditioning.) Whether Brooks's possible authorship condemns Jeremy to the limbo of good-art-by-bad-people, I'm not in a position to say (nor do I think it's a particularly interesting question), but it doesn't make it any less interesting as a document of a time and a place.