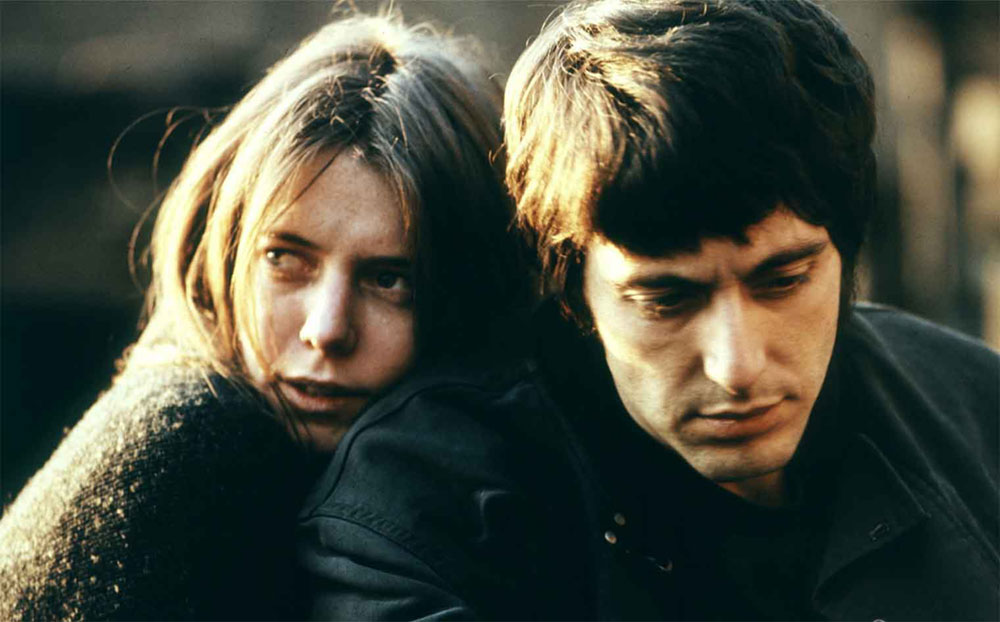 September 12th 2021
Two pairs of lost lovers. Heroin bags, needles scattered on the streets. Grimy New York in the early 1970s, before the neoliberal cleanup.
Two distinct New Hollywood masterpieces are in the spotlight again: Jerry Schatzberg's The Panic in Needle Park (which screens at Fotografiska tonight for its 50th anniversary, with Schatzberg, DP Adam Holender, and actress Marcia Jean Kurtz present for a Q&A) and the dearly departed Ivan Passer's Born to Win (one of the highlights of the Criterion Channel's "New York Stories" program).
"I write words that translate into pictures," Schatzberg told me in a profile I wrote on his work in 2019. This may be why what he and Puzzle cinematographer Adam Holender bring to The Panic—and what then-newcomer Al Pacino (Bobby, the strung-out boyfriend) and Kitty Winn (Helen, the strung-along girlfriend) bring to their roles—transcends the easy sadism and misery of the script by Joan Didion and John Gregory Dunne, who look down on the addicts from a troubling pedestal as intrigued tourists instead of messy, involved, level-plane observers. (When asked whether Schatzberg liked her dialog, Didion quipped, "He doesn't like any dialog!") Schatzberg is not interested in druggy expressionism à la Preminger's Man with the Golden Arm or the pyrotechnics of morality in Requiem for a Dream. A wayward outsider and romantic in the Goethe-Arbus lineage, he is more attuned to the Gothic, intimate dimensions of the relationship between Bobby and Helen, two addicts whose codependency becomes a shocking oasis, preferable to the spying, cheating, and scheming of the shitty cop-run NYC that despises love. Winn, in particular, is unforgettable. She won the award for Best Actress at the 1971 Cannes Film Festival for her role as Helen, and watching her eyes you understand why. Emily Condon evokes it best: "When her eyes dart around—they always seems to be one step behind—or she crumples the soft area under her chin, it's as if her middle-American hope, humility, and wholesomeness converge at the same moment that she discovers the sensation of real fear. This deer-in-the-headlights aura breaks one's heart at first, but by the time Helen's into an $80-a-day habit, we wonder whether we've been duped. In the end, it's impossible to say." Besides thankless walk-on roles as Ellen Burstyn's best friend in the Exorcists, Kitty Winn never had another part as deep as Panic—another failure of the limited minds of Hollywood who didn't know what to do with weird, unflashy geniuses like her, and Schatzberg.
Panic is forever at odds between its private snatches of grace and the looming threat of grandeur and Tragedy, but Born to Win has no such problems. Light, scrappy and unruly, Passer's junkie film never behaves like one: no close-ups of needles going into arms, no straight-ray descent into grimness. George Segal—in his most energetic and devastating performance next to Altman's California Split—is JJ the Hairdresser, divorced from Paula Prentiss, who has lapsed into a $100-a-day heroin kick. There's love, but it's leagues from the suicidal, bashing-heads-against-the-wall type between Kitty and Al; rather, Born to Win's romance scampers, thanks to Karen Black's unaddicted Parm, a bourgeois post-hippie who can't help but fall for the charming JJ. There's such unconventional levity-tragedy to JJ and Parm's chemistry, which matches the spirit of other mixed-mode "comedies" of the period (Shoot the Piano Player, Manchurian Candidate, Bonnie and Clyde, Husbands). One minute, JJ and Parm are driving out to some Long Island beach in bashful-prom-date mode, lit by the cloud-shrouded Sun in a divine two-shot—Segal: "I love our, the smooching, like, the necking quality of it..."—and in the next minute, Parm cradles a white-faced, sweating JJ in withdrawal on the most grey-skied beach ever shot (before Kaurismäki). There's a particular subgenre of U.S. films from this period that I adore: Europeans in exile (especially from Eastern Europe) who go to Hollywood and find no difference between tragedy and comedy, who bang out bizarre, rhythms on cliché Hollywood plots and refresh one's understanding of struggle, humanity, and love in the time of Amerika. Milos Forman and his Taking Off adores the square parents and the hippie kids in equal measure, Jan Kadar and Bill Gunn tear the sentimental angel genre apart and forge a new Black-Jewish alliance with The Angel Levine...and Ivan Passer gifts the audience dank-dark laughs before turning hard-left into harsh reality.
The Panic in Needle Park screens tonight at Fotografiska with Winn, Schatzberg, and cinematographer Adam Holender in attendance for a Q&A moderated by Carlos Valladares. It and Born to Win are both streaming on the Criterion Channel, and the later is also on Prime, Paramount+, and other platforms.