Featured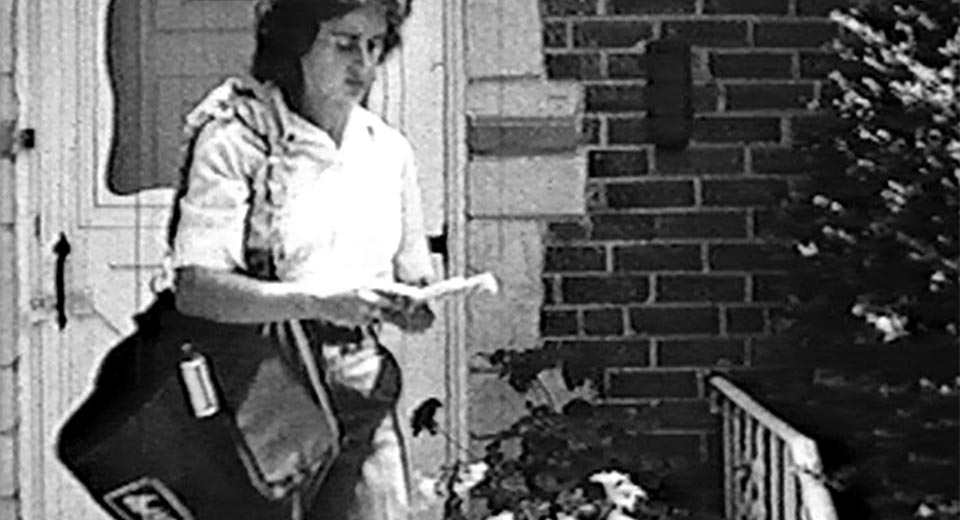 August 22nd 2018
Tonight a rough cut of JoAnn Elam's never-completed film Everyday People screens along with Kevin Jerome Everson's Company Line at Participant Inc as part of a series of free public programs leading up to the opening of the exhibition A new job to unwork at, curated by Andrew Kachel and Clara López Menéndez.
Elam shot Everyday People over the course of the ten years she worked as a letter carrier for the US Postal Service (and continued to work on it after being fired from the post office for insubordination). Elam is perhaps best known for her films Rape (1975) and Lie Back and Take It (1982). Everyday People emerged out of her own experiences working for the postal service, along with her reading of the landmark study of work under capitalism, Labor and Monopoly Capital: The Degradation of Work in the Twentieth Century, by Marxist economist and sociologist Harry Braverman. Elam responded to the ways in which Braverman traced increasing automation of the workplace and control over workers, as capitalism developed. An active participant in the postal workers union and working during the Carter and Reagan years, Elam, who took part in a huge postal strike in 1980, keenly felt this increasing control over workers under the neoliberal economy. To Braverman, Elam would add her own experiences as a worker and insights into race and gender, along with those of her coworkers.
The full Everyday People project exists in the form of 250 fragments of film, video, and audio elements, as well as extensive notes, at the Chicago Film Archives. The film screening tonight at Participant is the closest thing to a film in completed form – a 22 minute rough cut, assembled from 16mm and video footage, found in the archives on VHS tape. The result is a captivating fragment of the "avant-garde film with a working class … ideology" Elam spent years constructing. Elam wanted to make a film her own coworkers would want to see, and the rough cut of Everyday People is indeed a joy to watch. The film, as it exists, is largely narrated by the postal workers with whom Elam worked. As Beth Capper notes, writing for Art21, the approach Elam took in seeking out racial and social diversity among her narrators "was progressive for her time and often out of step with other self-proclaimed white feminists." As Elam writes in her notes for the film, "The narrators of the film are Black, Puerto Rican, and/or women. … Because of the choice of narrators, issues of racism and sexism are often brought out." Added to the voices of her coworkers is the occasional, goofy "mailman"-themed pop song on the soundtrack. (Elam had intended to include the Sly and the Family Stone song, "Everyday People," on the soundtrack as well, but failed to secure the rights to it.)
The pop song also plays an important role in Everson's film,which also features a multiplicity of workers serving as narrators. In this case, they narrate stories from the "Company Line," one of the first predominantly black neighborhoods in Mansfield, Ohio, located close to an old steel mill. Many of them settling in Ohio from Alabama and Mississippi, together they provide a portrait of the legacy of the Great Migration, and illuminate the ways in which everyday life and community (in this case, a particular African-American community) are shaped by labor, its demands and what opportunities it sometimes affords. Together, both films raise intriguing questions about how a life or a community can be shaped in and around work.