Featured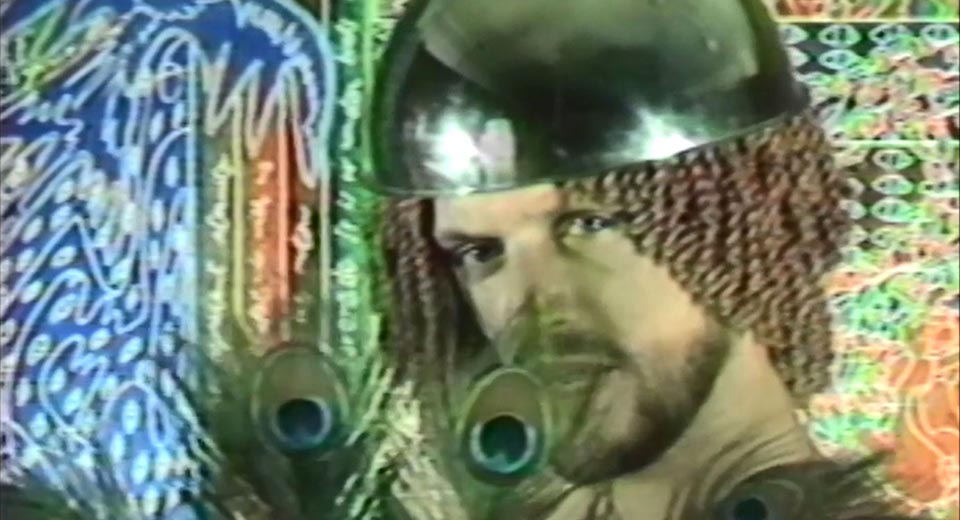 October 29th 2018
Stephen Varble was a marginal—but by no means insubstantial—figure of the downtown. Through the '70s, he built a brief but brilliant reputation with his gender-confounding street performances, costumed by elaborate gowns stitched from food waste and other refuse. Picking up the mantle from fellow provocateur-mystic Jack Smith, Varble would deliver unauthorized tours of downtown galleries and stage "gutter art" interventions outside banks, boutiques, and other luxury outposts. He had exactly two exhibitions of his work in his time: at his own loft, and a hilariously self-destructive stint at Brooks Jackson Iolas gallery in 1977. He retreated from art-world public eye not long after and passed away of AIDS-related illnesses in 1984.
Now, Varble gets a re-evaluative SoHo homecoming with the exhibit Rubbish and Dreams: The Genderqueer Performance Art of Stephen Varble at the Leslie-Lohman Museum of Gay and Lesbian Art, the most comprehensive examination of his work to this point. Put together by art historian and curator David Getsy, it collects much of the known documentation of Varble's performances. (The last of his costumes was destroyed in Hurricane Sandy.) It reveals Varble to be a spinner of tall-tales who purported to be a disciple of Liberace and admired by Hubert Fichte and Tina Turner alike; a forerunner of gender-fluid, gender-fucked, and anti-gentrification performance art; and a figure who juts out into all sorts of curious art-historical threads, as a collaborator of Fluxus artist Geoffrey Hendricks, assistant to young Douglas Crimp, and a contributor to Andy Warhol's Interview magazine, amid other chapters in his career.
Perhaps the crown jewel of the show is assorted footage from Varble's uncompleted video epic Journey to the Sun, excerpts of which will be screened tonight as part of the Museum of Modern Art's Modern Mondays. As Varble retreated from his performance antics he became involved with a man named Daniel Cahill,a former merchant marine and the one-time proprietor of Dharma Book Company, a mid-'60s publisher of self-actualization texts related to Subud, its founder Muhammad Pak Subud, and the Gurdjieff movement. Cahill apparently nurtured Varble's messianic impulses and the two began to hole up in Cahill's apartment on Riverside and 100th, conspiring to initiate religious insurrection via video gospel. They inaugurated what they called the Happy Arts School of Manuscript Illumination, a troupe of collaborators who assisted with acting and set design duties, creating intricate sets (in some cases using the Dharma paperback backstock as material) and other ephemera.
Journey to the Sun is at once an allegory for Varble's life and ultimate disillusionment with the art world, and a fantastical odyssey through his cosmology, including ruminations on religion, history, and Greta Garbo. Varble edited the video himself on U-matic decks in Cahill's apartment, and worked with composer Robert Savage on its disarming intermittent score on then-new digital synth, alphaSyntari. Three and a half hours of footage apparently exists, less than one-third of the intended final product; one hour will be presented at tonight's screening. Lest its esotericism end up off-putting instead of enchanting, David Getsy will be present for plot explication and discussion with Stuart Comer. Tonight's screening and its run at Leslie-Lohman make for the first public exhibition of this work, to be filed somewhere between Jack Smith's latter-day home productions and the Voynich Codex.