Featured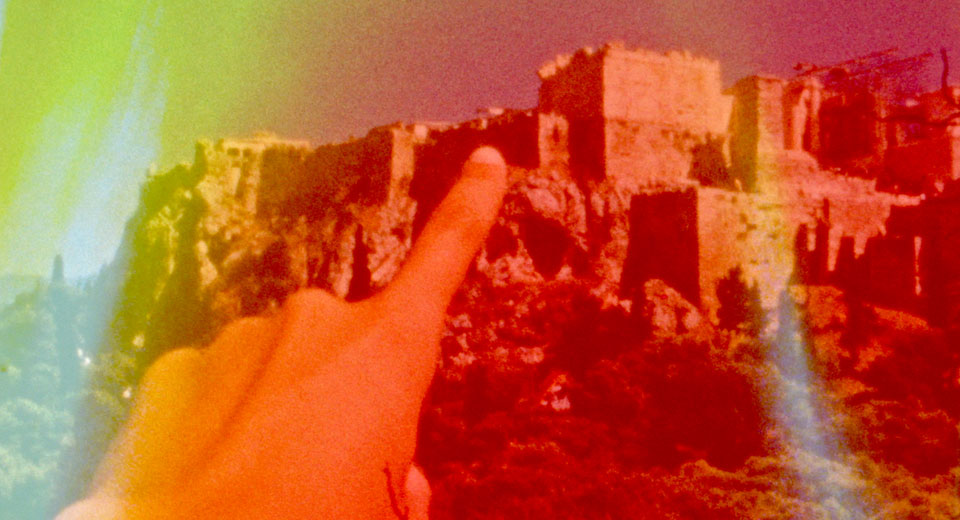 May 2nd 2019
Ellipsis, a new quarterly moving image series, debuts Saturday at Spectacle Theater with Refractions, a selection of four short films that reinvigorate the language of landscape. Curated by Mariana Sánchez Bueno and Ehm West, Ellipsis aims to connect moving image works across languages, either aesthetic or literal, and shift conversations of arthouse cinema beyond the Western canon. Ellipsis will take place every four months throughout New York City, with a first set of screenings this May. Additional screenings this month include a double-bill of Jonathas de Andrade and Kevin Jerome Everson at Center for Performance Research on May 10 and another to follow with Basma Alsahrif and Jorge Jácome at Light Industry on May 15.
In Refractions, each artist uses specific technicalities of their medium to alter the possibilities of how the image is seen on screen and the ways it is experienced within the cinema space. In "El Laberinto"'s montage of hand-held footage and clips of the american soap opera Dynasty, Laura Huertas Millán mediates on the insolvency of dreams built on smoke and mirrors. Following a man through the southern jungles of Colombia to the ruins of drug trafficker Evaristo Porras's palace, viewers learn of his experiences working for Porras and are left to connect what little they can from the house's scattered underpinnings. By pairing 16mm with found television footage, Huertas Millán shifts the immediate feeling of nostalgia often produced by witnessing film to one of distance and curiosity.
A similar feeling returns with Nuotama Bodomo's short film "Boneshaker." Both works could operate on different planes, yet together they achieve a delicate balance mediating between the pointed textual offerings of "El Laberinto" and Bodomo's open endedness that stresses a similar longing for closure. "Boneshaker" follows a West African family as they make their way through the American south to the church they hope will heal their problem child. Approaching the Church her parents hope will heal all wounds, the young girl breaks free again and again to run unafraid into the woods surrounding them. With little dialogue, "Boneshaker" unearths the nuances of family, the space that brings them together and the space that keeps them apart.
Turning from narrative to myth, the immersive sonic experience of Basma Alsharif's "DEEP SLEEP" draws on the fallacy of monument and ruin as opposite. Viewers are immediately implicated in an experience of what Alsharif coins "bi-locating," using binaural resonances to shift one's geographic location. Touring the monuments of Malta and Greece, Alsharif uses the sonic space from Gaza–a home Alsharif cannot access–to render the affinities between ancient civilizations not only seen but felt. Through the physical feeling of Alsharif's work, the act of sighting can embody the act of being within "the site."
"Ojos Para Mis Enemigos" uses the transformation of site more literally, as a point for the reclamation of culture, religion, and nature. Beatriz Santiago Muñoz studies the physical leftovers of a US-controlled military site in Puerto Rico, a man-made structure and product of US colonialism, that are overgrown with plants and animals that now claim homes there. This becomes a site of ritual in which santero and activist Pedro Ortiz may collect flowers for spiritual offerings. Refractions brings these works together to highlight the importance of geography not only as a structure for understanding one's place in the world, but for questioning its boundaries and altering its forms through sound and image.