Featured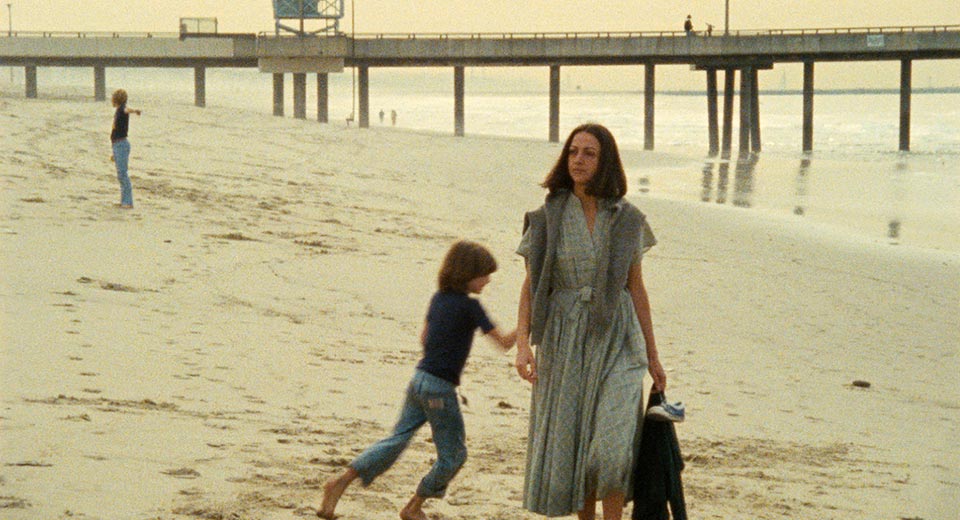 May 26th 2017
Heads up! The first printing of the newly released Screen Slate book is going fast, and we're going to do another round of shipping today. Order now!
"What is the shadow of Los Angeles?" Agnès Varda asks—and then answers—in her rarely screened 1981 self-proclaimed "Emotion Picture" Documenteur . Running just over an hour, this one is short and bittersweet; perhaps her most melancholy but by no means heavy-handed, the somber tone offset by her signature concoction of curiosity, sensuality, and love. The film follows a freshly transplanted and newly single French mother and son who struggle to find a home under the gloomy skies of a less-than-glamorous, almost anti-Los Angeles. But beyond the simple premise of the tragic-heroic single mother and her fatherless child, Documenteur is a quiet exploration of solitude, tenderly depicting the process of learning how to be alone.
Varda embraces the feeling of aloneness fully and non-judgmentally, and the result is satisfying not because it is dramatic—quite the opposite, in fact—but because it is honest. Nowhere in the film is this more apparent than when its fictional protagonist records a voiceover narration which, on rewind, sounds suspiciously unlike herself; it is Varda whose voice we hear on playback, calmly asserting "—art imitates life, or life imitates art" for anyone alert enough to catch it. This is an important clue into the meaning of the film: Documenteur is a film told from a personal albeit coded perspective, personal enough for Varda to insert herself directly into the film in this way and more, coded enough for anyone who isn't familiar with her cinematic sleight of hand to miss it completely. As with all of her titles, the word "Documenteur" itself is a pun to be decrypted ("menteur" means "liar" in French). And while not required for comprehension of the plot, the fact that Varda herself was a French mother who had then recently separated from her husband—and cast her own real-life son in the role of the fictional one—certainly enhances one's appreciation for the candor and clarity with which this story is told.
I recently had the heart-stopping honor of interviewing Varda; one of the things she reiterated was the importance of "going against the cliché." This is an ongoing theme in all of her work, but especially apparent in the films shot in California in the early 1980's. For Varda, confronting cliché "pushes us to be deeper in what we feel," or asks the viewer to reconsider the relationship between reality and fiction; between illusion and disillusion; perception and representation.
Documenteur screens tonight at BAM Cinématek with Uncle Yanco as part of their ongoing Varda in California Series, now playing through June 13.