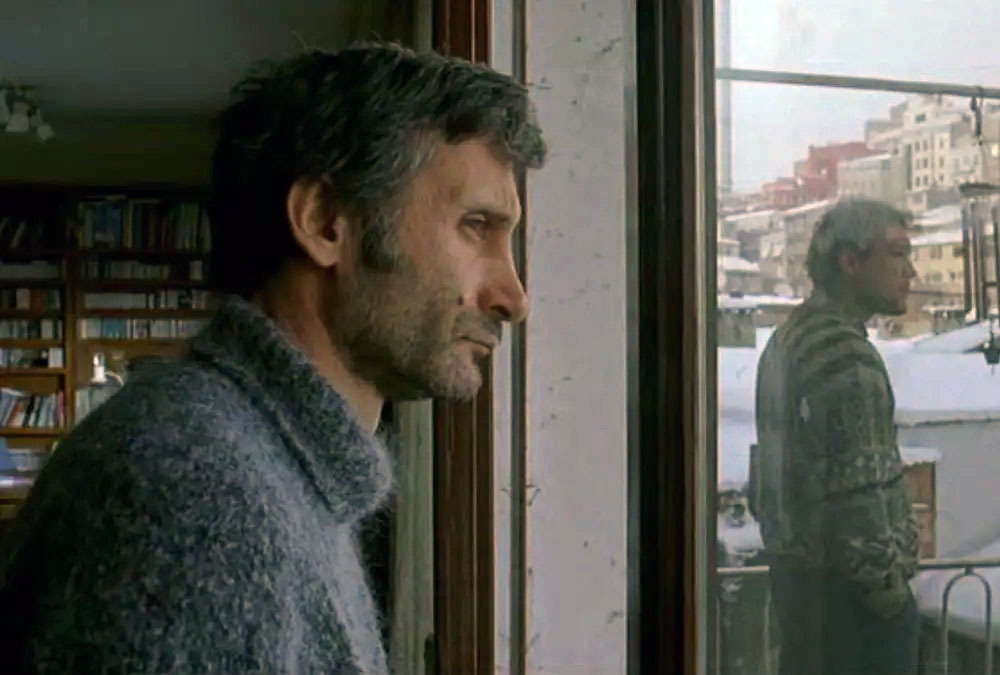 May 23rd 2022
Mahmut has given up on art. The divorced middle-aged photographer (Muzaffer Özdemir), and center of Nuri Bilge Çeylan's Distant (2002), dismissively tells a table of friends that "photography is dead." "But have you already forgotten," one friend asks, "our climb to the summit of Reshko to get a better shot of the White Valley? You used to say then you'd make films like Tarkovsky." Later, in the Istanbul apartment where he spends most of his time, Mahmut turns off a Tarkovsky film to watch a VHS of pornography instead.
Mahmut's solitary life is interrupted by Yusef (Mehmet Emin Toprak), a distant cousin from his village who arrives at the apartment for what's supposed to be a quick stay and a search for easy work. Though he does initially try to get his life together, Yusef is listless and messy and soon becomes an annoyance to Mahmut. But what the relatives lack in familial warmth, they share in ennui. For both men, the opportunities that might change their lives—practically and artistically—are too far out of reach or not worth the hassle.
The film begins with a wry tone, surprising, virtuoso shots, and mischievous editing. Çeylan, who co-wrote, shot, and co-edited the film, seems to be playing a methodical game that revels in life's unexpected nuisances. But in the second half, the director becomes less playful as the narrative trudges forward into a hopeless future.
The film's midway tipping point comes on a work trip in the Turkish countryside. Mahmut stops his car and admires a view of rolling hills bathed in golden, afternoon light. "God, what a place to photograph," he says, with a rare expression of excitement on his typically sullen face. But when Yusef, who is assisting him on the trip (the only time we see him work), asks if he should set up the camera, Mahmut says "fuck it" and drives on. There's no point.
Distant screens through May 26 at Film Forum.