Featured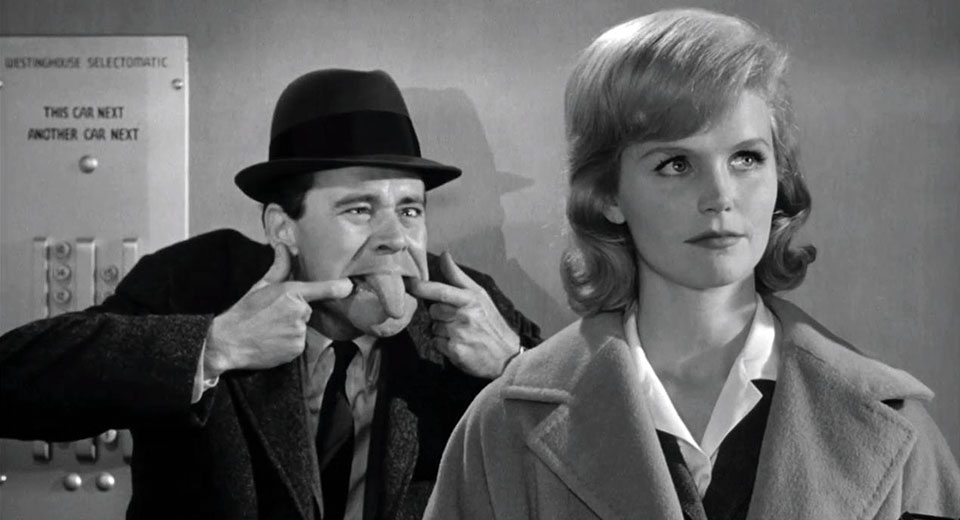 December 25th 2019
Blake Edwards, known for charming comedies Operation Petticoat (1959) and Breakfast of Tiffany's (1961), branched into dead-earnest social issue terrain with 1962's Days of Wine and Roses. Unforgiving Times critic Bosley Crowther was uncommonly generous to Edwards's first foray into high drama, calling it a "ruthless visualization of an alcoholic's fate" and calling Jack Lemmon and Lee Remick's performances "brilliant." Why Crowther consistently dismissed genius and chose arbitrary recipients for his rare praise is a mystery I don't expect to solve; Lemmon and Remick's performances are far from mediocre, but they're decidedly the least convincing part of this grueling phenomenology of alcohol addiction.
Lemmon is a PR man, Remick a secretary. He manages to insult and neg her into agreeing to go to dinner with him. At the restaurant she declines to order a drink and he pops the fatal question, "So... what do you have against booze anyway?" Fast forward five years and they're unhappily married, chainsmoking and sweating in the glare of Merrie Melodies, neglecting a daughter in a crib she's outgrown, and refilling tumblers with habituated indifference. Then one day Lemmon sees his reflection in a display window and has an epiphany. "I'm a drunk and I don't do my job!" he bellows and embarks on a steep climb toward sobriety. Along the way he'll be committed to the violent ward, attend his first AA meeting, and relapse several times, while Remick's trajectory is more unidirectionally downward.
In a movie that boldly rejects subtlety, Lemmon and Remick's broad performances outpace even the screenwriting. Billy Wilder (the undisputed authority on Lemmon, having made seven films with him) once said, "Jack Lemmon is a ham. [He] always gives you everything,'' and nowhere does he give more of everything than here, from his manic vaudevillian stock persona to a shrieking DT-beset psychiatric inpatient. But the true tragedy isn't how his character corrupts Remick's character with alcohol; it's how he himself corrupts Remick with his acting. Her performance starts out measured and nuanced, but by the end of the second act she's Smeagol-like, clutching at a fifth of scotch with a maniacal glare that would put Vincent Price to shame. Alcoholism and acting seem to have one thing in common: they give you an inflated idea of your own importance and a warped notion of how other people see you. Jack Klugman's turn as Lemmon's compassionate AA sponsor is the performance with the most authentic gravitas, recognized as such by actual recovery support groups.