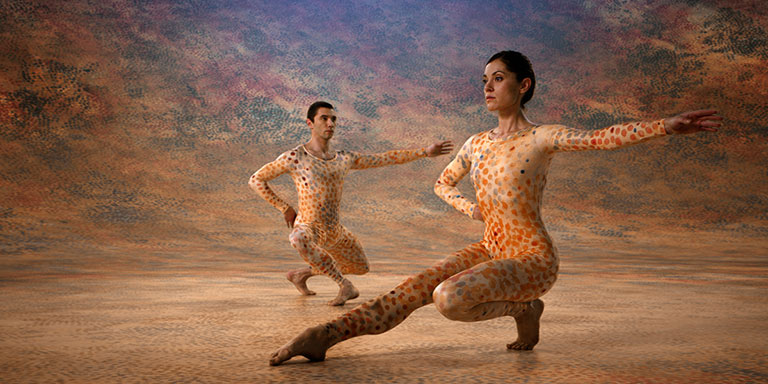 September 25th 2019
I wasn't aware dance documentary Cunningham was 3D until handed a pair of glasses in the theater. As if to stave off cries of gimmickry, producer/writer/director/editor Alla Kovgan said she believes 3D is a natural match for dance, a subject that's dominated her film career. And she's right — the extra dimension calls attention to depth and space, focusing viewers on how bodies move through them. It especially suits Merce Cunningham, an artist whose explorations of non-representational movement didn't have a privileged vantage point; camera placement can't negate artistic intent, and dimension emphasizes his philosophy of movement qua movement.
Yet Cunningham undermines its own advantage trying to justify the third dimension, and ends up getting gimmicky with every other element of the film, including love letters read aloud a la Ken Burns's The Civil War and archival material staggered on different planes like a 90s infotainment intro, with text slapped over it all for a confusing collage that lessens the subtler dimensionality of the dances. Dances are staged for no particular reason in ornate drawing rooms and rooftops lit like a Michael Mann movie. Most egregious and inexplicable is a shot of performers in a lush garden. The camera glides away from them over water, cuts to footage of Merce's original performance, then pushes back to the duet, interrupting the choreography, and highlighting its staginess. Its gratuity showed the hand of someone who lacks faith in their audience, spoon-feeding them razzle-dazzle to remain interested. In fairness Cunningham's exploratory minimalism, often layered with equally abstruse and utterly unrelated collaborative compositions, can make for difficult viewing, but why choose him as subject if you can't trust the work?
Fortunately, there's plenty of original material to enlighten audiences unfamiliar with Merce's pioneering methods and avant performances. The film traces Cunningham's career through his wilderness years, when he was confident enough in technique to draw in like minds, but had decades to go before his genius was recognized. Direct interviews give a substantial overview of his philosophies, and the film offers a last living link with performances by the Cunningham Dance Company, the last version of the group taught by Merce before his passing in 2009 at age 90. The Company formally disbanded in 2012, making Cunningham a flawed but tangible document of a passed era.
***
Cunningham was reviewed at the 2019 Toronto International Film Festival and also plays at the New York Film Festival September 29 & October 1. It arrives in theaters December 13.