Featured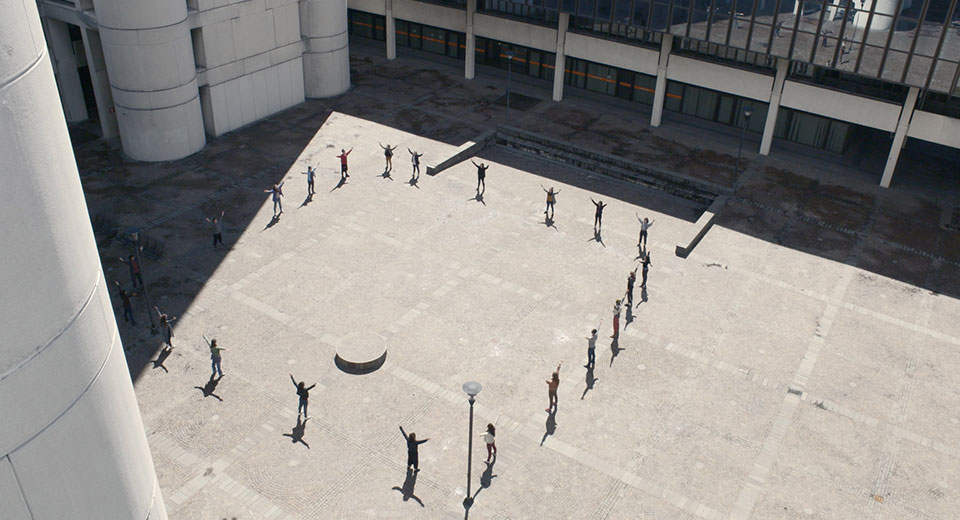 November 28th 2019
What is the nature of a crowd? How does it move, and why? What can this tell us about our history, our society, and ourselves? Sarah Friedland's meticulously crafted and quietly compelling three-channel video installation CROWDS is now on display at La MaMa Galleria through December 1. The expanded cinema piece investigates the choreography and cinematography of crowds by presenting a 71-minute durational performance filmed from three distinct angles, each of which allows the viewer a sharply different perspective into the mechanics and spirit of a crowd in motion.
In CROWDS, as in all of her work, Friedland challenges her viewers to reimagine the medium and meaning of dance by calling attention to the many ways in which humans move beyond the social convention of movement-to-music. Here, her obsessively researched and painstakingly notated analysis of crowd behavioral patterns (recently published in Issue 8 of Weird Babes Zine) pays off in the form of a stark and poetic hybrid film that offers viewers three windows into the mysterious rhythms of mass movement. To witness a group of bodies seamlessly transform — from athletic event to fascist spectacle to protest to riot and everything in between — is to witness the evolution and politics of gathering unfold through the visual language of dance.
Friedland deconstructs the crowd down to its most essential elements, then uses structured improvisation and careful camerawork to reenact events that seem eerily familiar despite the fact that we were never there. This is known in dance theory as "kinesthetic empathy" — the phenomenon whereby viewers become so immersed in the movement that we feel as if we are moving ourselves. Kinesthetic empathy causes spectators of dance to simulate the thoughts and feelings of the dancers we watch in our minds eye, even though our own bodies are sitting still. Spooky, right? But don't take my word for it — better to see, hear, and feel for yourself. Friedland's installation is an invitation to consider the limits and possibilities of dance, of crowds, and of empathy.