Featured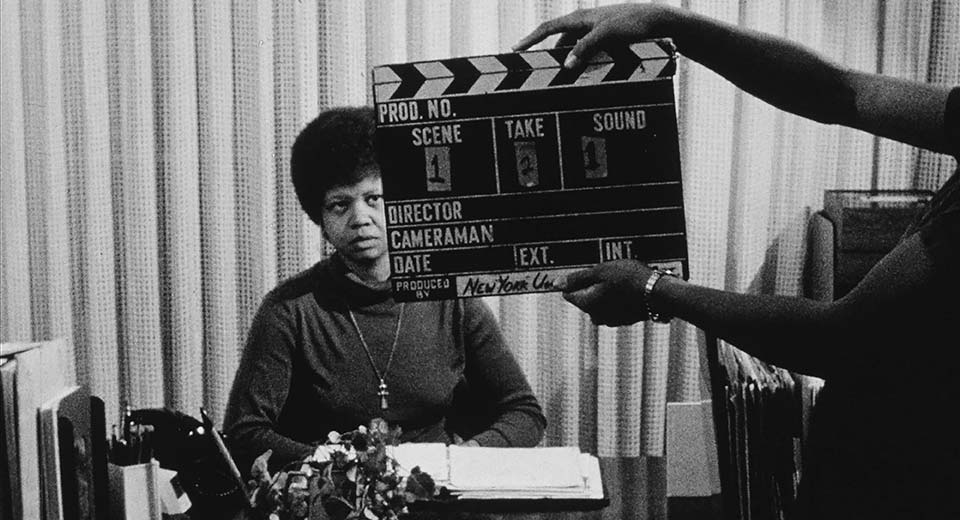 May 2nd 2018
Tonight, artist and media conservator Ina Archer pulls some deep cuts from the collection of multihyphenate African American cinema advocate Pearl Bowser to present at Light Industry. The selection is drawn from the Smithsonian National Museum of African American History & Culture (NMAAHC), which acquired Bowser's collection in 2012. Among the program of nine works (some are technically trims and outtakes), only one is directed by Bowser: the 1977 narrative short The Guest. The others are by variously well-known and obscure African American filmmakers working in and around New York City of the 1960s and 70s, including several films Bowser almost certainly saved from complete loss.
One such film is the black-and-white silent short Bedford-Stuyvesant Youth In Action, shot by an unknown cinematographer as part of workshops held by Hortense "Tee" Beveridge. This 1965 film features young men and women in Bed-Stuy strutting cardigans and trench coats on a makeshift runway in a community-organized fashion show. The sartorial showcase is broken up by a few group dance performances and some neighborhood street scenes. The entire event is covered by a remarkable six minutes of film, all taking place in-front of a NYCHA building wall with the ubiquitous "No Ball Playing" signs from that era serving as backdrop covered with fashion show bulletins.
The two longer films in the program come from St. Clair Bourne's Chambra Productions. Stan Lathan's Statues Hardly Ever Smile follows children engaging in Grotowski-like theater exercises and engaging with the space of a museum and its artworks in thought-provoking ways—a genuine must-see for those following decolonization efforts at local NYC museums, Brooklyn Museum included. St. Clair Bourne's camerawork is reminiscent of his Let The Church Say Amen! Bowser's husband Leroy Bowser was the script consultant for It's The Same Old Game, Charles Hobson's film about urban planning and its lack of accountability to those actually living in the city. The interviews with children on the street in Jamaica, Queens are a thorough condemnation of the top-down planning the film argues against. Watching this film one can chart a direct line to organizations like 596 Acres and the fights they are leading for NYC land use today.