Featured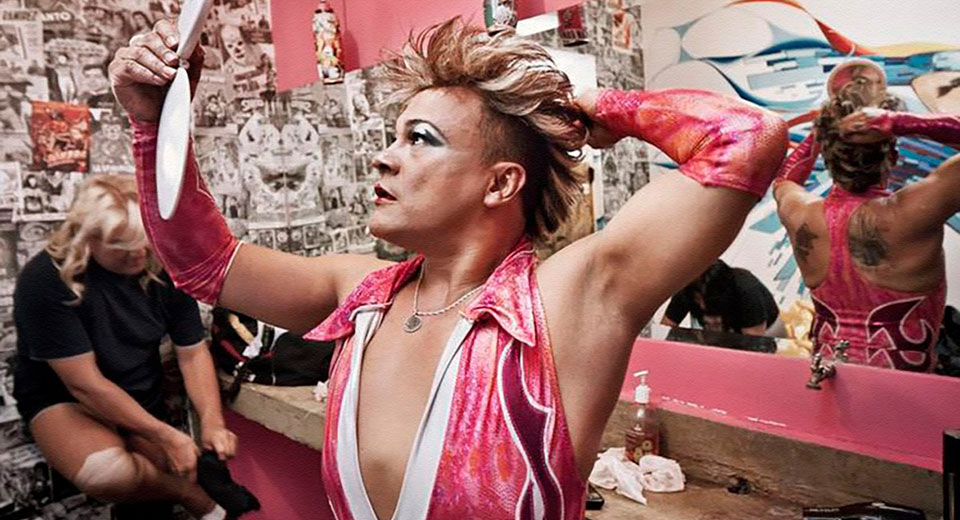 July 19th 2019
Marie Losier's 16mm documentary Cassandro the Exotico!, opening today at Metrograph, follows Cassandro, a well known "exotico" wrestler in the world of lucha libre as his career winds down due to years of in ring injuries. The wrestler's flamboyant yet refined costumes and virtuoso ring work have earned the performer the nickname "The Liberace of wrestling." Losier captures all the camp of such a larger than life figure, but underneath all the pageantry and breathtaking maneuvers off the top rope is a sustained note of mental and physical pain.
Exoticos are males luchadores who wrestle in drag. Cassandro, while not the first exotico wrestler, was instrumental in taking them from, in his words, "clowns" to champions. Cassandro is the first exotico to hold a championship title in Mexico's UWA promotion and shows that "people like me" can "kick ass." Traditionally, many exotico wrestlers were straight luchadores playing gay caricatures. Cassandro is openly gay, and in his youth lucha libre served as a form escape for the young man. Now, performing in the ring has become "therapy" for the adult Cassandro. This comes with costs, however, as the wrestler incurs an endless series of tears and breaks to his body.
The film frankly embraces the gravity of the physical toll wrestling takes on the body while also portraying it as a badge of honor. In one of the film's most exciting and clever moments, Cassandro's x-rays are presented in a montage backed by rock 'n' roll. It's these passages that give Losier's film a unique hybrid identity as part humanist documentary and part experimental handicraft, wherein the film's grainy tactility rhymes perfectly with Cassandro's glittering sequins and elegant brocade.
A good portion of Losier's film is comprised of intimate moments with Cassandro at home. The wrestler is either convalescing from his latest injury or preparing his specially made ring gear for the next show. There's a loneliness to much of the film until we see Cassandro with his fellow luchadores. Once he is among his peers, there is a new exuberance to the film. We see a gaggle of masked wrestlers dogpiling on a hotel bed and watch as Cassandro conducts a class with a group of wrestling students. Early in the film, Cassandro describes wrestling as a "religion" in Mexico, and at its most joyous, the film shows its potential for salvation.