Featured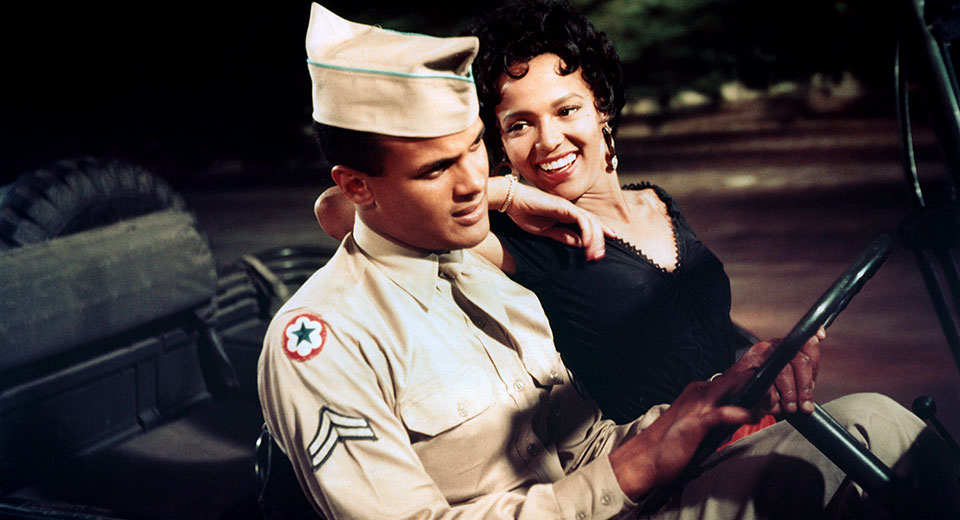 November 11th 2017
In Carmen Jones , Otto Preminger's 1954 Technicolor adaptation of Georges Bizet's 1875 opera, cigarettes are replaced by parachutes and Seville by Chicago.
Bizet's fatally attractive Gypsy is now a light-skinned black woman, a "hip-swinging floozy" working at a parachute factory. The Spanish dragoon José is now Corporal Joe (Harry Belafonte), an Air Force trainee with wholesome aspirations (get hitched, move back to the farm, study aeronautical engineering). When he's assigned to transport Carmen to jail over a fight on the shopfloor, she seduces him and skedaddles. He's court-martialed for dereliction of duty, and when he gets out his only goal is Carmen. They hide out in Chicago, but Joe's fugitive lifestyle makes Carmen feel trapped and she ditches him for heavyweight champion Husky Miller. Joe, now obsessed, swears he'll kill someone, leading to the tragic denouement.
The film's all-black cast created an artificial ethnic homogeneity, but for Preminger this "musical-fantasy quality" allowed it "to convey something of the needs and aspirations of colored people." Belafonte praised the film for "[establishing] the fact that pictures ... dealing with the folklore of Negro life, were commercially feasible." Critics were confused; while acknowledging that Carmen Jones is "[crowded] with more Negro talent than you could catch on a Saturday night at the Harlem Apollo," (including Max Roach at Billy Pastor's Cafe) Bosley Crowther called it a "crazy mixed-up film." Its fiercest critic was none other than James Baldwin. Bizet's music, in his opinion, had never been "sung so badly, or had less relevance to life, anybody's life, than in this production". Baldwin mainly took issue with the classic Hollywood sleight of hand whereby the progressive position implied by the film's casting choices excused its traditional association of blacks with amorality.
Because the Bizet estate disapproved of librettist Oscar Hammerstein's transformation of Carmen into a "folk opera," Preminger acquiesced to their demand that three of the principals' voices (including Belafonte's) be dubbed by professional opera singers. This gives the musical numbers (which, even if you've never seen a performance of Carmen, you know at least two of) a weirdly disembodied quality.
P.S. Saul Bass's first title sequence.