Featured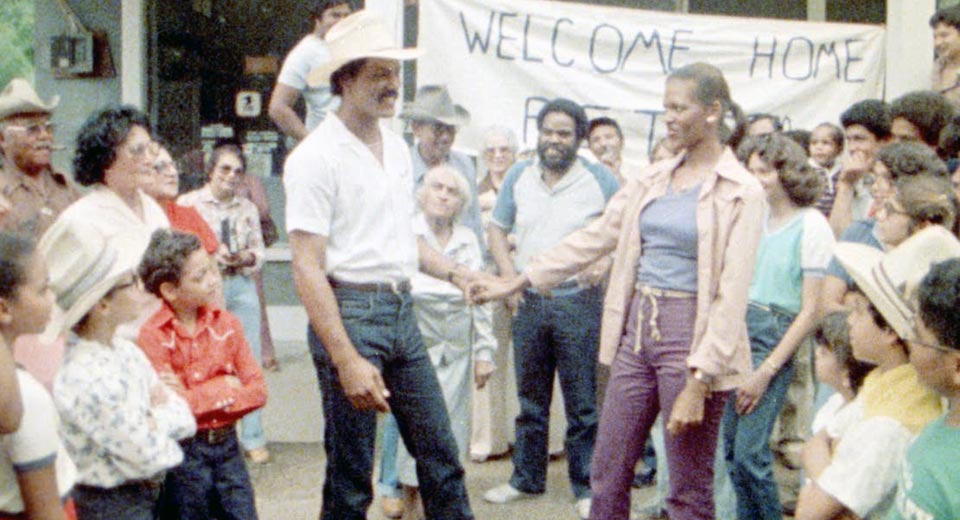 February 7th 2020
Prodigal son Peter Metoyer (Richard Romain) zips up his boots and gets back to his roots in Horace B. Jenkins's unearthed heimat masterpiece Cane River, a bucolic melodrama wrested from obscurity with long-overdue repertory run. The sweet but critical narrative scrutinizes differences economic, historical, and political with sensitivity and abundant humor: Jenkins's sole effort – the end credits conclude with an arresting dedication to the director – boldly rebukes a white film industry that looks at the variegated spectrum of Black identity and sees only a single shade.
Fitting that Peter, a returning former football prospect-turned-gentleman farmer, meets his working class, college-bound paramour Maria (Tommye Myrick) against the backdrop of historic Melrose Plantation: that same venerable estate which – alongside scores of their enslaved fellow countrymen – comprised the foundation of Metoyer wealth that haunts its descendants to this day. Remembered shame looms large in Natchitoches Parish and its surrounding environs, revealing a centuries-old schism that hangs over the amorous pair from the outset. Peter's home life is coded as decidedly prosperous, with a whiff of "old money" seeded throughout, but Maria's precarious upbringing raises the stakes of their summer love affair.
Diverting her college registration trip for a weekend at the Metoyer family manse edges Cane River into the outskirts of classically "Romantic" territory. Like a Bayou-set "Tess of the d'Urbervilles," we're left to speculate upon whether our purehearted country heroine will suffer ruin at the hands of her wealthy, landed suitor. How the two reconcile Peter's relative privilege with Maria's upward trajectory is yours to discover and savor: watching the lovers meet cute, come together, and constantly negotiate the foundational baggage that defines their relationship is as rapturous and bewitching as the landscape about them.
As of June 2020, Cane River is streaming for free on the Criterion Channel