Featured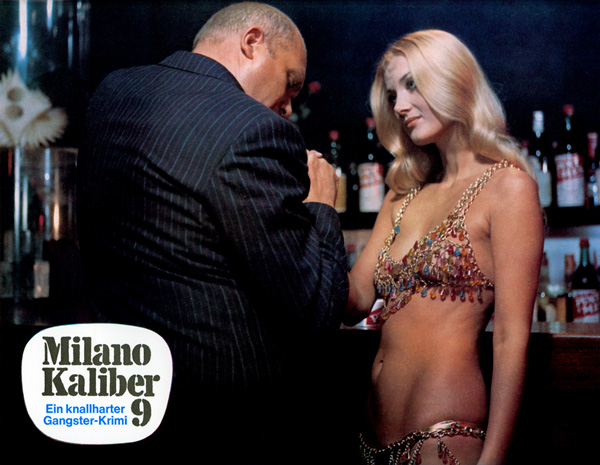 June 20th 2014
Anthology Film Archives's Poliziotteschi Series continues with 1972's Caliber 9 , in which a large package of money changes hands several times, is stolen and exchanged with a decoy, leading two men and a woman to be savagely beaten, thrown into a cave and blown up with sticks of dynamite, then the opening credits begin.
The setting is Milan, thickly coated with dust and full of mediocre vistas. Aerial shots of the city do not dwell on impressive buildings and are oppressively hazy and dim. Action taking place in a piazza focuses on the millions of filthy pigeons littering the ground; the camera does not bother to take in the surrounding palazzo. The gangsters are not glamorous or solemn, but ugly, sweaty and stupid. They spit on things when they're angry (especially the excellent Mario Adorf as Rocco). The kingpin who controls them is actually an American (called Il Americano), and holds court in one of the ugliest office buildings I've ever seen (since the last time I was in Milan).
Ugo Piazza (Gastone Moschin, who played the driver Manganiello in The Conformist), is fresh out of prison and his former associates are looking for that package of money, which they think he stole in a double-cross. He shacks up with his girlfriend Nelly (Barbara Bouchet), a blonde bombshell with a heart of gold who has, of course, been waiting for him. But his only real friends are Chino (whose name means "I bow", "bend down" or "stoop") and Chino's blind Godfather. The three of them take a dignified stroll through the park one day, contemplating Ugo's problem and how gangsterism has changed: "They call it the mafia but they have nothing to do with it. They're just gangs now. The real mafia is dead." In this way, the film is able to revel in a gleeful parade of undignified violence (repeated face-slashing, woman-killing, head-bashing, etc.) – the kinds of things Chino says are "against the rules" – and also exonerate and pay its respects to the mafia, both the mafia of the popular imagination and, you know, the actual mafia.
A couple of ideologically-opposed police captains argue repeatedly about how to deal with Ugo and the wave of violence that his release has spurred. Once again we get a chance to hear Italy thinking out loud about itself: one captain is happy to let the hooligans, so much human garbage, kill one another, while the other sees the mafia as "an effect, not a cause". He blames the rich and their habit of laundering money to foreign accounts for the purpose of tax evasion, condemning capitalism in the most explicit terms possible: "We need to remember that property is theft."
Caliber 9 is the first in director Fernando Di Leo's Milieu Trilogy, and was followed by La Mala Ordina (Manhunt), also released in 1972, and Il boss in 1973. The trilogy as a whole depicts the internecine struggles within the mafia as it adapts to a changing society, or arguably, as it makes further adjustments to its business model to fully align with Italy's postwar industrialization and modernization. The newly available, nationalized social security system ended the reliance of the poor on the mafia's local, more informal system of patronage. Italy's "economic miracle" led a huge influx of southern Italians to migrate to the northern industrial cities, resulting in the popular conception that southern criminality was taking over in the north (of course the north had plenty of its own criminal networks). "The South" is heartily denigrated in Caliber 9 in a way that verges on parody.
Di Leo cites John Huston and Jean-Pierre Melville as his idols, summarizing neatly the American and French influences apparent in Poliziotteschi films: rampant individualism on one side, existentialism on the other. Caliber 9's score, a collaboration between composer Luis Enríquez Bacalov and Italian psychedelic prog rockers Osanna, was recorded from the band playing along live to the final cut of the film, and during scenes of frenzied killing or extreme suspense the music becomes remarkably rocking.
Ultimately, Ugo gets the drop on everyone because he transcends the supposed dichotomy between the Mafia's romantic traditional values and its newer, supposedly more evil, out-of-control form. He outsmarts both types, manipulating, for example, the Americano's cold pragmatism and Chino's sense of honor and justice. He is able to "do to others what others would want to do to you, but do it first." He neglected to note, though, that in the world of the Poliziotteschi, as well as American and French crime noirs, women are the wildcard.