Featured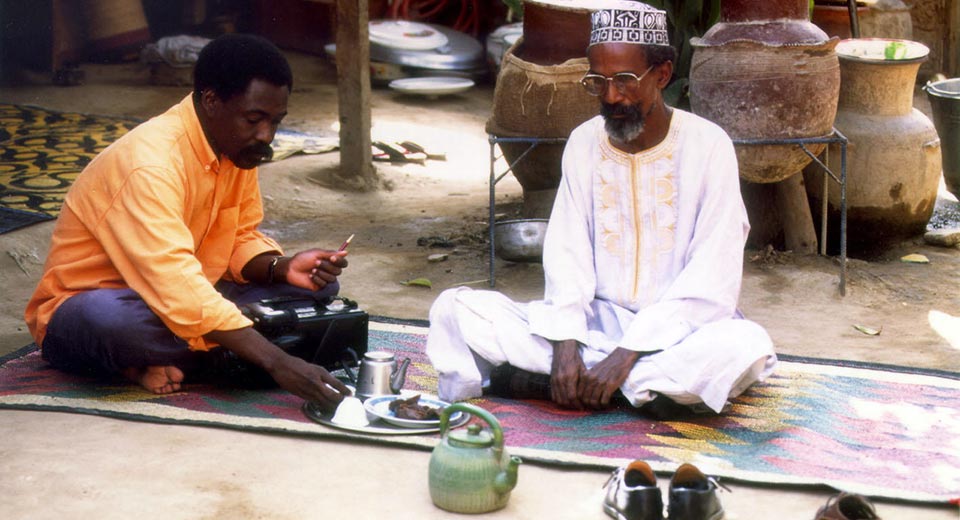 April 23rd 2018
Though frequently listed as a documentary, Bye Bye Africa is director Mahamat-Saleh Haroun's, and the entire country of Chad's, first feature film. Truth interwoven with emphasized flaws and intense beliefs make for an easily mislabeled hybrid, a documentary in the Freudian sense. Part of BAMcinématek's series dedicated to the auteur, Mahamat-Saleh Haroun: Modern Griot, the film argues the case for film itself as medium and balm.
Director Mahamat Haroun lives in Parisian exile. He and a French companion are fast asleep when a phone call startles them awake; Haroun's mother has died. It's been over ten years since he returned to his home country of Chad, and with this death the full weight of time passed truly hits him. His ex-wife refuses to let their children accompany him on his trip, saying it's too dangerous; the onus of generational separation sets the tone for Haroun's temporary return.
Though the film doesn't shy from Chad's brutal history, it doesn't linger either, save for how it affects the state of Chadian cinema. Bullet holes riddle the signs of Haroun's fondly remembered cinemas, now abandoned, repurposed, or at best stagnating with worn-down equipment and no new prints. The brutal three-decade civil war, Libyan invasion, and more recent ethnic insurgencies utterly destroyed what limited distribution systems were in place, withering Chad's cinema culture to a few staunch outliers, and even they're beginning to lose hope. Haroun's projectionist friend, with nowhere to project, hopes to make a new home in America if he can win the emigration lottery. The remainder of the country seems indifferent, as when Haroun's own father tells him "We don't understand what you do", or aggressively against it, when a man attacks and grabs Haroun's camera to get back the image he claims Haroun stole.
"Your films are not made for us. They are for the Whites," his father claims, warning that the moment his son believes the land of Whites is his, he'll lose his soul. In a 2002 interview Haroun noted, "we don't have the opportunity to see our own images on the screen instead of American or European ones," and that without effort Chad would suffer a "colonization by images." The fictional and real Haroun are determined to keep their own and reclaim Chad's soul with their new project, Bye Bye Africa. Haroun loses hope when no producers will fund it, but seeds planted are already beginning to bloom - potential actors turn out in droves for the casting call, and a "video club" owner readily acknowledges the popular new venues are inferior to theaters. Haroun heads home without a feature, but in leaving his digital camera with his newly-obsessed nephew for the promise of a full tape sent to Haroun every month, the separation turns from cruel paradox to new potential.