Featured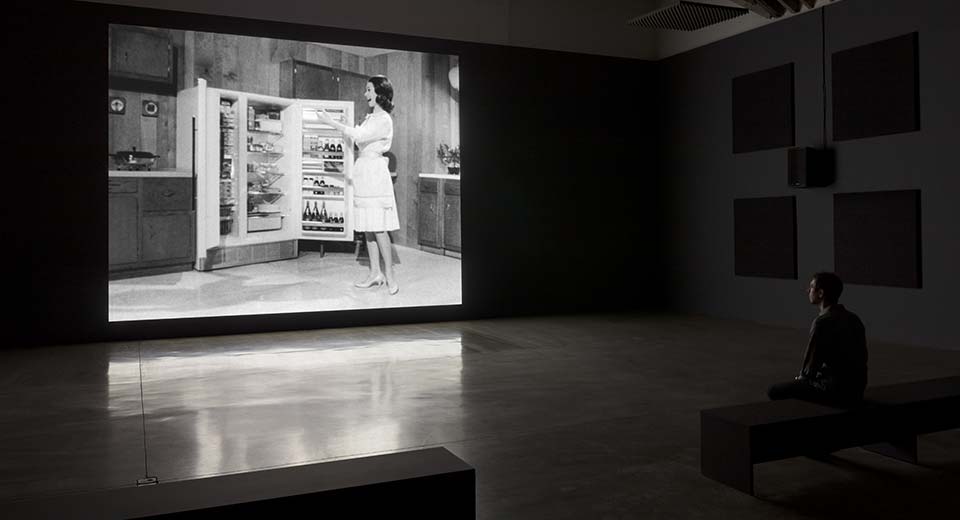 March 8th 2018
Recently, Bruce Conner has been given the hagiographical treatment—monographs, a full retrospective, and slots in innumerable group shows—all with the intention of giving the institutional stamp of approval to a body of work that is a giant middle-finger to approval and institutions. Conner insisted that the only way to know if something is 'art' is to hang it on wall or project it on a screen—and, "If it stays there it's art." For one more week (Tuesday through Saturday), Bruce Conner: REPORT (1963-1967) & MARILYN TIMES FIVE (1968-1973) at Paula Cooper Gallery, offers the rare opportunity to see Conner's work in a context where the questions "Who is Bruce Conner?" and "Is this art?" are not already answered for us.
The show consists of two newly restored movies and a cardboard, magazine clippings, and plastic pom-pom example of one of Conner's assemblages. REPORT takes footage of JFK's assassination, and intercuts it with fragments of other found images: a matador slaying a bull; kitchen product commercials; a slow-mo shot of a needle popping a bubble—set to a soundtrack of frantic radio broadcasters following the Kennedy motorcade. MARILYN TIMES FIVE uses a similar method on The Apple-Knockers and the Coke—a grainy stag loop starring Playboy Playmate and actress Arlene Hunter, that was once rumored to be a Marilyn Monroe smut film. The voice of the authentic Marilyn sings "I'm Thru With Love" over the cut-up and replayed images of Hunter/Marilyn teasing down her panties, and rolling an apple across her breasts. That her naked torso resembles Christ's torso in a realistic crucifix, is an effect that would not have been lost on Conner, whose favorite themes included, what he called, the day-to-day "crucifixion of the spirit."
Both films give the impression of being composed of these multi-layered symbols, while offering no comfortable means with which to understand them. The splicing together of public image with private fears and desires, makes them spiritual cousins to Warhol's Golden Marilyn and his Nine Jackies. But, what that says about Conner, is only that he was similarly able to create aesthetic objects that embody his self-styled proverb: "...that none of it is real. But it is all real."
Conner believed that: "Objects have some kind of spirit in themselves." So it's possible that the rapid cutting and repetition were his way of looking for the spirits churned out by American culture. The show at Paula Cooper is a welcome chance to look around for those spirits ourselves.