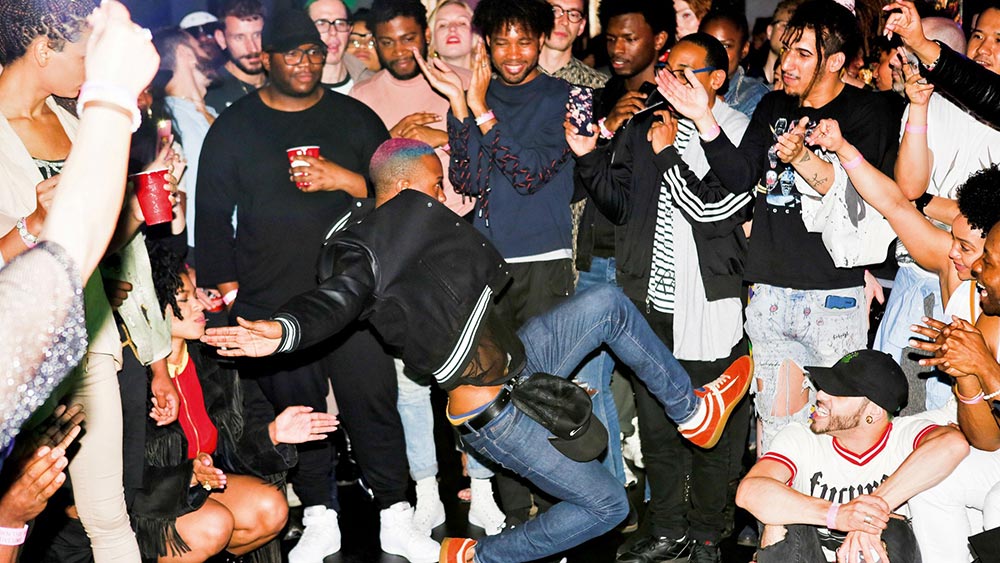 November 12th 2021
On Saturdays in May 2018, the artist Phil Collins, in partnership with The Fortune Society and Creative Time, presented Bring Down the Walls, an anti-carceral public art project and dance party. During the daylight hours, "The School" was in session, with presentations and conversations related to mass incarceration and the prison industrial complex; after dark, "The Nightclub" took over, with various NYC collectives hosting dance parties and live house music performances. Completely free and open to all, the program resulted in two eponymous enduring records: a compilation album of house favorites, performed by formerly incarcerated artists with established musicians; and this documentary film, released in 2020.
For Collins, the connection between house music and the contemporary prison abolition movement emerged through his work with incarcerated men at the Sing Sing Correctional Facility in Ossining, NY. While collaborating on music composition and recording projects, they would spend extended periods of time together and got to know one another. As Collins discovered, house music was a widely-shared interest: "...many of us had been to the same clubs in NYC in the '90s and most of us have been raised on the same canon of dance floor anthems." Though this specific genesis of the project isn't presented in the documentary (due, at least in part, to the film's observational approach), sequences flow easily from vibrant, often heartrending conversations to dancefloor footage, set to the irresistible rhythm of immediately recognizable house classics.
Situated in New York's historic Firehouse, Engine Company 31, Bring Down the Walls took place just a twenty-minute walk from the former location of the Paradise Garage, open from 1977 to 1987. The nightclub was one of the birthplaces of house, with resident DJ Larry Levan generally considered the genre's NYC progenitor, alongside Chicago's Frankie Knuckles; it was a fitting home for house, a space devoted almost exclusively to dancing. House's upbeat rhythms and liberatory lyrics produced a revelatory, even revolutionary, space for musicians and dancers alike. Both creators and clientele were members of marginalized communities, representing the most-targeted populations for the coinciding explosion in incarceration.
The stated goal of the Bring Down the Walls organizers is abolition of the prison industrial complex, to be accomplished by building up communities and by eliminating those political interests, corporate profits, and media representations that sustain and are sustained by human captivity. In juxtaposing the testimony of formerly incarcerated people, excerpts from lectures both rousing and didactic, and the wordless expressions of shared freedom on the dance floor, Bring Down the Walls provides an inspirational foundation for extending the sense of community produced by house music beyond the boundaries of the nightclub.
Bring Down the Walls opens today, November 12, at BAM, with a Q&A with director Phil Collins following the 7pm screening. The run continues through November 18.