Featured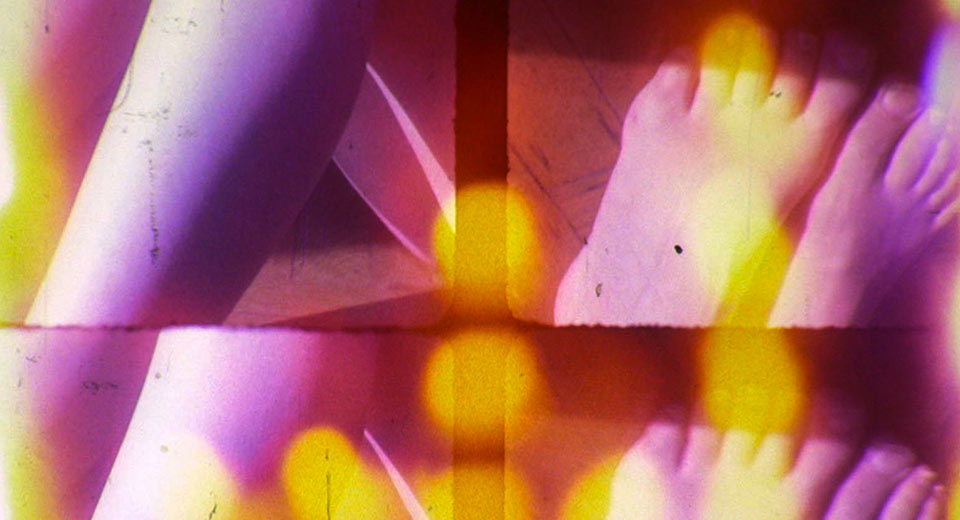 July 23rd 2016
Today Mono No Aware celebrates the release of Kathryn Ramey's book Break the Machine with a screening of work featured therein. Part of Mono's itinerant Connectivity Through Cinema programming, this evening's show unspools at Gowanus Darkroom.
Ramey's new-standard manual is at once a historical overview of experimental media arts, a survey of the contemporary scene, and a comprehensive instructional cookbook of techniques in the spirit of Helen Hill's Recipes for Disaster. It runs the gamut from analog filmmaking approaches to thorough practical instruction on commandeering video glitches, but it's the storied tradition of the former in which Ramey's work is most rooted. The program notes of the show don't necessarily attempt to encapsulate the content of the films, but read instead as a compendium of the technical approaches they represent: unsplit regular 8 film, expired film stocks, bleaching, scratches, optical collage, found material, multiple exposure, camera-less animation, and more. This isn't to reduce the work to methodology; rather, the process of creation and discovery manifest on screen could in most cases be considered, if not the totality of the content, inextricably woven within the artists' highly personal expressions.
As Ramey acknowledges in her book, it's not simply the craft but the communities that support this kind of work, and Mono No Aware is central to this locally. The organization spearheaded by tireless filmmaker Steve Cossman presents year-round analog filmmaking workshops and an annual expanded cinema festival now in its tenth year. Concurrent with this anniversary it has just been granted 501(c)3 status and is poised to become a model of how artist-run DIY organizations can grow along with their communities. The conclusion of Break the Machine points to the perhaps irrationally motivational agent of common cause as a source of creative energy in spite of the dim economic forecast for those of us deeply stepped in experimental media art: "There really is something there, something ineffable and yet concrete in the sense that it connects us and encourages us to keep making work and to help each other and to celebrate each other's triumphs." This evening at Gowanus Darkroom, audiences can experience this firsthand.