Featured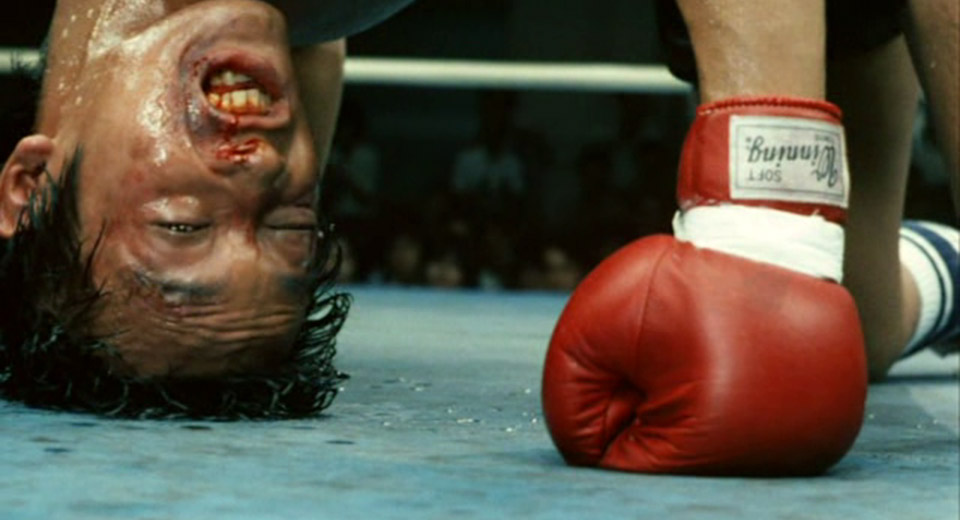 November 26th 2017
Perhaps more practicing surrealists should reflect on how bizarre it is to just be a person. In this spirit we have The Boxer, the sole "straight" feature from Shuji Terayama, and a hidden gem of this filmmaker's long overdue retrospective at Anthology Film Archives. A towering figure of late-20th century Japanese art, Terayama's work was rambunctious and multidisciplinary, bending together elements of theater, literature, cinema, and the ongoing performance of being a public intellectual. In The Boxer, Terayama doesn't throw away this approach so much as hijack the conventions of narrative storytelling to zoom in on one major interest: what a human can (and can't) accomplish when it's pushed.
The plot here is off the rack: up-and-coming boxer Henma (Kentarô Shimizu) goes looking for a master in the form of the mysterious Hayato (Bunta Sugawara), a former champion who ended his promising career mid-fight and has been drifting along the roominghouse edge of society ever since. Complicating their relationship is that Hayato's brother has recently been killed by Henma in a freak junkyard accident. Differences, of course, are put aside for a greater purpose—but what, exactly, is that purpose?
From the black & white requiem which opens the film, to the circus-like parade of its supporting cast, to the splashes of magenta and turquoise light which seem to bleed in from the air itself, Terayama's expressive hands are all over this picture. And there's no mistaking that for Terayama — a boxing aficionado whose commentaries on the sport were a frequent part of Japanese cultural life — this was a personal film.
The Boxer might lack the all-you-can-eat-buffet exuberance of the director's more celebrated work, but in its place Terayama creates an everyday surrealism of dreams thwarted and bodies in motion that is, on its own terms, deeply affective. In any case, Anthology's survey of Terayama — an iconic artist in his home country who has never quite been granted his context in the west — is essential from top to bottom. Watch the acknowledged "major" works, for sure, but don't let this small but fascinating piece of his filmography go overlooked.