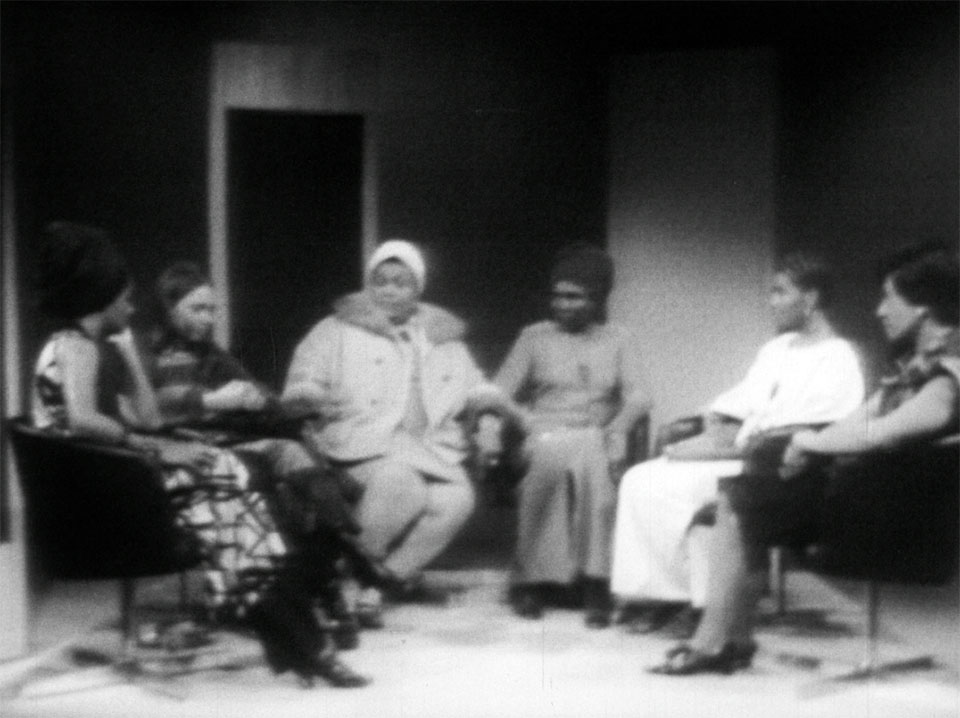 August 27th 2020
Thursday, August 27 at 8PM EST
Co-presented by the National Museum of African American History and Culture (NMAAHC)
Introduction by Dr. Rhea Combs, NMAAHC Curator of Photography and Film
Followed by a discussion with Dr. Philana Payton and Joan Harris moderated by Ina Archer, NMAAHC archivist
Watch at twitch.tv/screenslate (free, no account required)
Black Journal: Black Women features two rarely seen films from the NMAAHC collection, Alice Coltrane (15 min) and The Black Woman (53 min), both made in 1970. These seminal programs are from Black Journal, which aired on NET TV in the late 1960s and early 1970s. Alice Coltrane is an intimate visit with the musician at her home, where she discusses her musical and spiritual inspirations and performs on the harp. In the words of Black Journal host Tony Brown, The Black Woman focuses on "one of the greatest institutions in the world: the Black woman."
The program will include an introduction by Dr. Rhea Combs, NMAAHC Curator of Photography and Film followed by a brief discussion moderated by NMAAHC's Ina Archer with media scholar Dr. Philana Payton and journalist Joan Harris – who is also featured and interviewed in The Black Woman.
About the panelists
Joan Harris is a journalist and media consultant who is also a classically trained actor, a graduate of the Royal Academy of Dramatic Art, London. With more than twenty years extensive and diverse experience, her communications skills are wide-ranging. A decade's anchoring of news and public affairs programs in the New York tri-state area earned her a reputation for a commitment to substantive issues. Her work has often focused on issues affecting African Americans, people of African descent, and women.
Harris began her television career at the end of the turbulent 60s, winning the Co-Host position for WNBC-TV's "Positively Black" in 1970, a crucial time in American racial history. This groundbreaking hour-long Sunday magazine was one of the first public affairs programs aimed at the interests of the Black community. She examined urban, national and international issues with leading politicians and newsmakers and interviewed internationally renowned artists. Ms. Harris went on to Co-Anchor WNEW-TV's Emmy award-winning "Black News," contributing special reports to "The 10 0'Clock News." Her special report on theories surrounding the assassination of Martin Luther King, Jr. aired for 20 years.
Dr. Philana Payton is a Scholar-Activist and a Chancellor's Postdoctoral Fellow in the Ralph J. Bunche Center for African-American Studies at the University of California, Los Angeles. She is a graduate of the Cinema and Media Studies master's and doctoral program at the University of Southern California and received her bachelor's degree from Claflin University. Her research focus uses Black Studies, Performance Theory and Film Theory to explore blackness and visual culture through Black women's performances. Philana has also done extensive archival research on early 20th century Black Silent Cinema and has conducted race and gender analyses on classical era films through today's cinema, television, and media.
Special thanks to Bleakley McDowell and WNET