Featured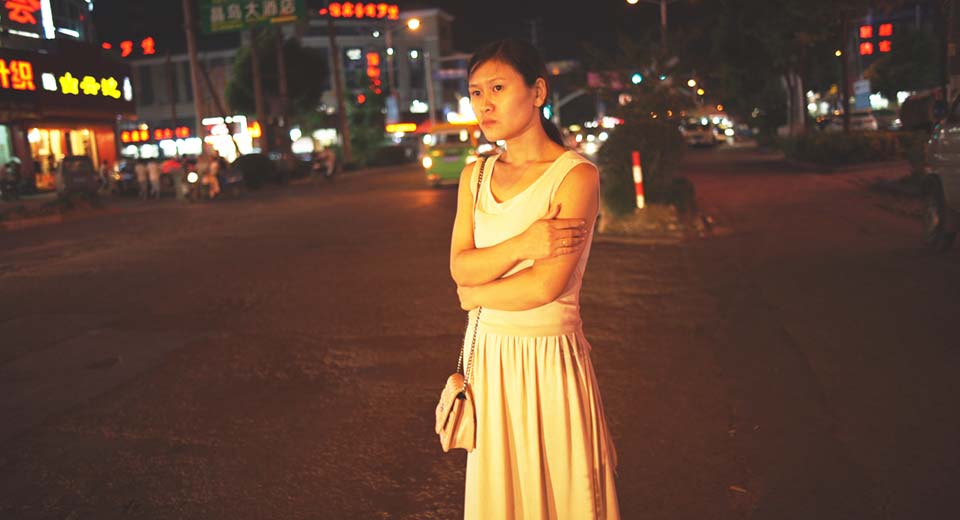 January 8th 2018
The eastern Chinese city of Huzhou is home to some 18,000 clothing factories that staff some 300,000 workers, but even at 152 minutes long, Bitter Money only manages to scratch the surface of the lives of the migrants who live there. From the more than 2,000 hours of "observational" footage Wang shot in his two years of making the film, the final product, in its first run at Anthology Film Archives, pulls together the unique stories of similarly desperate characters, from a 15-year-old migrant whose family warns her against showing anyone her ID, to an old gambler seeking wages from his boss and being turned away for being drunk.
One of the most striking portions of the film follows a young wife, Ling Ling, who has recently been kicked out of the house by her husband. Like many of the migrants in Bitter Money, she has a dilemma—should she continue to try her luck in Huzhou, or move on to somewhere else? "If we leave, we'll lose money and Erzi"—her husband—"will lash out at me," she says at one point, highlighting the inextricable toll capitalism has on women in particular. In one of the film's most disturbing sequences, Ling Ling is physically attacked and threatened by her husband, but she refuses to leave him until he gives her 200 yuan, the equivalent of about $30. "You only hit her because you have nothing else to do," a bystander scolds Erzi at one point, a comment that holds a startling truth.
At other moments, Bitter Money can feel excruciatingly slow as its characters sew checkered children's coats to radio pop music, lounge in overcrowded dormitories, and wander Huzhou's golden streets in the hours after work. Any impatience during these moments, though, is the point. "Bitter money," a slang term meaning leaving one's hometown for work, perfectly captures the way seemingly pointless labor sours the passing hours. An audience in New York City, thankfully, must endure just two and a half hours of it. Yet as one Chinese migrant says of the garments, "someone has to make them." Overseas, it is our luxury to remain ignorant of how.