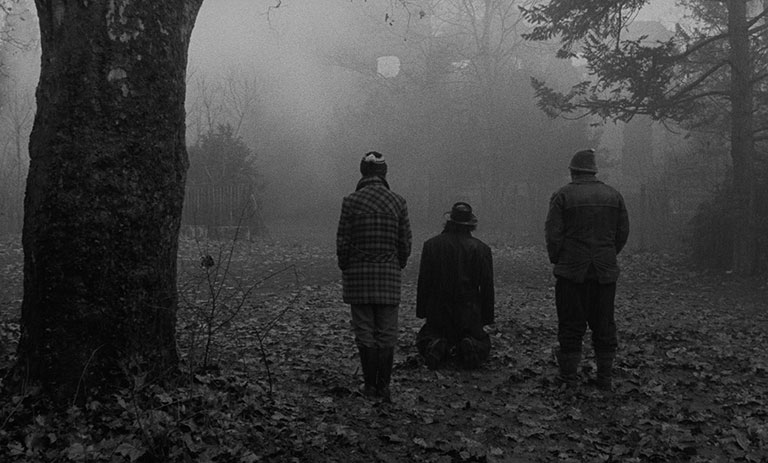 October 18th 2019
After twenty-five years of catch-'em-if-you-can 35mm screenings and lackluster DVD releases, Béla Tarr's titanic Sátántangó, the rare cinematic magnum opus worthy of the designation, is set to become as accessible as can ever be hoped, considering it's a seven-hour film designed to be consumed in one sitting (with two brief intermissions). This white whale of arthouse cinema is now expanding its reach thanks to the efforts of Arbelos Films, a restoration/distribution company which spent the last two-and-a-half years digitally repairing and color grading each of the film's 600,000+ frames. The resulting 4K restoration premiered at this year's Berlinale nearly twenty-five years to the day after the film's original premiere at the same festival in 1994. Sátántangó now begins a weeklong run at Film at Lincoln Center, with screenings around the country to follow. Screen Slate recently spoke with Tarr about the film's legacy, and with the restoration project supervisors at Arbelos, Craig Rogers, Ei Toshinari and David Marriott, about the daunting task of translating a pinnacle achievement of the photochemical process to a digital format.
After years of false starts to mount a film adaptation of co-screenwriter László Krasznahorkai's 1985 novel, Tarr began shooting Sátántangó in Hortobágy, Hungary, in 1991. Set in an unnamed village at an undefined time, the story concerns a dismal collective farm bewitched by a swindling messiah named Irimiás (played by the film's composer and frequent Tarr collaborator Mihály Vig). But the film is experienced less as a developing narrative — though its dramatic punch is often underestimated — and more as a series of hyper-detailed encounters that underscore the absurdity and despair of a life lived among human beings. Slowly tracking towards, from, and around these desperate figures in monoliths of uninterrupted real time, Tarr paces his film at the speed of his characters' bodies. The vast forsaken emptiness of the Hungarian puszta envelopes them, an endless array of sky and field, a force as oppressive as Irimiás and his false promises.
The location was no less forgiving on Tarr and his crew. "It was 120 days. We couldn't shoot in the summer because there were leaves on the trees," he says. "We couldn't shoot in the winter. So we shot in the autumn and spring," took a break, "and then autumn and spring, for two years." Yet despite the grueling schedule and harsh conditions of the Great Hungarian Plain, he recalls the camaraderie that bound the crew together. "Even up to their knees in the mud or shooting in the cold until four in the morning, everyone was full of joy." The description echoes in the experience of viewers, who elect to sit for an uncomfortably long stretch in pursuit of a transformative experience.
As countless critics have noted, Tarr's durational style recalls the long-take bombast of Andrei Tarkovsky and Theo Angelopoulos, not to mention his fellow countryman Miklós Jancsó, but the former's scathing wit and materialism provide a more tangibly harrowing experience. Shots lasting as long as eleven minutes accumulate tremendous gravity, capturing time and space at their most dense. These celebrated long takes were first conceived by Tarr on location. He visited each locale alone, looking for "what can be done," and mentally mapping choreography between the physical space, the actors and the camera. Afterward he invited members of the crew to each spot to translate his plans. Finally, the actors were summoned to rehearse Tarr's staging before the crew reassembled and the cameras rolled.
As the film's stature grew in the intervening years, Tarr has been feted by retrospectives around the world, providing him the opportunity to see whether Sátántangó's ever-growing audiences "laugh at the right parts and if they're crying at the right parts." In spite of the film's notorious running time, he's never encountered a viewer abandoning a screening early. "Who says there is a correct length of a movie?" He considers his own legacy under the rubric of a heroic binary by which any filmmaker ought to be judged: After the credits roll, "are you stronger or are you weaker? If you are stronger after seeing my movie, I am happy. If you are weaker, then I must say that I'm sorry."
Years before founding Arbelos in 2017, Ei Toshinari and David Marriott placed Sátántangó at the top of their shortlist of dream restorations. When the rights became available, they reached out to the ardently analog filmmaker, expecting a cool reception. But Tarr had seemingly made peace with the necessity and benefits of digital formats. They quickly hammered out a deal, and soon thereafter the Hungarian FilmLab scanned the original camera negative (understandably, Tarr refuses to let it leave Hungary) and sent 34 terabytes of magnetic tape to Arbelos' Los Angeles offices for restoration. The team also commissioned brand-new subtitles to clarify the story and preserve Krasznahorkai's enigmatic dialogue.
Of primary concern was preserving the film's grain. Each image's dancing granules provide a kinetic counterpoint to the glacial movements shared by the actors and camera, and their loss or diminishment would sap the film of much of its rich texture. According to lead restoration artist Craig Rogers, "Our restorations strive to keep the look and feel of film. We don't remove film grain. We don't overdo de-flickering or stabilizing." What they did remove were dirt, scratches, debris and other blemishes common to an aging negative. The operation enjoyed Tarr's blessing throughout, though his cooperation was not without wry resistance, as Rogers recalls the filmmaker repeating the mantra "I hate this digital shit" throughout the first day of color grading. He ultimately approved the final product and eventually offered Toshinari characteristically wry, chuckling praise at last spring's premiere: "It looks good... maybe a bit too clean."
While "finding zen and not blinking much," Rogers moved through the film one shot at a time using digital restoration software. After each pass by a computer, he reviewed the results and meticulously "un-did" any overzealous corrections made by the machines. Rogers then repeatedly watched the entire film at ¼ speed — that's nearly 30 hours for each pass — hunting for fugitive specks of dust or errant repairs. To maintain sanity and a focus on image quality rather than the artistry or story, Rogers watched long stretches of the film on an upside down monitor. This maddening process was repeated until the week of the premiere. "It's a futile effort, but we're striving for perfection."
For exhibitors, the 4K restoration eliminates the prohibitive cost of shipping 50+ reels of film. The issue of degrading prints is similarly elided, thanks to the advantage of DCP "looking as good during number one as show number one hundred," according to Rogers. The film's length has always foreclosed the possibility of multiple daily showings, consequently relegating one of cinema's most sublime experiences to rare (though mostly sold-out) showings at museums and universities. The restoration is unlikely to appear at a mutliplex near you, but it should put the film in front of new audiences while satisfying the yearnings of a devout cult accustomed to suffering years between screenings. Even the most avowed celluloid purist can rejoice that Sátántangó will appear more often and on more screens now than at any time in its history.