Featured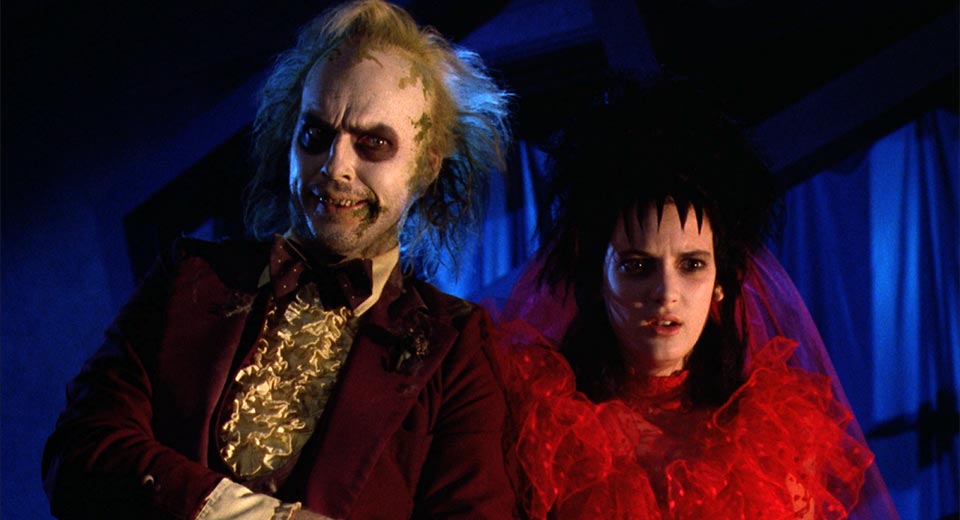 August 12th 2018
Around the time Tim Burton's career took a turn toward cranking out mall goth fan service and remakes no one asked for nor took seriously yet somehow made tons of money, teenagers entering college this fall were taking their first steps. And yet the afterlife has been kind to Beetlejuice  — a truly bizarre pop-goth oddity whose existence still seems improbable. The basic concept is novel but not inconceivable: ghosts of the recently deceased are terrified of the cosmopolitan family that moves into their former country home. But their entanglement with a hearse-chasing huckster-pervert marketing himself as a "bio-exorcist" and portrayed as a mix of Groucho Marx, Larry Flynt, and the dead guy from Carnival of Souls? Plus pinstriped sandworms, an underworld bureaucracy employing cadaverous caseworker Sylvia Sidney, and Dick Cavett doing a possessed calypso dance at a dinner party? There's no formula for that. But it seems a more-or-less natural fit for Burton, whose career-establishing animated work filtered Edward Gorey through Stygian AIP/Hammer horror and Burbank kitsch.
The director's imprint is plainly undeniable. But an auteur-centric appraisal of Beetlejuice fails to acknowledge its genesis as an original screenplay by the great horror writer Michael McDowell. In the 80s, Stephen King described McDowell as "the finest writer of paperback originals in America today;" those include Blackwater (1983), a sprawling multigenerational southern gothic horror saga, and cult favorite The Elementals (1981), about a seaside estate overrun by malignant sand connected to a grisly ancestral secret. (Many have recently been put back into print by Valancourt Press, whose work lovingly reviving neglected horror and gay interest fiction is a godsend.) McDowell's stories typically encompass macabre family dysfunction and a deadpan sense of fatalistic humor laced with a queer sensibility. Although McDowell's screenplay was amicably reworked by Warren Skaaren (who significantly defined the character of Betelgeuse), it contains one of the film's most delightful aspects: the conflict between dead-but-not-departed couple Adam and Barbara and the invasive Deitz family. The former are immediately characterized as an effective parody of a carefree heterosexual couple – "Oh honey, I'm so glad we're spending our vacation at home," Barbara says moments before a short trip to the hardware store sends them plunging off a covered wooden bridge while swerving to avoid a dog. The Deitz's, meanwhile, seem to have a sexless marriage mediated by the effete interior decorator/spiritual guru Otho.
Caught in the mix is the Deitz's death-obsessed daughter, Lydia, who is alone among the living in her ability to see Adam and Barbara. On paper, she reads like a surrogate of The Elementals's precocious, angsty, city-bred teen India McCray; but the sadness, yearning, and unexpected twist of levity she provides on screen is all due to Winona Ryder, whose career is currently the subject of a deserved and overdue appreciation at Quad Cinema.