Featured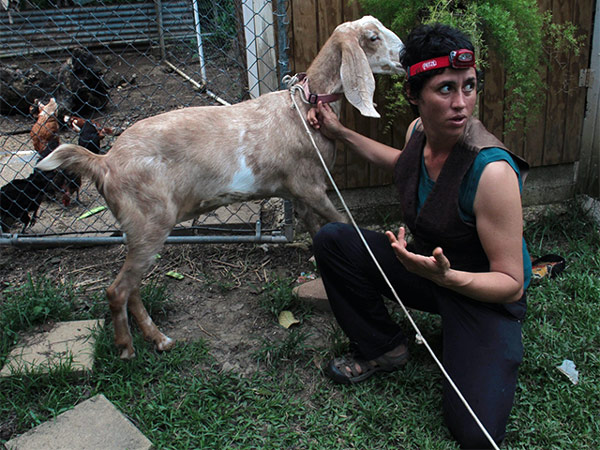 July 23rd 2016
Beatriz Santiago Muñoz operates where the fringes of ethnographic and narrative traditions in documentary meet, creating unconventional film and video portraits of artists, dissidents, activists, and workers, primarily within Latin America and her native Puerto Rico. "Song, Strategy, Sign," on view at The New Museum through June 12, is an exhibition on the museum's fifth floor of work produced during her residency at the museum, and it includes the three-channel video installation, an eight-minute 16mm film loop, and commissioned masks that will be used in a performance this spring.
The installation, That which identifies them like the eye of the Cyclops, comprises three hanging-screen projections made as studies for a full-length project adapted from Monique Wittig's 1969 novel Les Guérillères, an experimental narrative text about revolutionary sex warfare. It consists primarily of portraits of a farmer, an activist, and a singer. They are rendered obtusely, rarely focusing directly on the subjects, but rather their labor and environments. Like Wittig's writing—and others cited by the artists as inspirations such as Chantal Akerman, Sara Gómez, and Lygia Clark—Muñoz's work reconfigures the structures of cinema to, in the curators' words, "find a new language for a new symbolic order." There is a distancing effect that reflects the conditional mood of Wittig's prose, some of which is recited in voiceover. And like Les Guérillères, it acknowledges the insurgent possibilities of joy, culminating with an effusive performance by revolutionary queer Caribbean post-punk (!) singer Macha Colón. (Colón will perform at the museum with the new masks by Muñoz on June 2.)
The revolutionary quality of Muñoz's work is not limited to gender. In the narrow section off to the side of the gallery, a silent, black-and-white 16mm film loop portrays workers on Vieques, which was the site of a major U.S. bombing range from the 1940s until 2003, at which time it was turned into a wildlife refuge—voted "the U.S.'s" fourth greatest in 2015. Timely enough, the island is a contentious point within negotiations in the U.S. Congress about Puerto Rico's ability to declare bankruptcy and declare debt—although officially considered a United States territory, the relationship between the U.S. and Puerto Rico is plainly colonial, and Republicans in congress, who would like to establish an entirely outside board to take control of Puerto Rico's finances and slash pensions, education, and public services, are also angling to attach a rider to turn Vieques into a bombing range once again. Works like those of Muñoz give us, among other things, better tools to understand conflict and control.