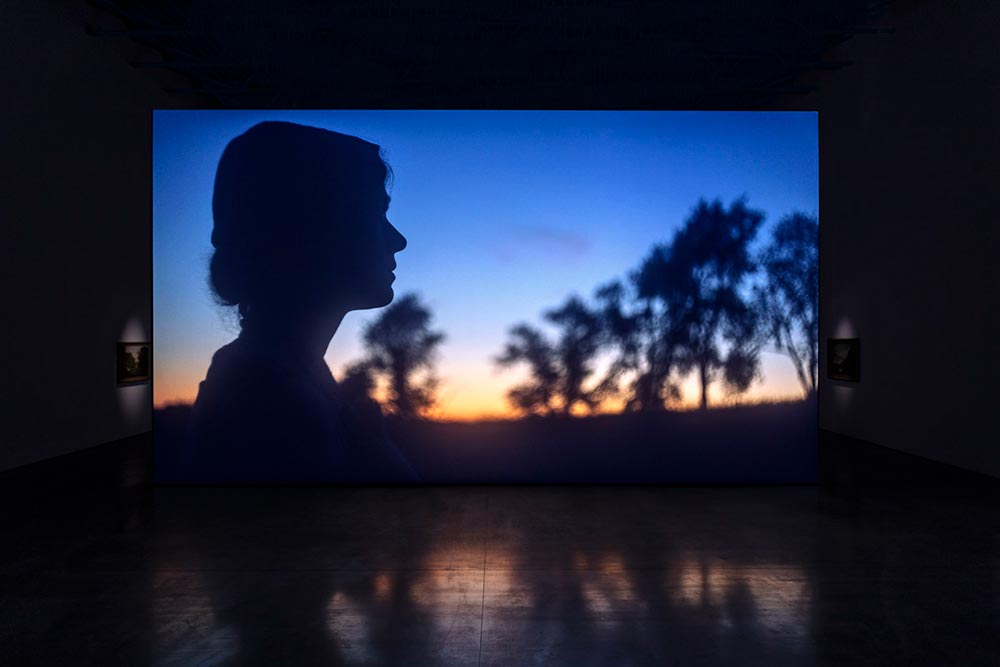 February 22nd 2022
Rural living is often misunderstood. Far from an idyllic alternative to stressful and industrious urban life, the wide swaths of farmland and forest are subject to the same strains as the city under capitalism––the ecosystem changes to support agrarian industries, the land's value fluctuates with the markets, and the suburbs slowly engulf once quiet communities. Rachel Rose's Enclosure (2019) captures the terror created by the clash of law and ideals in which the peasantry falls victim to the false promises of a new economy.
Commissioned by the Park Avenue Armory and originally set to premiere at the venue in Spring 2020, the film takes place in rural 17th century England when a series of laws called the Inclosure Acts that decreed property ownership of open fields, effectively ending common land for the use of common people. Taking advantage of these laws, a group of nomads led by the shaman-like alchemist Jaccko (T. Ryder Smith) formulate a scheme to buy once-free tracts with fake currency, robbing the farmers of their land and livelihood. One of these nomads, a teenaged girl named Recent (Susannah Perkins), is tasked to spy on a widow and her two children, who Jaccko plans to defraud. After witnessing the events that take place on the farm, Recent begins to question her allegiance to the group and her role in the dispossession of others. All the while, supernatural phenomena like a mystic "curse" and glowing orb in the sky occur, affecting the safety of the farmers and nomads alike. At Gladstone Gallery, Rose's film is screened alongside two new series by the artist––one of paintings and one of mixed-media sculptures––and a selection of landscapes by English masters such as Thomas Gainsborough and John Constable. Invoking the aesthetic ideals of art during this period, Rose leans into the uncanny by warping once serene landscapes of the English countryside to reflect the rapid changes unfolding in the film.
As a director, Rose showcases her talent for world-building and setting a tone through subtle visual cues. Recent's face is framed in tight close-ups, signaling her isolation from both the nomads and society at large. The rural, wooded settings create an eeriness reminiscent of '70s folk-horror classics such as The Wicker Man (1973) or Witchfinder General (1968)––films in which, similarly, the presumed innocence of rural life shatters in the face of greed and modernity. The glowing alien sun that can be seen in many of the wide landscape shots adds another layer of menace. The entire atmosphere of Enclosure is claustrophobic, providing a reminder of the evils––capitalism, the future, and the unknown––encroaching on these communities under a new legal code that renders their former way of life obsolete.
Rachel Rose: Enclosure is on view at Gladstone Gallery through February 26. Image: installation view c/o Gladstone Gallery.