Featured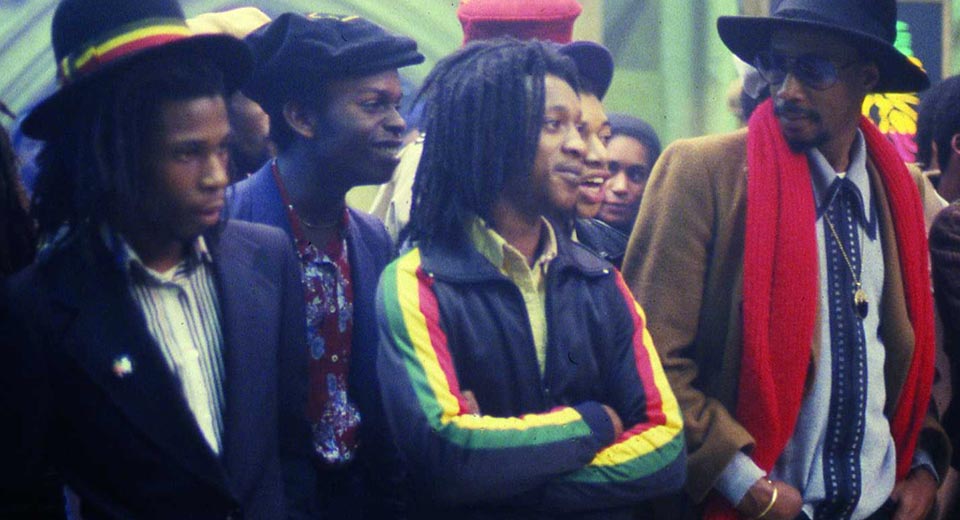 March 4th 2019
Starting today, BAMcinematek is giving Italian-British director Franco Rosso's Babylon (1980) its long-overdue US premiere run. After recognition at Cannes and Toronto, it was nixed by the New York Film Festival and consigned to informal circulation on VHS. Maybe this was a fitting distribution model for a movie about scrappy South London rudeboys stealing sound equipment to record dub tracks in a garage, but Babylon has too much to say about keeping your head up when everyone wants to grind your face into the pavement — and to say it with so much heart — to be left in the rubbish bin of history.
Blue (Brinsley Forde, dreadlocked frontman of legendary reggae outfit Aswad) works in an auto body shop under racist management and spends his free time in another garage toasting over dub beats with his friends, calling themselves Ital Lion. Spark (Brian Bovell) and Beefy (Trevor Laird) go on clandestine equipment-acquiring missions and Dreadhead (Archie Pool) buys beats on acetate from a Trenchtown producer as Ital Lion trains for their upcoming battle against established sound system Jah Shaka. But South London is filled with provincial bigot neighbors, National Front fanatics, and racist cops, and Ital Lion's dreams begin to crumble before the nightmare of their hostile environment.
You can think of Babylon as Juice (1992) transposed from George H.W. Bush's America to Thatcher-era Britain, from Harlem to Brixton. Instead of Tupac Shakur you have Brinsley Forde, instead of rap battles you have sound clashes. The Omar Epps character is akin to Blue, torn between loyalty to his friends and staying true to his dream, while Tupac is closer to Beefy in his unhinged vengefulness. The political backgrounds of the films are also not dissimilar: in New York City, broken windows policing had led to even worse police harassment of minorities in the early 1990s, and in the UK, discontent over stepped-up stopping-and-frisking under the racially biased "sus law" had led to widespread protests in the late 1970s and early 1980s.
Shot in cold pastel hues by Chris Menges (Made in Britain, Michael Collins), Babylon gives a stark and unflattering view of this depressed London suburb and its unwelcoming atmosphere, and the thriving dub scene represented by Blue's crew is truly a rose that grew from concrete. There's great gear too, especially Beefy's Lonsdale sweatshirts and tracksuits.