Featured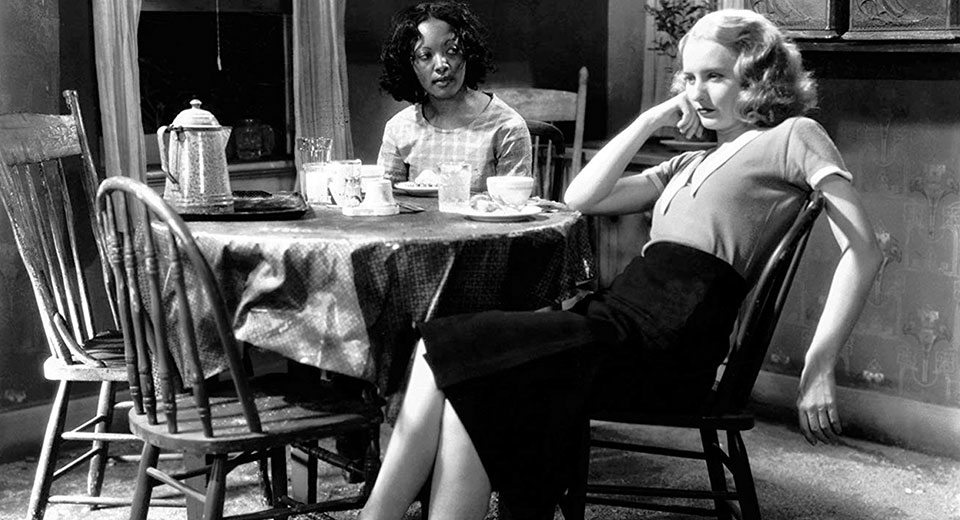 January 22nd 2020
All hail the ur-girl boss, Baby Face's Lily Powers, with a heart like Fort Knox and legs like gold-plated stick pins. Ayn Rand herself couldn't have concocted a leaner, meaner individualist than Barbara Stanwyck's acerbic queen of capital. In this especially unsavory pre-Code, screening today on 35mm at Film Forum with a special presentation by Bruce Goldstein, the feel-good lefty politics of contemporary pictures like Three on a Match or Wild Boys of the Road are nowhere to be seen: instead we openly cheer for an unscrupulous loner as the shrill antidote to "soft" New Deal policy.
Adrift after a perfectly-timed explosion dispenses with her handsy old man, Lily and traveling companion Chico (Theresa Harris) heed the advice of Erie, PA's Nietzsche-reading cobbler, a surly German immigrant (veteran "That Guy" Alphonse Ethier) whose worldly cynicism is matched only by the cartoonishness of his overwrought accent. "Exploit yourself," he begs, reminding her of that unfortunately timeless ace-in-the-hole: a beautiful woman can always get what she wants. With these parting words, diamond-hard Lily escapes Coal Country for the steno pool, pulling herself up by her lacy garters and conquering the ultimate phallic symbol: a New York City skyscraper, home to the Gotham Trust Co., wherein a half-dozen men fall before her feet like soldiers at the front.
Despite its cynical conceit and ego-driven politics, Baby Face reserves its warmest moments for a rare display of cross-racial solidarity. Lily and Chico's relationship eschews the commonplace master-and-servant dynamic that too often mars the lefty slant of your average pre-Code. An engaging presence and effortless performer, Harris' exhaustive filmography was largely confined to playing handmaid opposite the era's brightest stars. But as Stanwyck's girl Friday, the pair comprise a believable team, sharing intimacies with an easy informality absent from the era. While this early iteration of the "Black best girlfriend" trope aught to be rightly eye-roll inducing to the modern audience, in 1933 it was downright radical – as unthinkable then as an unapologetic sex-peddler ascending, without punishment, to the pinnacle of material success.