Featured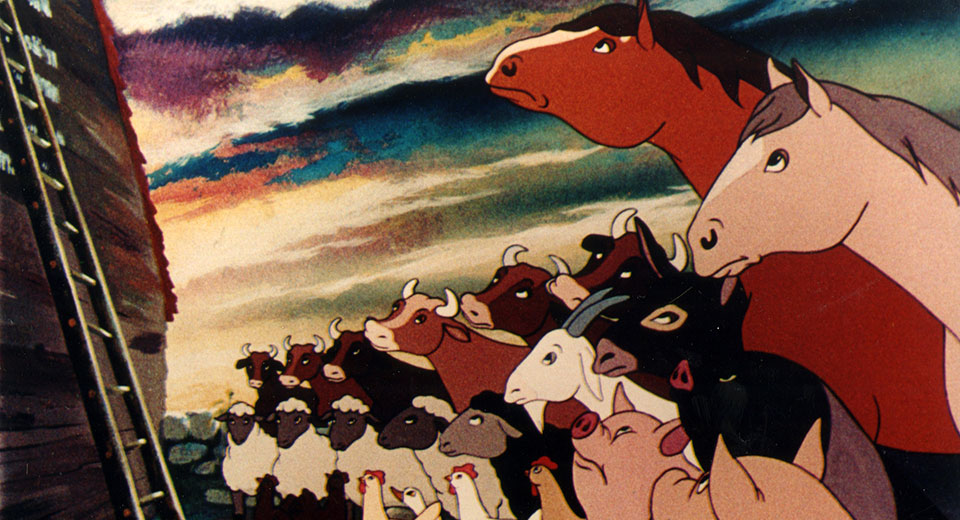 December 23rd 2016
"Years passed. The seasons came and went. The short animal lives fled by." Bill Plympton appears tonight at the Rubin Museum to introduce Animal Farm, Joy Batchelor & John Halas's 1954 Technicolor animated feature adaptation of George Orwell's dystopian satire. The film plays as part of the museum's "Wisdom Matrix" series, designed to question our relationship to wisdom and the means by which it is gained or lost—an evergreen inquiry especially ripe for reflection on the cusp of the New Year. Financed by the CIA as part of its Cold War cultural propaganda, the film takes some liberties with the novella's original plot, twisting the corners of Orwell's sobering ending upward into a smiling mouthpiece for capitalism and The American Way.
The irony of this appropriation makes it all the more memorable insofar as the process of film production itself is called into question; the context in which the film was created only enriches its meaning instead of defusing it. That Orwell's allegory bears witness to its own corruption at the hands of real-world powerful elites is both deeply satisfying and disturbing—a testament to its truth and relevance as a cautionary tale, one that obviously must never be forgotten. Thankfully, a cartoon adaptation with an orchestral score has enshrined this story in our collective memory for generations to come!
Certainly there are those who might disdain the adaptation on principle, preferring to read the book and dismiss the film as a minor reduction of a literary masterpiece, but don't let its pedigree fool you—the aesthetics of Animal Farm have more in common with comrades like Dovzhenko's Earth than its toony sisters and brothers over at Disney and Warner. The economical animation and montage techniques reveal and reinforce the mechanics of visual storytelling at its best. This leads to an interesting intersection of perspectives whereby the discerning viewer can decode a contradictory dual reading of the film: is Animal Farm nothing more than anti-communist agitprop? Or have Halas & Batchelor—with the cooperation of the CIA—cleverly constructed one of the most subversive works of art the cinema has to offer?