Featured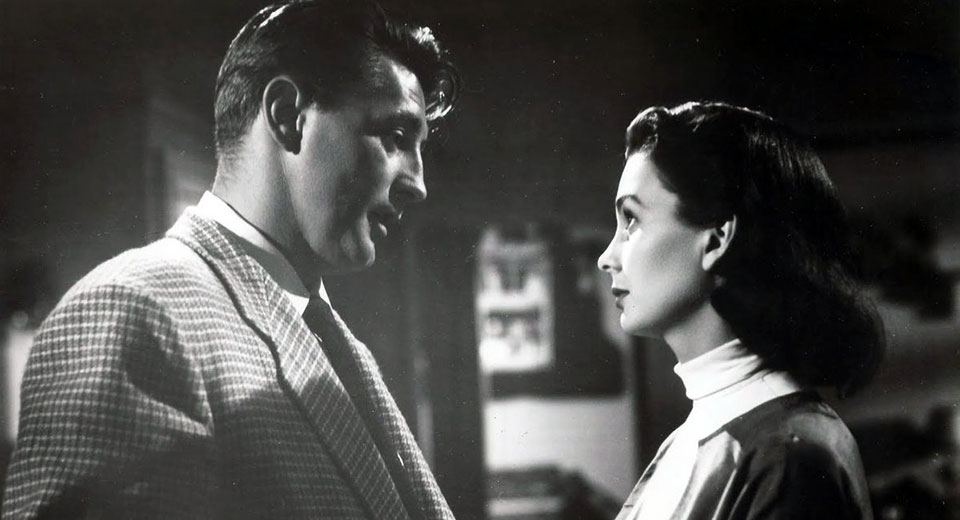 October 8th 2017
Jacques Rivette once wrote that although Angel Face  (1952) was not one of Otto Preminger's best (his top five are Bonjour Tristesse, Exodus, Anatomy of a Murder, Advise and Consent, and The Cardinal, according to David Thomson), it constituted a skeleton key to his directorial style. In his typically abstract French idiom, Rivette described this as "the taste for appearances, for the natural, the clever surprise of the accidental, the search for the chance gesture". Of these, only the "surprise of the accidental" clearly applies to Angel Face—but boy does it apply! (I won't spoil the brutal ending; I'll just say it involves life-sized dummies getting pulped vehicularly).
Comparisons to Hitchock are probably a lot better founded than those to Orson Welles (both comparisons being abundant) thanks to Preminger's preoccupation with psychopathologies (an anonymous NYT critic in 1953 called Angel Face "turgid psychological claptrap") and domestic spaces. Jean Simmons and her father and stepmother's baroque Beverly Hills mansion, along with the conspicuous gas meter key that Mrs. Tremayne considers evidence of an attempt on her life, recall Notorious (1946). Present is also the Hitchcockian predilection for intra-family murder plots (cf. e.g. 1941's Suspicion). But why not call it Premingerian?
Another proper-name-turned-adjective often applied to Preminger is 'sadistic.' In a hard-to-believe case of life imitating art, clean-freak producer Howard Hughes (portrayed by DiCaprio in Scorsese's Aviator of 2004) was reportedly obsessed with Simmons and railroaded her into a contract that resulted in Angel Face's infamously nervewracking production. Preminger insisted Robert Mitchum batter Simmons for real (Mitchum's character justifies it by quoting some EMT manual that says slapping is "supposed to stop hysterics") until Mitchum turned around and smacked Preminger. Hughes's unreasonable coiffure demands led to Simmons defiantly chopping off her hair, which resulted in the jaunty Audrey Hepburnesque bangs of her wig. Later accounts reveal that Simmons and her then-husband even plotted to murder Hughes to release her from his contractual claws.
The honoree of NYFF55's retrospective, Mitchum is known for his laconic delivery and radiating "heat without warmth" (Richard Brody). In Angel Face, his eyes are hooded as he delivers lines like "I've been slapped by dames before" and "I'd say this story's about as phony as a three-dollar bill." Because he's a humble EMT and Simmons is an heiress, she awaits their joint trial by relaxing in a sanatorium while he rots unbailed behind bars. Mitchum's defense lawyer eulogizes him as "a hardworking, ambitious war veteran," a sanctifying procedure paralleled by many directors' casting him in earnest meat-and-potatoes roles (cf. Ray's Lusty Men of the same year). An iconic everyman, Mitchum overtly declares his proletarian identity in Angel Face: "I've got a pair of hands, not much else"—almost a textbook definition.
Who are this generation's Jean Simmonses and Robert Mitchums? Rooney Mara and Jeremy Renner? Not bad. But how would they fare in a 2018 remake of Angel Face?