Featured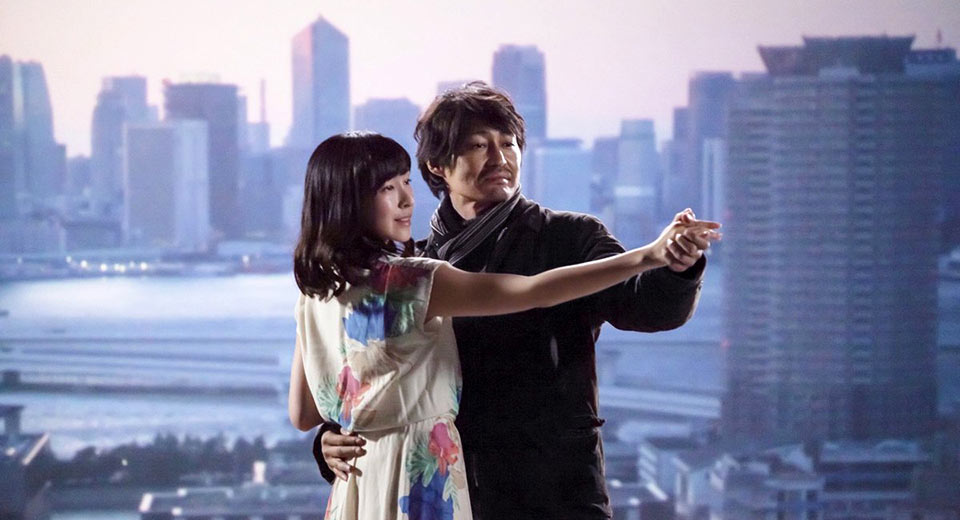 July 20th 2016
A disheveled middle-aged man walks down a nondescript back alley, and up to a garage door. A bell rings, the sliding door lifts open a crack, and he awkwardly slips under. A large sound stage stretches into a darkened expanse, revealing only a standing staircase leading nowhere, an old man in a chair, and a young woman standing next to him with a clipboard. "¿Quién es usted?" echoes the old man in Spanish, which the woman relays in Japanese interpretation, "Anata wa dare desu ka." "I am Kameoka Takuji, Japanese actor" the disheveled man responds in strained English.
The scene appears in the middle of Satoko Yokohama's third feature, Haiyu Kameoka Takuji, or "Actor Takuji Kameoka—simplified to The Actor for international distribution. Takuji Kameoka, a prolific and respected performer relegated to bit parts across the wide range of genres in Japanese film, is sent around the country by his agent for productions spanning the nonexistent divide between big budget and indie productions in an industry that relies on overwork and exploitation. The film has a loose, slippery style matching Kameoka's affable demeanor and boozy condition, endlessly shifting tonal registers along with Otomo Yoshihide's shape-shifting score. While Yokohama's The Actor boasts an entertaining veneer of a send-up of the local and international film industry—with numerous in-jokes and cameos that will please familiar cinephiles—the film, like all of the director's work, is brazenly unconventional and playful, unwilling to be fully defined. The intra-diegetic genre worlds of yakuza and ninja operate by their own rules, actors inexplicably switching roles upon scenes' repetition, reveling in small variations in performance and mise en scène. So when it dips into the diegesis of Kameoka's film performances, or even the food and travel programs playing on the bar TV, it does so on beat with the rest of the film. When Kameoka drunkenly wanders off a film set chatting with his agent on his mobile describing a film he's passionate about, without a cut or crossing any physical threshold, he is suddenly tumbling into the middle of his next performance.
Here, Kameoka has appeared for an audition with an internationally renowned Spanish director named Alan Spesso, who sought him out specifically for the paradoxical simplicity and complexity of a past performance. Laying Kameoka down on the steps of the staircase, Spesso offers him uncertain instruction: "To me, Mr. Kameoka, a film can be likened to sea-sickness. The boat has left port. Show me your sea-sickness." Kameoka rises, a pale wall appears behind him, where a complex shadowplay is cast, becoming an entire ensemble of performers supporting Kameoka's movements, which—responding to directions shouted in staccato Japanese interpretation from Spanish—tell the story of love and loss amidst war and death. This moment marks the apotheosis of the film's blending of Kameoka's onscreen roles and his performance of everyday life, pulling aways the screen to reveal the brilliance of this actor's movements, as well as the abandon with which he executes them. As Kameoka's functional alcoholism and longing for love becomes more clear, the film teases a reflexive, existential drama on the role of fantasy in everyday life. As someone with a recognizable face but unknown name, Kameoka volunteers false identities—such as traveling bowling ball salesman—at his convenience. Outside his time on set, or at the bar, his interactions all take the form of missed connections: he waves back at a stranger eagerly gesturing toward him only to see her attention is directed toward a group of friends calling to her through nearby window, or in the romantic inquiry that becomes a defining fascination of the plot, a possible misrecognition or exaggeration of a charming meet cute fit for a romantic comedy. On a shoot in Nagano, Kameoka's love interest is found in the proprietor of a local bar, Azumi Murota, played by the truly great Kumiko Aso (also featured in Yokohama's Ultra Miracle Love Story, AKA "Bare Essence of Life," of 2010). But the roles they will play in each other's life are unclear, and tension pulls at the degree of control they both have over their fates.
In the title role, Ken Yasuda, known in Japan for supporting roles at a somewhat higher but still relative level to those of Kameoka, as well as his part in the acting unit TEAM NACS, and internationally for his many voice performances for Studio Ghibli delivers a career-defining performance befitting late Chaplin or early Keaton. Here adapting Akito Inui's novel, Yokohama approaches the film with the same daring focus on a social misfit she did with her first two features German + Rain of 2007 and Ultra Miracle Love Story, each from her own original script. Having directed three shorts since 2010, Yokohama's return with The Actor is a true cause for celebration.