Featured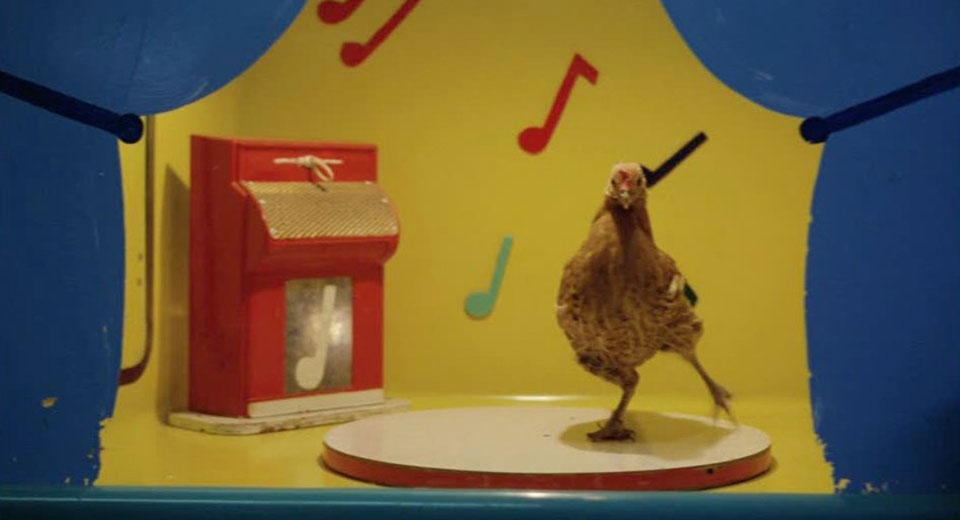 July 30th 2017
1977 was a big year. It was the year the Bronx burned, Groucho Marx died, and Philip K. Dick's A Scanner Darkly was published. The Film Society of Lincoln Center has decided to place a special emphasis on it because it was also the release year of many of the most memorable films of a decade that we tend to associate with fiscal crises, disco, and political terrorism. Film Forum is calling attention to the recession aspect, naming its 70s in New York series after President Ford's famous ultimatum to the crime-, drug-, and graffiti-ridden city: "Drop dead!"
Highlights include Wim Wenders's first international movie (starring Dennis Hopper and adapted from Patricia Highsmith), Robert Bresson's penultimate film (banned in France for advocating suicide), David Lynch's first feature (its protagonist's haircut now proverbial), and Luis Buñuel's last film (its director having turned—gasp!—77 during its production). The biggest movie of '77, Star Wars, is not included, but the year's #2 box office-grosser, Burt Reynoldsvehicle Smokey and the Bandit , is.
But the release of a handful of classics of New German and American independent cinema is not enough to explain the near-mythical status that some accord to the year 1977. Italian philosopher and cultural critic Franco "Bifo" Berardi has written about it as a "year of premonition" for capitalist civilization. It was a "year of violence," bringing with it massive riots throughout Italy, the kidnap-murder of ex-Nazi industrialist Hanns Martin Schleyer by German leftist armed struggle group the Red Army Faction (whose leaders also died that year, in prison, under mysterious circumstances), and an unprecedented wave of youth suicides in Japan—784 according to Berardi, while the CNN reported in 2015 that "[more] than 18,000 Japanese under 18 years old have taken their own lives since 1972." (It was also the year Suicide released its first, self-titled album.) Steves Jobs and Wozniak registered the Apple trademark that year, which Berardi sees as indicating the beginning of a new age of cybernetic control. It's the end of modernity and the beginning of postmodernity, the replacement of the kind of open-eyed innocence and "utopian rebellion" represented by Charlie Chaplin (who died on Christmas Day that year) by a dystopian imaginary woven by the likes of Philip K. Dick and William S. Burroughs. Last but not least, Berardi claims that the end of the modern project of political autonomy was announced by Saturday Night Fever , which advocated hedonist escape from the quotidian work cycle at the expense of collective action.
Berardi's theories may be a bit far-flung, but the number 77 has started to exert such a magnetic attraction on me that I have to keep my guard up against the kind of near-paranoid pattern-finding he indulges in. A week ago, The New York Times commemorated the 40th anniversary of the 1977 blackout with an article that gathered New Yorkers' reminiscences about both the sense of community and the violence that it opened opportunities for. George Romero, the father of the zombie-apocalypse-as-political-allegory, died this week at the age of 77. The other day, I spotted a friend I hadn't seen in a while walking down the street wearing a jersey with a 77 on the back. AND, watching Assault on Precinct 13yesterday, I became saucer-eyed at the shot of Austin Stoker putting up a sign announcing the address of the new precinct as 1977 Ellendale Place!
Apart from Star Wars, notable omissions include The Serpent's Egg, Ingmar Bergman's Berlin-set foray into international filmmaking starring David Carradine, Rainer Werner Fassbinder's underrated literary adaptation The Station Master's Wife, and Sam Peckinpah's Cross of Iron, one of very few American WW2 movies with Wehrmacht soldiers as heroes. Still, there are many gems not to be missed, and the gesture of compiling a series around a more or less arbitrarily chosen year is an interesting exercise in itself.