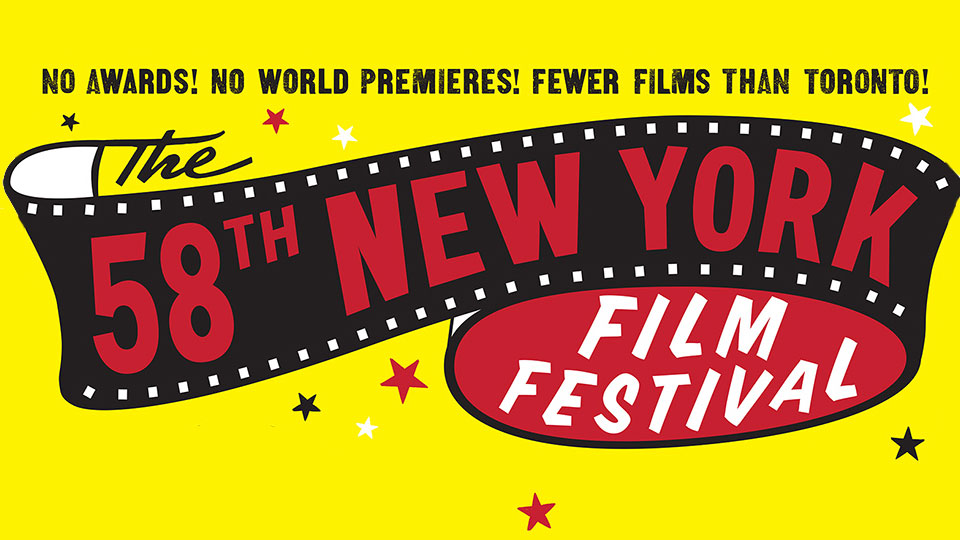 September 18th 2020
A new normal calls for new approaches. This year, Screen Slate is forgoing its capsule format and covering the 58th New York Film Festival with a series of weekly dialogs between its writers each Friday. Below, Screen Slate editor Jon Dieringer and longtime contributors Chloe Lizotte and Jeva Lange discuss the pre-COVID structural changes to the festival, its migration to a virtual format, and thoughts on films including Steve McQueen's Lovers Rock, Raúl Ruiz & Valeria Sarmiento's The Tango of the Widower and Its Distorting Mirror, Cristi Puiu's Malmkrog, and a handful of shorts that have so far made a memorable impression. We'll also have a few other writers chiming in with standard write-ups of films in the lineup as the festival progresses.
Jon Dieringer
Hi Chloe and Jeva, and thanks for your embrace of this correspondence-by-Goolge-Doc format!
This year's New York Film Festival opens nearly six months to the date that Film at Lincoln Center announced its suspension of programming. Because it's necessary to view the festival through that lens, it's easy to forget that this was already due to be a different NYFF: last September, FLC announced that Kent Jones would step down as Director of the festival and Chair of its selection committee, and less than a month before the COVID shut down, the festival shared that Eugene Hernandez would replace Jones as Director, while Dennis Lim would assume the expanded role of Director of Programming for NYFF. Then, in May, we learned of an expanded and restructured selection committee, as well as a folding of certain sections together — perhaps most notably, there's a new one called "Currents" that is sort of along the lines of "Projections" (which was a relatively recent rebranding of "Views from the Avant-Garde," the experimental film section — I'll write about this more in subsequent weeks).
As I understand, all the restructuring was planned in advance of the pandemic. But, of course, all of it's now filtered through an online context. So I'm curious how some of these shake-ups have affected the core festival experience, or whether we can really come to any conclusions given the drastic new form.
Personally, I think the changes to the programming structure are exciting. There's a lot of actual diversity in terms of the programmers' tastes, careers, ages, and backgrounds. And despite — or maybe because of? — what I imagine to be the postponing of many films, this is one of the strongest line-ups in memory. (Does anyone remember when the festival opened with The Walk? Does anyone remember what The Walk is without Googling it?)
Lovers Rock, the festival's opening film, also strikes me as an inspired choice given the circumstances: it's part of an "anthology" of five thematically linked mid-length films directed by Steve McQueen set in London's West Indian community during the late 60s to the 80s. Made for broadcast on BBC One in the UK and streaming on Amazon in the US, its inclusion speaks to a moment at which people seem inclined to disregard (or at least incessantly argue about) distinctions between theatrical feature films, broadcast television, and streaming series. And further to that trend, now we have brick-and-mortar venues and film festivals reinventing themselves as streaming channels and digital marketplaces. But there's also the interesting aspect of duration — screening contexts are often inhospitable to films that fall in the 20-to-75-minute zone. And just on the level of my own personal taste, I am thrilled to see a 68-minute short king occupying a prime spot in the New York Film Festival.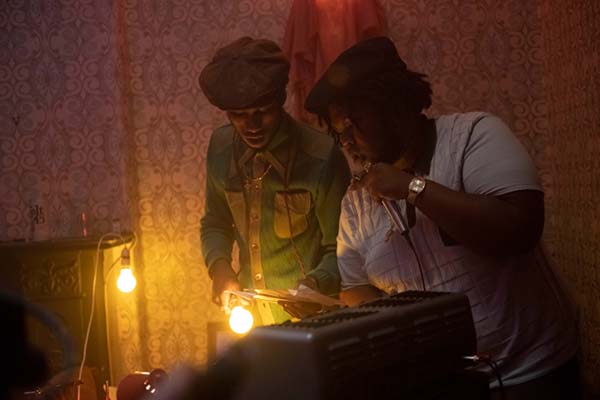 It also feels appropriate that Lovers Rock is set almost entirely within the confines of a small apartment. With a bare narrative thread — two people form an attraction at a reggae house party in 1980 — Lovers Rock is an enrapturing celebration of the West Indian diaspora and Black love. The vast majority of the runtime is composed of dancing to a soundtrack including Lee Scratch Perry, Errol Dunkley, The In Crowd, "Kung Fu Fighting," and show-stopping acapella version of Janet Kay's "Silly Games." (It also feels like a cousin to the music-oriented French coming-of-age TV anthology Tous les garçons et les filles de leur âge… ) The script by McQueen and Courttia Newland places incisive, pitch-perfect dialog in between these scenes that otherwise develop through furtive glances across the dancefloor and the acclimation of bodies to each other, carried by lead Amarah-Jae St. Aubyn's auspicious screen debut. It's a mood piece that in some ways feels suited to the intimacy of the home — but also made me miss being around people.
So the question remains: do people want to watch a film festival on their couch? The thing I like about festivals is basically buying a ticket for something, then bumming around until I stumblefuck my way into tickets to something else, or maybe a Stella Artrois reception in the lobby ("Furman Gallery") and meeting some Film Comment-famous French filmmaker whose movies I haven't seen. (FC RIP.)
The best screening experiences I've had during the pandemic — outside of Juan Piquer Simón's Pieces on 35mm at Mahoning Drive-In — have been social. Seeing a friend in a streaming chat isn't the same as giving them a hug, but it still feels good. (And you can sneak out without anyone noticing!) To the extent that a new screening culture develops online — whether because we're stuck in a continuing cycle of health, social, and environmental disasters that preclude the return of traditional film festivals, or as something that grows and flourishes parallel to new eschatological norms — the ability to make and nurture genuine social connections is really important, because that's what I think so many of us value about a film scene.
I've gone on too long to write much else until next week —.but in the meantime, I'm looking forward to digging into the Currents lineup, and maybe seeing if I can't wrangle a small gathering in my living room...
Chloe Lizotte
Hi Jon and Jeva! I'm excited to figure this year out with you — although, Jon, I make it my business to remember that movies like The Walk a) are real and b) have played the New York Film Festival in c) coveted gala slots. Before I court the ire of the Zemeckis-heads, I'm going to pivot this comment into an observation about the gala lineup: a sensuous anthology piece from Steve McQueen, a momentum-owning Golden Lion winner from returning NYFF hero Chloe Zhao, and what seems like a freaky twist on Sony Pictures Classics-bait from Azazel Jacobs (who directed the productively odd Terri and The Lovers, and who, it must be said, is Stream Slate artist Ken's son). Sure, you've got your Irishmansand Lost City of Zs spicing up recent memory with artistic integrity, but this year is a far cry from the usual dalliances with predictable (usually white, nearly always male) veterans or mind-boggling irrelevance like My Week with Marilyn (Centerpiece 2011) or Motherless Brooklyn (Closing Night 2019—also a horrific case study of how not to make a movie in New York).
Which is to say — it's a fresh and invigorating slate, with lots to look forward to in the structural changes that Jon describes. But as I type this, I can't help realizing I'm having these feelings for the first time. I've been eagerly hanging onto scraps of announcements as I've followed the rollout, but the adrenaline isn't there in the same way. Part of this is the lack of socializing, people-watching, and banter-overhearing, but a lot of this is the way that remote viewing necessarily flattens the festival into a continuum of my own quarantine experience. In between the abject horror and hopelessness that my screen feeds me every day, it's time to plug in the HDMI and pop off for the shiny new Tsai Ming-liang masterwork! ...For sure, I'm not complaining, and I'm grateful to have Days on the horizon. But I do miss the appointment viewing of running from the train, drenched in grungy sweat, and tumbling into a seat between disgruntled elderly folk before something perverse and austere like Albert Serra's Liberté. This community of filth and performative intellectualism is what the New York Film Festival is all about, and fuck, do I love it.
But the movies are a separate issue. I share your enthusiasm for Lovers Rock, Jon; it's a delicate work that opens up over its runtime, and in that way, a rich new mode for McQueen. I also thought of Tous les garçons:at its most rapturous, Lovers Rock calls to mind the serpentine dancefloor-weaving of Claire Denis's entry in that series, U.S. Go Home. And like Grégoire Colin's solo boogie in that film, Lovers Rock also sees dance as an undidactic release for the characters' pent-up anger and distress: the scene set to The Revolutionaries has a fluid pace that pitch-perfectly crests on the escalating energy of the room.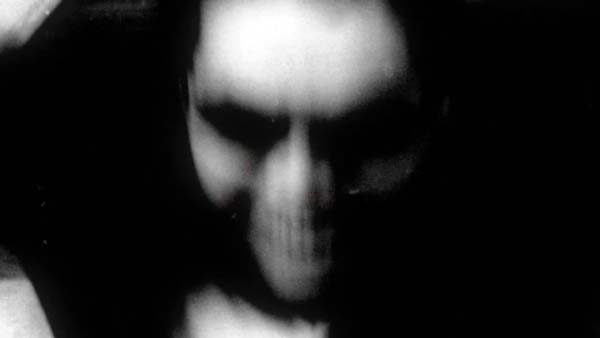 We had access to some Currents titles a few days before the Lovers Rock links went out, though—so technically, my NYFF "Opening Night" was a ghostly visitation from the Chilean avant-garde. To say that The Tango of the Widower is simply a Raúl Ruiz film overlooks what makes it so special: in 2017, Ruiz's widow, Valeria Sarmiento, unearthed the long-lost negatives for his would-be debut, originally shot in 1967. After she posthumously finished Ruiz's The Wandering Soap Opera — a droll shapeshifter told through intersecting fictional soap operas, like an arthouse episode of Mr. Show — Sarmiento set out to complete Tango, an elaborate project that involved lip-readers and body language experts to decipher a narrative without an audio track. It's both a Buñuelian horror movie about the haunting of a widower and a movie that wouldn't exist without a real-life push-and-pull from beyond the grave: the inventiveness and dry humor of the images only grow uncannier in Sarmiento's edit, which hinges on a trancelike pivot point. The spellbinding exuberance of the work surely springs from this eerie convergence—all building to a chilling final image that, contrary to the #OnePerfectShot school of cinematography, has a contextual vivacity you can't simply screenshot.
I couldn't help participating in Tango of the Widower a bit more than films usually ask me to, which I've been missing in the absence of regular filmgoing. So that might explain why I also can't stop thinking about Ricky D'Ambrose's new short, Object Lessons, or: What Happened Whitsunday (part of the New York Stories shorts program, but also programmed alongside Christian Petzold's Undine). He's operating on a level of intricacy that demands you plug in and catch up: brought to life through fictionalized archives, the short tells of a hypothetical far-right group in New Paltz, NY appropriating a college student's murder into a xenophobic political platform, but the physical location also folds an art dealer's estate auction into the mix. To walk us through this network of fearmongering and capital — invented, but totally plausible — D'Ambrose shuttles between images of handcrafted newspaper articles, repurposed French erotic etchings, and shots of deserted upstate landscapes, as haunted as the photography peppering WG Sebald novels. It's the type of piece that feels not simply unique, but abundant enough to sustain revisits from several angles. There are several moments from this first week of shorts that I think will outlast the binge-viewing — a deserted classroom prior to a lockdown drill in Sarah Friedland's Drills, and the neon-drenched cybersecurity freakout of Simon Liu and Jennie MaryTai Liu's -force- —but this kind of interaction is something else, and especially rare without the energy of a packed auditorium to raise the pulse.
Jeva Lange
Hello Chloe and Jon! I'm joining you this week from the West Coast — a somewhat discombobulating perk of the NYFF being virtual this year. That being said, I echo both of your senses of loss about the festival not existing in a physical and distinctly "New York" space in 2020. (To quote the ancients, if you don't nearly miss a $30 main slate film because of delays on the 1 train, were you really at the NYFF at all?)
Like most people in the film community at this point, I've done a lot of going back and forth on how to feel about virtual festivals; it's a tricky subject, and having never worked for a festival myself, I'm not an expert and defer to those who are. Part of me, though, is thrilled about the NYFF being at least temporarily available to people outside of the five boroughs. My first three or four years of attending the fest, I was going to college in rural Vermont — it took me an hour to drive to Albany, followed by a two-and-a-half hour trip on MegaBus, to get to NYC, and even then I could only see films that were playing on weekends due to classes. Maybe it's because I'm having to look on the bright side of everything right now in order to keep sane, but I'm just so, so excited for fellow far-flung film lovers who will get to experience what I expect to be a fantastic and — to sneak in another knock on The Walk — truly memorable slate this year.
While I had obviously expected the virtual film festival to be different from years past, I'm still surprised by how much it's changed my relationship with the movies so far. Like you were saying, Jon, the runtime of Lovers Rock could have made it an awkward choice for an opening night film in any other year (2019's opening night gala, for example, cost $120 a ticket for the general public; Lovers Rock would have run you more than $1.70 a minute). In 2020, though, it's a more natural fit. My only real regret was that for a movie that is so much about the way music forms community, I wasn't able to actually watch it around other people. I bet those drive-in screenings last night were fun, though!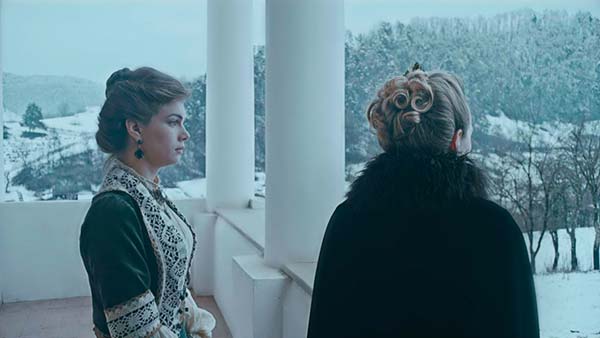 Malmkrog, the only other main slate film I've seen so far, is the complete opposite of Lovers Rock. Cristi Puiu's movie is nearly three-and-a-half hours long, almost all of which is spent watching aristocrats make dense philosophical arguments about good and evil in various rooms of their snowy Transylvanian country home. It's basically exactly the kind of movie you think of — either disparagingly or enthusiastically — when someone talks about something being festival fare. I admit it took some discipline to stay focused, with all the various distractions of home dinging and blinking and meowing around me, and which (usually) aren't there when you're in a dark theater. Nevertheless, I ended up really loving the movie — it's gorgeously staged, the costumes are stunning, and you slowly begin to realize there is a lot more going on then it first leads you to believe. (Being able to pause midway through for dinner helped, too.) I'd probably even watch it again if there weren't so many movies I still need to get through; I expect it to be one of my favorites of the festival.
Anyway, I'm heading back to my apartment in Queens this weekend, and then I'll be able to properly watch New York Film Festival movies in New York. For all my enthusiastic praise about how Film at Lincoln Center is handling the festival, I do still feel sad about being on the other side of the country right now. What I'm realizing is that the scale is turning out to be the biggest difference this year: rather than watch in a room the size of Alice Tully, NYFF screenings are taking place in a space the size of the whole city. And however easy it is to forget, that means if you're in New York, you're still surrounded by other people who are watching, too.
Until next time!
Images
Header image edited from 58th New York Film Festival poster by John Waters
Lovers Rock  courtesy of Amazon Studios The Tango of the Widower and its Distorting Mirror courtesy of Poetastros Malmkrog  courtesy of Shellac