Featured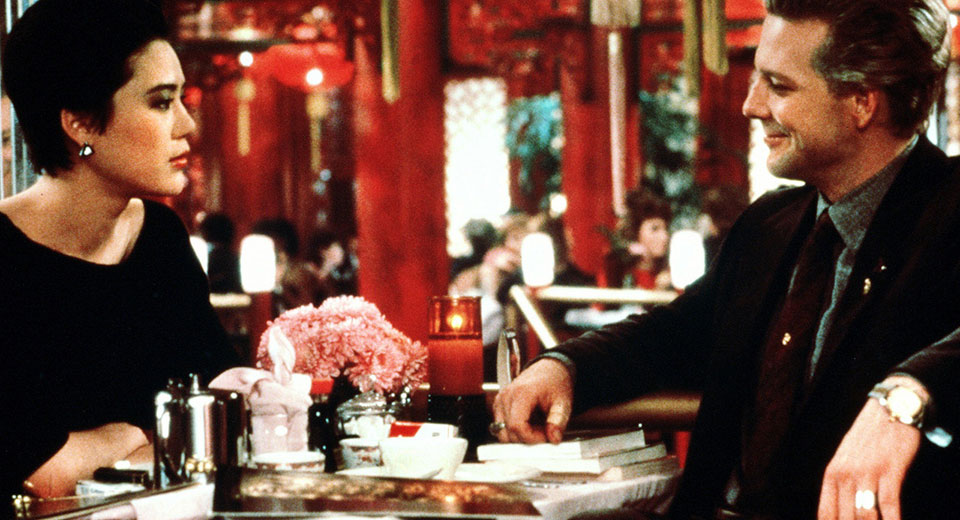 October 8th 2017
New Yorkers who wind their way through the trendy streets of Chinatown to Metrograph for Year of the Dragon this evening might find themselves in the theater trying to suss out something familiar. Where is East Broadway? Canal? Grand Street, to the north? Michael Cimino's neo-noir portrait of one of the oldest Chinatowns in America is lit instead by brilliant neon signs and streets crowded with potential murderers. "This is not the Bronx or Brooklyn," explains Polish police captain Stanley White (played by a dashing Mickey Rourke), who has recently returned from Vietnam. "It's not even New York."
Indeed, it is not — it's a soundstage somewhere in Wilmington, North Carolina, where Cimino has splashed his elaborate vision of one of New York's most famous ethnic enclaves. As an experiment in excess, Year of the Dragon is eye-popping: A shootout in a Chinese restaurant is obvious inspiration for some of Quentin Tarantino's later over-the-top choreographies and a Chinese-Japanese-American reporter's (Tracy Tzu, played by Ariane) apartment in DUMBO is so breathtaking that it's hard to pay attention to the characters in the foreground.
Stanley, though, doesn't appreciate the nuances of the district he's vowed to protect. Instead, taking on the young triads of Chinatown becomes an extension of his vendetta against the Viet Cong — never mind that the Chinese and Vietnamese are obviously two different peoples.
Cimino (and Oliver Stone, who co-wrote the script) at least seem more aware of the complicated arena they've stepped into than their protagonist does — the bloody history of the Chinese workers who built America's railroads is intoned like a school lesson and Stanley, in a moment of rare self-awareness, tell Tracy: "I think I even hated you before I met you."
But by letting his imagination run wild in his constructed Chinatown, Cimino is exoticizing a district where, a few decades on, even the people who gave the neighborhood its name have begun to be priced out. Year of the Dragon, then, offers a glimpse, however falsified, of New York's Chinatown before it became a destination for Danny Bowien's koji fried chicken, "lifestyle" micro-eateries — and a theater run by a tie magnate.