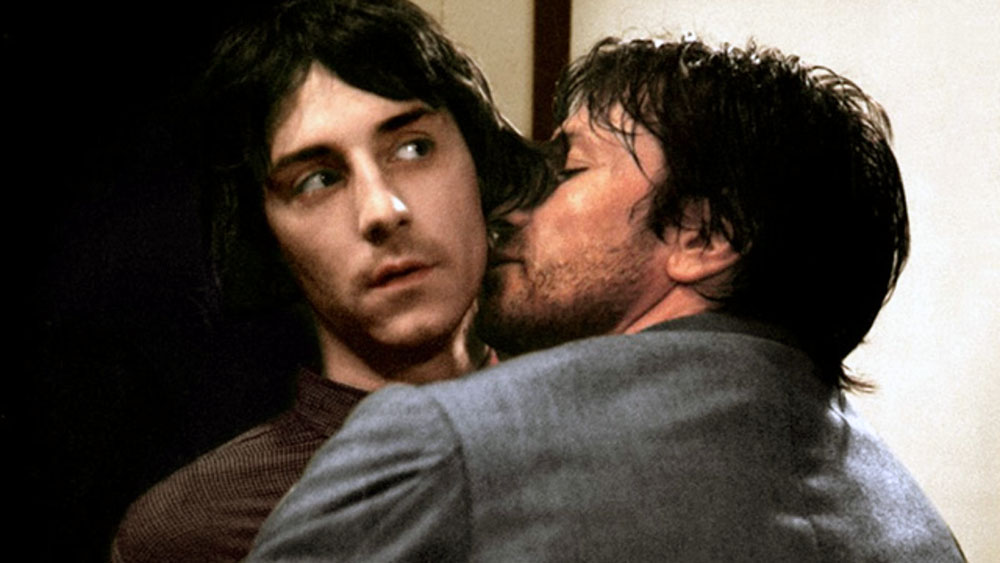 January 5th 2023
In Patrice Chéreau's The Wounded Man (1983), Henri (Jean-Hugues Anglade), a feckless teenager, is dragged by his parents to a train station to see his sister off on some unnamed journey. There in the crowded station of his provincial French town, Henri finds himself aflame in the probing eyes of other men. As he descends a winding stairway into a public bathroom, a gaggle of young men rush past him in the other direction. "Beat it—don't stay here," one implores, as the sounds of a man moaning in pain are heard in the background. But Henri keeps going and finds Jean (Vittorio Mezzogiorno) beating an older male client. Jean, a handsome hustler with a perverse understanding of the desires of others, passionately kisses Henri before asking him to retrieve money from the pockets of his victim. Henri throws himself onto the floor at Jean's request, only to find him gone a few tumultuous seconds later.
Henri begins a desperate pursuit of Jean, the mercurial object of his obsession and the symbol of his sexual awakening. He leaves his parents' home and takes to the street like a feral animal in search of the man who kissed him, but also anything else he can find—encountering lust, humiliation, and beauty along the way. As Jean uses and eludes him, Henri sinks into a twisting underworld that unfurls in filthy ribbons of violence and missed connections.
At a pivotal point in the film, after he wakes up in the apartment of Jean's long-suffering lover, Elizabeth, Henri undresses and puts on Jean's dirty clothes. Outfitted as the hustler, he becomes like Jean, but wilder, as if through his longing he's allowed himself to explore the depths of his own abjection.
Chéreau, an acclaimed opera and theater director who began making films in the mid-1970s, spent six years writing The Wounded Man alongside the writer and activist Hervé Guibert. The script, which is remarkably pared down and lucid, gives way to a labyrinthine world of complex ideas and emotions. There is a literate sophistication to the film's daring rejection of purely rational motivations.
Chéreau's film shares its name with Gustave Courbet's self-portrait, The Wounded Man (1844), a painting intended initially to portray the heroic suffering of the artist. Courbet originally pictured himself reclining with a woman at his shoulder. Ten years later, at the conclusion of a love affair, the artist revised the painting, replacing the woman with a sword and spotting his chest with blood, symbolizing a lost duel. In The Wounded Man, love and annihilation are never that far apart.
The Wounded Man screens January 5-12 at Anthology Film Archives in a new digital restoration.