Featured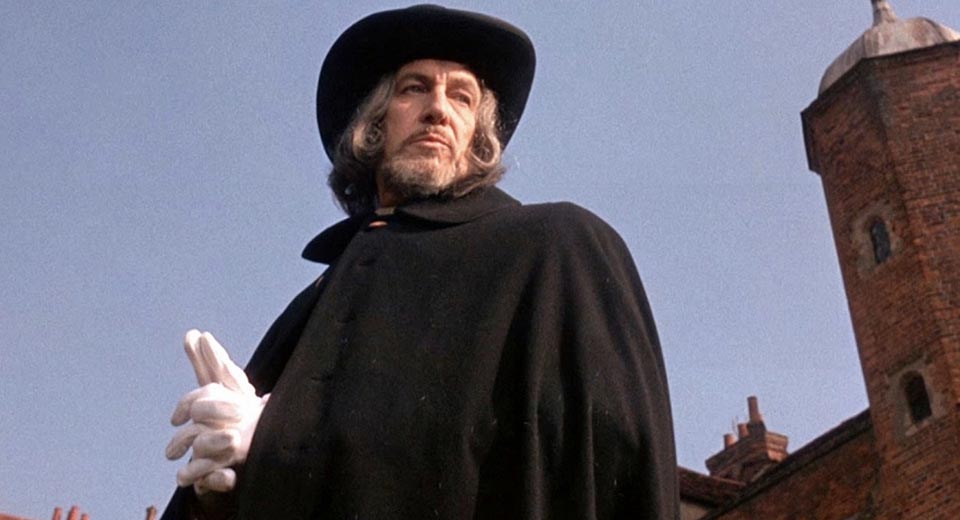 October 16th 2019
At the height of the first English Civil War, a little-known Suffolk man named Matthew Hopkins manipulated the political turmoil and religious superstitions of the time to gain power as a traveling witch-hunter. In his brief tenure as "Witchfinder General," a title he bestowed upon himself without the approval of Parliament, he is believed to have been responsible for the execution of 300 women between the years 1644 and 1646. In his portrayal of Hopkins over three hundred years later, Vincent Price gives the performance of his career, sacrificing his trademark camp to capture the unforgiving brutality of a true villain.
Vincent Price was not director Michael Reeves's first choice for the lead in Witchfinder General (retitled The Conqueror Worm in the United States), but it's difficult to watch the film and not wonder whether the animosity between the two personalities didn't somehow push Price to prove himself, to show that The King of the Grand Guignol could have a place among a new generation of horror cinema trading in dismal tonality and social commentary. As we watch Hopkins travel the hillside from village to village shrouded in a black cloak, weaponizing Puritanism in order to indulge his own sexual sadism and misogyny (yet usually from horseback at a distance), it feels like a stomach-churning twist on a Hammer Films character. However, in this film the existence of witches or the occult is never a question: the grim barbarism and cowardice that overtakes a desperate society ever too easily is plainly on trial.
Witchfinder General also represents the ignition of an impressive career for Dutch cinematographer John Coquillon (Straw Dogs, The Changeling), who went on to become a frequent collaborator of Sam Peckinpah after this work on this film. It also suggested a promising career for Reeves, which was ultimately unrealized. Reeves was a mere twenty-four years old when he made Witchfinder General and died only a year after its release from accidental overdose. This film radiates his powerful voice throughout, so much so that even his foe Vincent Price himself went on to give Reeves the credit he deserved.