Featured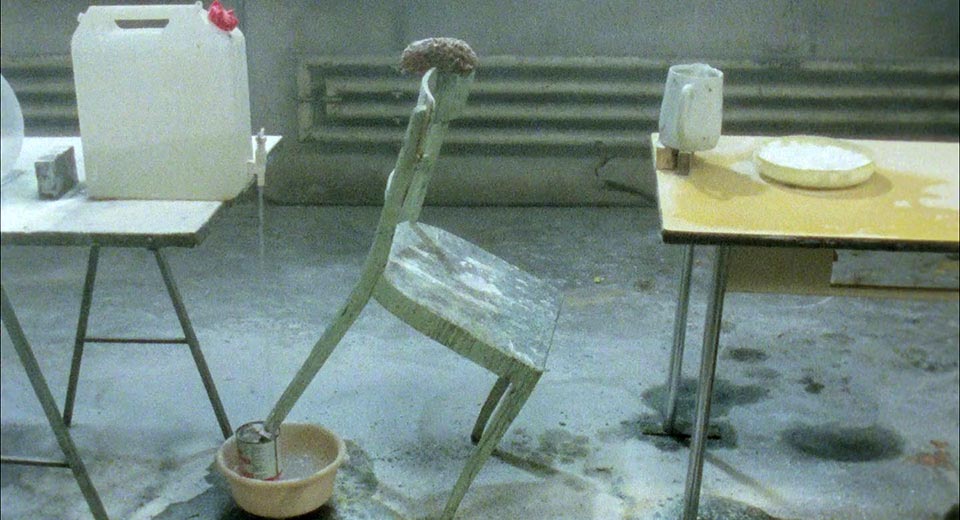 September 23rd 2018
It begins inauspiciously with a twirling garbage bag, and the camera gradually pulls back to reveal that it dangles precariously over an upright tire. After a moment, one of the corners of the bag gently brushes the object below, providing just enough force to send it rolling in earnest – and so begins a series of chain reactions that constitute the most kinetic, combustible, and pyrotechnic avant-garde film ever made. Running at thirty minutes that seem to pass in an extraordinary instant, The Way Things Go is a cinematic realization of a Rube Goldberg illustration brought to life, staged and shot by Swiss artists Peter Fischli and David Weiss. Filmed almost entirely as a lateral tracking shot, it presents an ingeniously engineered makeshift procession of tires, matchsticks, ladders, foam, gasoline, bottles, balloons, chemicals, and cans – and quite a few improvised explosives – to ceaselessly fascinating effect. Like dance for camera, it's kinetic sculpture for film.
That Things has been relentlessly co-opted and copied by commercial and music video directors does nothing to diminish it. Presented as an unbroken action linked by "concealed" edits, it suggests an affinity with Alfred Hitchcock's Rope. But more to that point of comparison, it shares a gripping narrative's sense of suspense: despite the fact that any reasonable viewer understands that the film has been carefully constructed through trial-and-error and multiple takes, Things remains nail-biting throughout in moments at which the intended reaction isn't immediately apparent or has perhaps failed to materialize. (This is usually when some slow, faintly perceptible chemical reaction causes something to suddenly blow up.) The movie is also a thoughtful catalog of textures and things that suggest the latent possibilities of the mundane objects populating the artist's studio. At the risk of sounding precious, The Way Things Go is a paean to ingenuity and the creative act itself. It's also been suggested that the film is "apocalyptic," and insofar as I could see it giving my doomsday prepper cousins ideas of things to do with the chemicals and junk lying around their shed, I suppose that's valid, too.
The Way Things Go is presented tonight at Metrograph, where it's paired with Chris Marker & Yannick Bellon's Remembrance of Things to Come,  an essay film about surrealist photographer Denise Bellon. It's one of the essential programs of the Icarus Films at 40 series.