Featured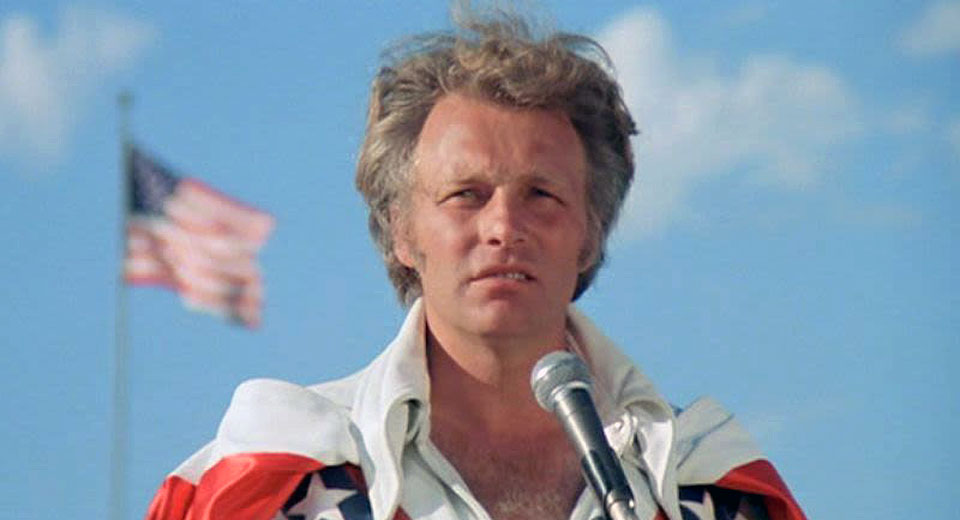 January 26th 2018
In the pantheon of American self-hagiographies— Glitter , From Justin to Kelly , The Art of the Deal —there's nothing like Viva Knievel! , playing tonight on 35mm at the Quad Cinema as part of their That's Me Up There: The Singular Art of Playing Yourself series. Unlike the other films in the series, which send up celebrity culture, Viva Knievel! is about one thing: how great Evel Knievel is. If you're unfamiliar with Knievel's work, he is most famous for having failed to jump over the Snake River Canyon on a rocket-cycle in 1974; he also literally jumped a bunch of sharks in Chicago in 1977 (though only in rehearsal after he seriously injured a cameraman).
The final of nearly seventy (!!) features from journeyman director Gordon Douglas, Viva Knievel! features a who's who of familiar and then-fresh faces onscreen: Lauren Hutton, Leslie Nielsen, Red Buttons, Marjoe Gortner, Frank Gifford, and Dabney Coleman all star, and Knievel's alcoholic mechanic is played by none other than...Gene Kelly? The plot is wide-ranging but mainly focuses on Knievel, his awesome stunts and his relationships with Kelly (a washed-up drunk), Hutton (a feminist photojournalist who, of course, falls for Knievel) and Gortner (Knievel's protege who is in with a bad crowd). There's drug smuggling, a psych ward breakout and lots of car chases—not to mention a genuinely catchy theme song that will get stuck in your head for much longer than you want.
Viva Knievel! is truly a one-of-a-kind film: a fascinating mess, a high-concept meld of 70s action and van movie tropes, a clearinghouse for old Knievel crash footage, and a blinders-on, laughably opportunistic portrait of a jerk—the film was a bomb, in part because Knievel and his real-life entourage beat a promoter with an aluminum baseball bat mere months after the premiere. Not such a hero after all, it seems! Viva Knievel! is an IRL A Burns for All Seasons , and it is not to be missed.