Featured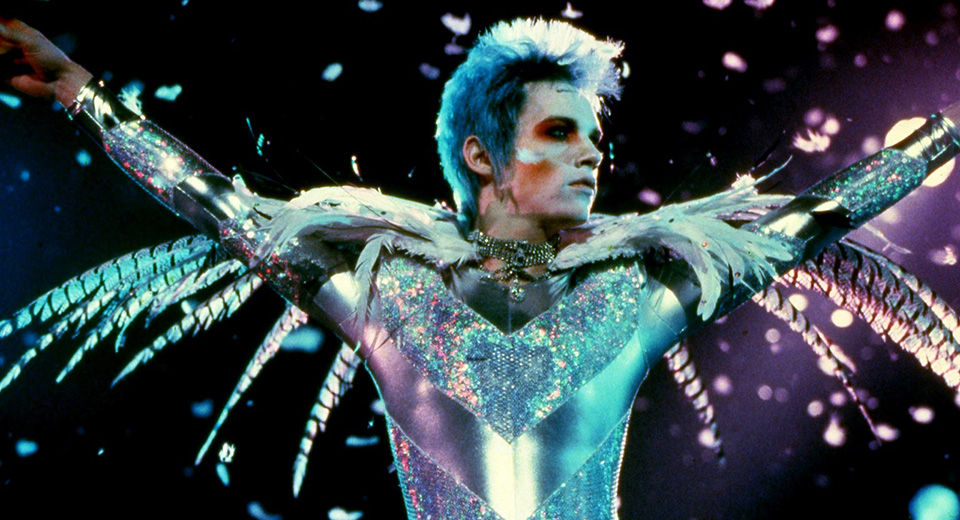 December 31st 2016
Ms. 35 returns! Read the first installment of 2017: Cinema Snoozing.
Alamo Drafthouse's  month-long 1990s soundtracks series continues with Velvet Goldmine, Todd Haynes' iconic, lipstick-kissed iteration of Citizen Kane. Set during London's riotous, preening, and regrettably brief glam rock era, Haynes' screenplay trades smokey newsrooms for greenrooms and worsted wool for gold lamé.
Jonathan Rhys-Meyers, at the height of his pouty allure, plays androgynous rock star Maxwell Demon—a short-lived sexual rebel who discarded loved ones and hangers-on like so many pairs of false lashes. A Greek Chorus of Demon's victims, their starlight dimmed by scandal and dulled by time, recount the idol's too-familiar rise-and-fall. Reporting from the un-glamorous Reagan '80s is an alt-weekly rock journalist (Christian Bale) whose hunt for the reclusive pop star opens this Pandora's Box of boyhood saudade and skin-tight pants.
A paean to youthful transgression and hot licks, the soundtrack has earned well-deserved place in teen bedrooms the world over. Covers from Jarvis Cocker, Brian Molko, and house band Venus in Furs (listen for Thom Yorke, and that guy from Suede) surpass the lad-rock zeitgeist by complementing, rather than merely imitating, the evergreen glam rock classics at its core. Instead of a sonic heist, Haynes creates an ad-hoc bloodline, connecting the "gay '90s" and the free-and-freaky '70s to a lineage of pop-worship and liberation that began, according to the film's creation myth, with Oscar Wilde and the green carnation set.