Featured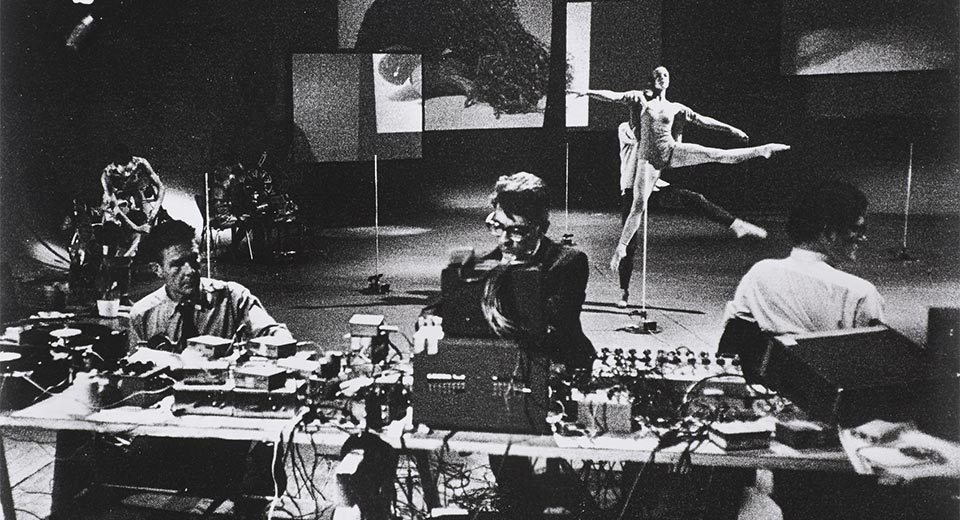 November 18th 2018
Merce Cunningham, the highly influential dancer and choreographer, was also a major catalyst for the 1960s art revolution that kicked through the walls of the quiet, static, galleries Abstract Expressionism's boldest proselytizer, Clement Greenberg, claimed were ill suited for performance, sound, technological or moving-image engagements. Variations V, Cunningham's ambitious multi-media collaboration with John Cage, is a prime manifestation of the tremendous creative rebellion that brought film, video, pop culture appropriation, technology, performance, and avant-garde music together in one loudly active space.
Tonight's screening of a filmed recording of Variations V (1966) at Anthology Film Archives previews an upcoming series celebrating Cunningham's centennial in 2019 that will highlight the role the moving-image has played throughout his career. The dancer and choreographer Gus Solomons Jr., who performed in Variations V, will introduce.
There may be no better way to begin such a moving-image focused series than with this complicated performance that defied stasis on every level. In addition to the already incredible array of engineers, musicians, composers, and dancers who activated a stage punctured by Robert Moog's antennae and Bell Labs engineer Billy Kluver's photo-cells, the filmmaker Stan VanDerBeek devised a set that included projections and screens showing echoing images of dancers, but also appropriated cinema and television imagery (manipulated by Nam June Paik). The assemblage, which VanDerBeek called a "Movie Mural," was an important moment in his exploration of Expanded Cinema.
The documentation of Variations V captures the wildly kinetic process of staging the performance, notably the ceaseless involvement of Cage, David Tudor, Gordon Mumma, and a company of other composers and musicians, operating a fifty-channel mixer and an array of tape recorders and radios. The overlapping movements of the musicians and dancers and the projected films conjured an experience that was, to that point, unprecedented.
This performance is co-presented by Electronic Arts Intermix (EAI) and the Merce Cunningham Trust.