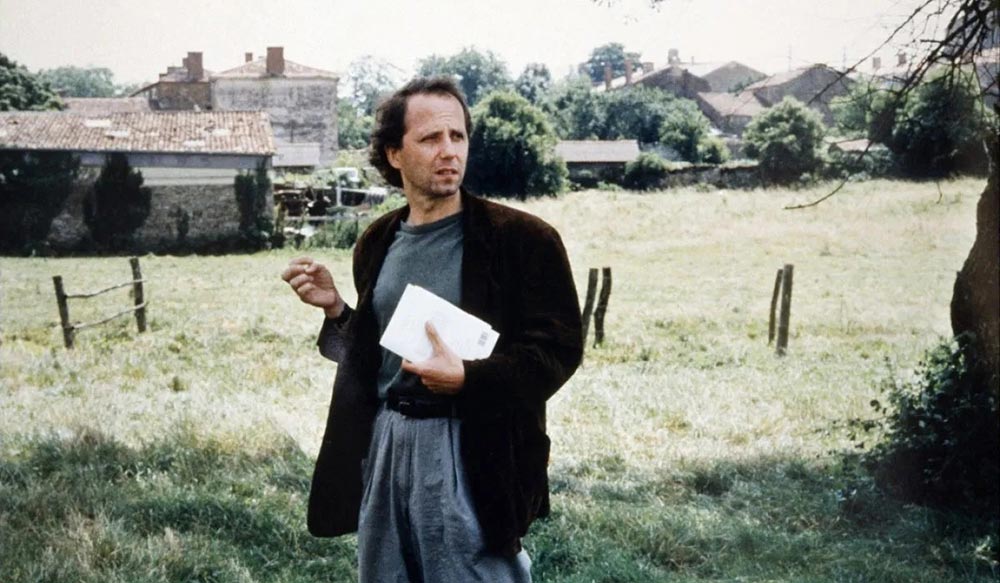 February 11th 2021
A standalone project nestled in the middle of the Tales of the Four Seasons cycle, Éric Rohmer's The Tree, the Mayor and the Mediatheque (1993) is a disarmingly personal film bereft of the romantic entanglements that have become synonymous with the director. It concerns the attempts of socialist mayor Julien Dechaumes (Pascal Greggory) to erect a modernist cultural center in his otherwise rustic town, and the casual criticism he weathers from his novelist girlfriend Bérénice Beaurivage (Arielle Dombasle), and the bemoans of the local school principal Marc Rossignol (Fabrice Luchini). Rohmer's ability to pull a casual sleight of hand is in full effect when the implicit drawbacks and virtues of each party's argument become increasingly apparent as the film continues. With such openness of expression amongst this combination of country folk and Paris expats, you can feel Rohmer's own Catholic, traditionalist (and yes, conservative) ideals at least partially represented by each character, as questions of progress are weighed against matters of necessity. Julien may be chided for utopianism, but Rohmer himself indulges in such by the end, via the pragmatic channel of compromise.
Although Rohmer's reputation is dogged by superficial accusations of being overly "talky," The Tree, the Mayor and the Mediatheque forgoes the informal conversational rhythms of films prior for a performative quality that delves into monologuing on certain occasions. There's Marc's anti-mediatheque diatribe, where Luchini visibly begins to relish each word as he grows more spirited (look out for his dramaticized enunciation of "parking en plein air"). Also see how Bérénice loses herself in verbally prioritizing the city within the city-country divide, as if her espousing of cosmopolitan Paris were about to give way to a bonafide musical number… one of which the film itself actually concludes with.
In an interview with Cahiers du Cinéma upon the film's release, Rohmer spoke of his distaste for film crews that leave small villages like the one in The Tree, the Mayor and the Mediatheque looking like "battlefields." With a working method that approached asceticism (shuttling actors from Paris only when absolutely necessary, sleeping on location), Rohmer worked with the same barebones crew he did on his other 16mm projects, The Green Ray and Four Adventures of Reinette and Mirabelle, and a similar, off-the-cuff warmth prevails, with pictorial shots of the countryside peppered throughout, and even an interview sequence with a smattering of farmers. The presence of children heightens this locational intimacy, especially when Marc's 10 year old daughter strikes the clear-eyed middleground the film has been searching for, expressing how unfortunate it is that large swaths of countryside––such as the one the mediatheque would soon call home––are cordoned off to children.