Featured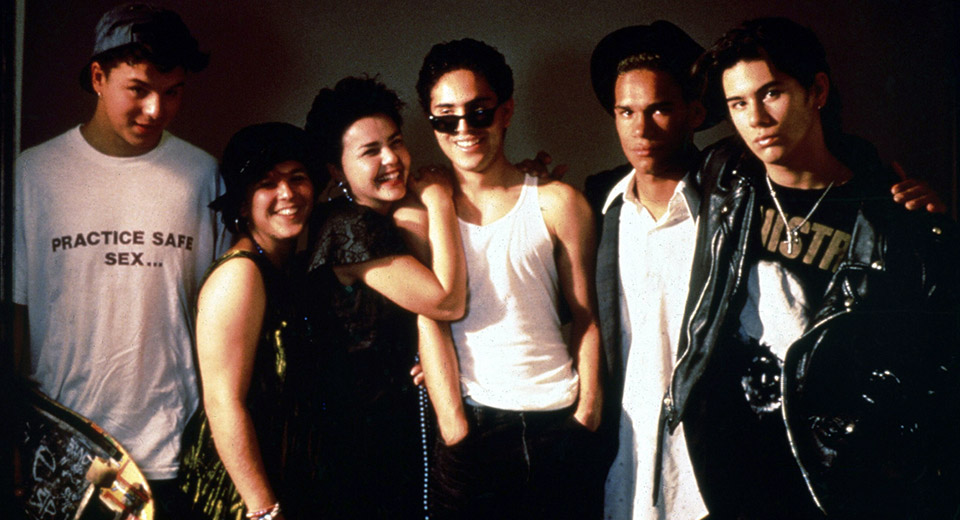 January 8th 2020
We've hit nearly three decades of Gregg Araki's teens predicting imminent planetary death with dry, good-riddance cynicism. Andy (James Duval), sprawled in the grass, dazed in the sun with a potential paramour, gives it around five years until the world is up in smoke, burned out by global warming. And yet here we still are. As Araki cribs from Nine Inch Nails in one of Totally Fucked Up's many intertitles, can this world (still) be as sad as it seems?
Totally Fucked Up (1993), Gregg Araki's fourth film, and the first with the semblance of a budget and a release, plays at the MoMA in a 16mm print as part of their international teen movie series. Tuned to a flatline register, the opening promises "another homo movie" before launching into a fragmented quasi-narrative about six late-teen friends — four gay guys and a lesbian couple — and the quotidium of their LA runaway existence; namely weed, sex, malls, and ever-encroaching fear of homophobic violence and HIV. The vignettes are tied together by a video project by the group's resident filmmaker Steven (Gilbert Luna), interviewing his friends on the state of being a lonely, disenfranchised gay and "shooting tadpoles at the moon." The film's meta structure and fifteen fragments recall Masculin Féminin, and Araki and his characters also quote Dennis Cooper and Jon Moritsugu (who would later share a producer and leading man with Araki). It's Trent Reznor that is lent the most credence, though; Steven recounts cheating on his boyfriend after going home with a guy to watch his bootleg NIN concert VHS. "It if was any other band," he bemoans, "I probably wouldn't have wanted to."
"Just another Saturday night in the gay Mecca with abso-fucking-lutely nothing to do," Andy drawls, pacing a garage with his date. They begin to discuss the recent suicide of two fifteen year old gay lovers in Milwaukee, a tragedy the frames the film and gives it its fatalistic undercurrent. In a tender scene, Andy decides that it's the most romantic thing he can think of.
Steven says that he is filming to portray the way things "actually are," and the film feels honest in its immediacy. This was before, of course, Ben Stiller aped the conceit to eye-rolling effect in Reality Bites. Steven's camera recalls the video activism of Gregg Bordowitz and Jean Carlomusto, perhaps un-coincidentally playing soon at MoMA in their AIDS video activism series "Now We Think As We Fuck." Digital video affirmed the existence of young queers at a time when their lives were under constant threat. Despite his tragic arc, Araki renders no one more alive than Duval, here in his first film role. Arakiheads know that he is a movie star: patron saint of the queer disaffected, a mopey martyr who radiates, even in the most underlit of Araki's DIY setups, igniting the passion of doomed generations to come in that "I Blame Society" t-shirt.
As of June 2020, Totally Fucked Up is streaming on the Criterion Channel.