Featured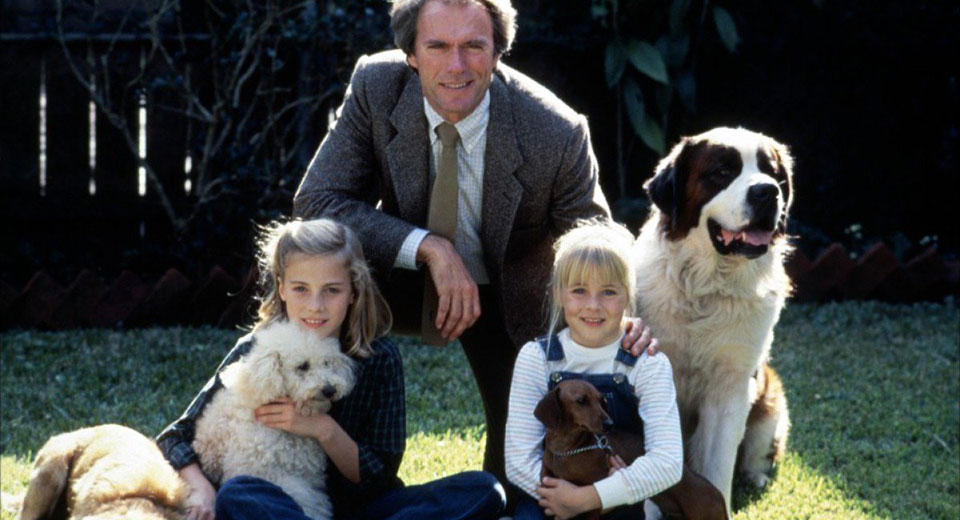 August 3rd 2017
Though it's the only film that Richard Tuggle is credited with both writing and directing, authorship is open to interpretation when it comes to Tightrope . Just a year after the release of Sudden Impact, Tuggle's screenplay sets Clint Eastwood on the path of a serial rapist/murderer, but as he follows the mystery through a series of New Orleans brothels, it turns out that this divorced father of two has a bit more than police work on his mind—setting up the remote possibility that Eastwood himself might actually be the murderer. Eastwood reportedly took over directing duties after finding Tuggle's pace too slow for his liking, but Tightrope is a weirder cocktail of stylistic flourishes than the usual Eastwood flick, full of extreme angles and goofy match cuts. The production design is equally insane, both gleefully over-the-top (Clint strolls through a funhouse of leering oversized puppets; the main source of light in a prostitute's room is an enormous aquarium) and quietly inexplicable (a mural-sized copy of the periodic table hangs on the wall of the police station).
Considering its story in isolation from its performances and design, Tightrope doesn't work. A useful point of narrative comparison might be William Friedkin's 1980 leather subculture thriller Cruising. By embedding their serial killer mysteries in S&M culture, both films (at best) hope to explore complex tangles of eroticism and violence, but they're too reticent to dig into their subject matter and emerge with anything substantial to say. As a consequence, both films conceptualize their protagonists as guessing games—could he also be the killer?, which also opens up troublesome links between kink and depravity—without seeming to have considered their inner lives beyond their narrative functions. It becomes a neat caveat to peddle that uncertainty as an evocation of the character's experience navigating a sexual underworld, but it also acts as a roadblock to the film having any real content.
Enter Clint Eastwood's unique brand of stone-faced impermeability. Tightrope calls for a slightly Bad Lieutenant-ified take on the Eastwood police detective, but he can't quite hint at an unhinged dark side in the manner that a Harvey Keitel or a Nicolas Cage might literalize it. Eastwood's furrowed brow may suggest brooding interiority, but the fire within is locked off to others; in The Beguiled or even The Bridges of Madison County, there's a disconnect between his loner persona and the sexuality these characters are supposed to exude. This makes for an unexpected tension in Tightrope—we're constantly trying to understand the inner life of Eastwood's character, but that's thanks to Eastwood; we never quite believe in Tuggle's gambit. Eastwood rarely seems comfortable inhabiting this character: wearing a snapback and tossing a football with his dogs and daughters; donning a drab suede blazer to go to work; gripping a half-eaten prop chocolate chip cookie between stiff fingers during a heart-to-heart. Tuggle throws Eastwood through the motions of sex scenes, but cuts away from his blank reactions before things progress. Is it his post-divorce soul-searching that's making it impossible for him to relax? Probably not, but his unease gives the proceedings a necessary jolt of weird energy.
Dropped into Tightrope from another film entirely is Geneviève Bujold, here playing the director of a local rape crisis center—which the film doesn't exactly flub or trivialize, but it's clear whenever she's onscreen that the film could use more of her. (The Quad hosts a retrospective of her work through the 16th.) Bujold infuses her handful of scenes with conviction and nuance that contrast with Eastwood's toolkit; she's one of the few characters we can imagine as a living, breathing human outside of the story. And Tuggle also seems to be after an earnest, if fleeting, engagement with feminism (which might go beyond the word count of this write-up, but check out Judith Mayne's chapter on Tightrope in her book Framed: Lesbians, Feminists, and Media Culture after you see the film). These lingering questions make Tightrope a fascinating mess, but often regardless of what Tuggle originally had in mind.