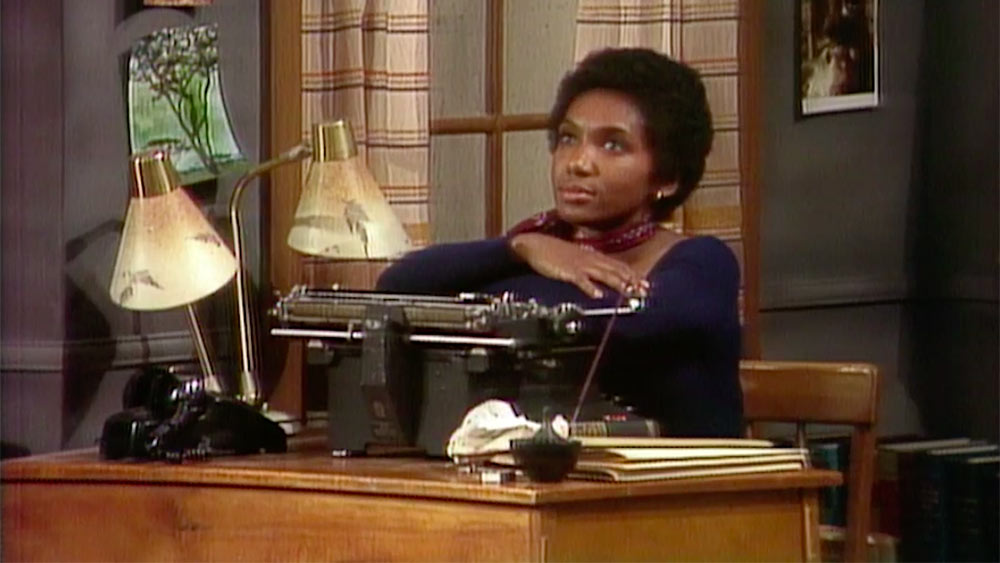 March 4th 2021
"I want to make life count. I want to do something about it," declares Jet (Gloria Jones Schultz) in the short film The Tapestry, written by Alexis DeVeaux and directed by Maya Angelou. Jet, a law student struggling to reconcile her aspirations to build a career rooted in social justice work with the expectations of her peer group consumed by relationships and lifestyle choices, experiences the epiphany of self-discovery conjured up by the stress of final exams. The Tapestry, originally broadcast on December 30, 1976 with a second short film, Circles, also written by DeVeaux and directed by Angelou, was part of the Visions series (1976-1980), produced by Barbara Schultz (no relation to The Tapestry's lead) for Los Angeles public television affiliate KCET.
Schultz, who began in television as a story editor on shows such as the anthology series "Armstrong Circle Theater" (1961-1963), before becoming executive producer of "CBS Playhouse" (1968-1970), was committed to developing original, dramatic material for broadcast. In a 1974 interview with The New York Times, she explained that her intention with Visions was to "try to discover what television can do in drama and to try to generate artistic activity in the field in all parts of the country." Visions invested in up and coming artists, and the series foregrounded stories that focused on gender, race, sexuality, national identity, portrayed in ways that were often considered controversial for their time.
The Tapestry, for Angelou, was an opportunity to continue honing her skills as a director. Angelou came to filmmaking in the 1970s with an already extensive and extraordinary resume in the performing arts. Highlights include being part of the European touring cast of Porgy and Bess in the 1950s; producing the show "Cabaret for Freedom" with comedian Godfrey Cambridge in 1960 to raise funds for the Southern Christian Leadership Conference, for which she would soon become the Northern Coordinator; and appearing in Jean Genet's The Blacks in 1961 at the St. Mark's Playhouse along with Louis Gossett, James Earl Jones, Abby Lincoln, and Cecily Tyson. In 1970, I Know Why the Caged Bird Sings, the first of her many memoirs, was published to rave reviews.
In 1971, Angelou became one of the first Black women to write a screenplay for a major motion picture, Georgia, Georgia (1972), for which she also wrote the film's soundtrack. That year it was announced that Angelou would adapt and direct her best selling autobiography as a feature film. In 1974, she participated in the American Film Institute's Directing Workshop for Women's pilot program, where she directed her first film, the short All Day Long. And in 1975, Angelou became a member of the Directors Guild of America, becoming the first Black woman to join the union in the director's category. The 1970s were a promising, yet difficult time for women filmmakers. Ultimately, Angelou did not direct I Know Why the Caged Bird Sings, which was made into a television movie in 1979 and helmed by Fielder Cook. She experienced more disappointment around this time on her next network project, the television movie Sister, Sister (1982) made for NBC, in which she received a "written by" credit. Reflecting on her time in Hollywood, in 1981 she told the Los Angeles Times, "I won't say I would never try again in Hollywood. I would have to be cajoled, wooed and promised so much." Angelou directed her first and only feature film in 1998, Down on the Delta, starring Alfred Woodward, Wesley Snipes, Esther Rolle and Loretta Devine.
However, during The Tapestry, Angelou was able to experience the possibility of her creative range by taking full advantage of the visually flat lighting and stage-like sets of the television studio to focus in on the protagonist's interiority as it fragments all over the place. Jet's anxiety to pass her exams drives the narrative, which plunges into a dreamscape of hallucinations: Has she missed the exam? Is that her hometown choir in the bathtub judging her? Can she memorize the law while radically reinterpreting its lessons? In 1976, public television could afford to give new filmmakers the freedom to explore topics that would be nearly impossible to produce for the major networks or Hollywood studios. Jet is a Black female protagonist infrequently seen in media during these years. She is studious, obsessed with her work, unruly, and possibly losing it, but finding her way at the center of her own story.
Visions: "The Tapestry" streams live-only, March 4 at 4p PST/7p EST through the UCLA Film & Television Archive. Free with RSVP.
"The Tapestry" is screened courtesy of KCETLink. It will be followed by a conversation between UCLA Film & Television Archive Research and Study Center Officer Maya Montañez Smukler and UCLA Cinema and Media Studies Associate Professor Ellen Scott.