Featured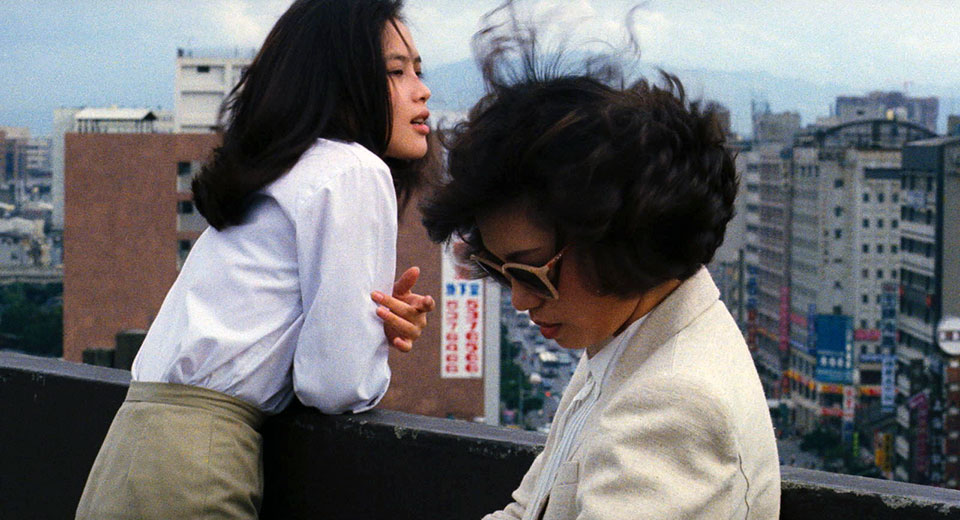 March 12th 2017
The most striking thing about Taipei Story is its environment—specifically the ways in which its characters relate (or don't) to the cracks and corners of a city changing faster than they expect. It's no surprise Edward Yang listed Michelangelo Antonioni and Yasujirō Ozu as influences; so much of the pleasure of watching the film is rooted in its masterful application of light, shadow, and color to express the emotional impact of modernization and globalization to great poetic effect. That something so insidious as a multinational corporate headquarters could look so sumptuous and alive is exactly the kind of contradiction Yang would have us confront and untangle—even now, 32 years later.
It's here that the mid-80s look of this "New" Taiwan is at its most picturesque: a mashup of towering neon signs, steamy streetside noodle shops, intimate domestic interiors where the bewildering East-meets-West aesthetic is ripe for review. Note the glazed ceramic Charlie Chaplin ashtray, the plastic fly swatter, wall calendars conspicuously designed in either Taiwan or America (and who hangs which). And then there are the cars. They dominate the landscape with an ominous indifference to whether the past and future can coexist in the minds and hearts of the humans who drive them—or don't, as when loser boyfriend Lung (fellow filmmaker Hou Hsiao-Hsien) sells his to pay off gambling debts, much to his girlfriend Chin's disappointment (Tsai Chin, elegant, stoic, and eerily similar to images of my own mother at that age—likely yours too if she clawed her way into the new class of 1980's Working Women). Pay close attention to the details, and the details will pay you back with memories you forgot you had.
Although the film certainly satisfies nicely as an early critique of late-stage capitalism, Taipei Story's message reaches beyond the corrupting influence of money. It's a film that explores (softly, tenderly) the uneasy effects of a growing cultural and generational gap as it plays out between childhood sweethearts; parents and children; rich and poor; men and women; Americanized and traditional Taiwanese. It seems Yang would like to remind us that this duality—a dichotomy ultimately defined by the inevitability of past and future—is omnipresent in the minutiae of everyday life. Down to the socks we wear, the rice we eat, and the songs we hear that make us want to jump up and dance (or sit still and cry). What's really at stake? Time, and its relationship to those who summon the strength to cooperate with it, as well as to those who don't.