Featured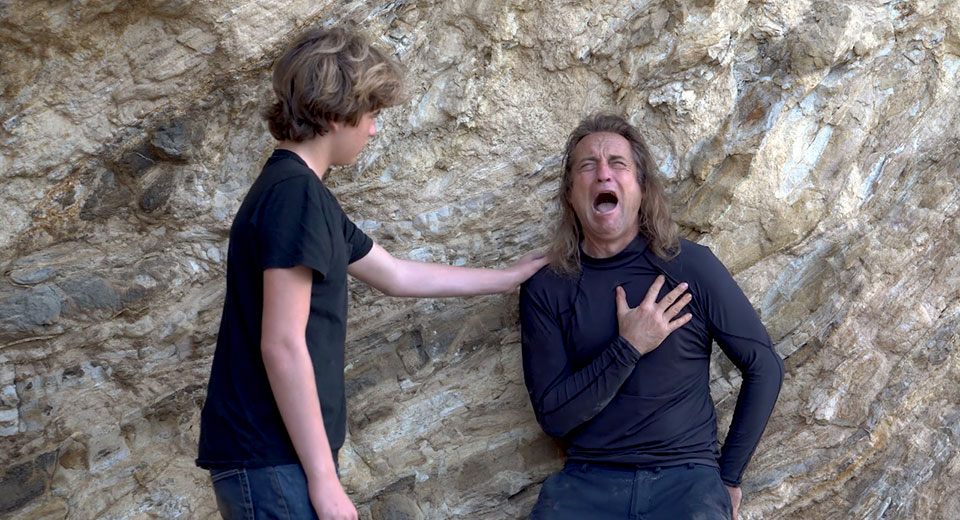 March 17th 2019
Wading in the same pool of quixotic megalomania as Tommy Wiseau and Neil Breen, USC physics professor and first-time filmmaker Douglas Burke's Surfer: Teen Confronts Fear shows at Spectacle this month in its New York theatrical premiere engagement. Sort of a cross between Ordet, Big Wednesday, the videos of James Fotopoulos, and a military conspiracy thriller, Surfer is a slow-cinema analog to its Adult Swim-approved forebears — Birdemic for serious movie heads and masochists.
As writer, director, producer, composer, and actor, Burke casts his son Sage as a recently orphaned teen who used to ride "the biggest waves" until a wipeout left him paralyzed with dread. While fishing in the ocean he reels in a man who appears to be his father. "God put me together out of squid and electricity, so I could talk to you for a few hours," the elder Burke says, and in an impressively bombastic ADR reading he discursively expounds upon what reads like a self-developed system of Judeo-Christian beliefs. (Due to his unstable condition, it's punctuated with his vomiting squid ink and shouting things like, "I'm living in an iron maiden of pain, boy!") This opening scene, diced up home surfing videos and a visit to a beached whale (serious Werckmeister Harmony vibes), lasts roughly the entire first half of the movie. Subsequently, per the trailer's promise of "military intrigue," Sage stumbles upon a nefarious plot involving a veteran's hospital, and, after making a spiritual pilgrimage to Thailand (more creative use of home movies), rediscovers his sea legs (yet more surfing footage). The audience emerges in the throes of existential reckoning, uncertain of what day it is or how much time has passed.
Although Bad Movie Culture is one new podcast away from making me want to abandon cinema for nobler pursuits like competitive vaping, I have to admit that Surfer: Teen Confronts Fear strikes a chord. It deserves to be widely celebrated, counter to its panning by Variety's Joe Leydon, which earned a rebuke form Burke, who extensively psychoanalyzed Leydon's response to the film in an interview with the website Flickering Myth: "If the critic would engage in the meditation prayer technique taught in Surfer he would receive the power to forgive his own Father for whatever happened and also he would be able to receive the love of Almighty Father in heaven into his body. He would be transformed from an angry critic acting as a crustacean murmuring a manic mantra of melancholy at the bottom of the sea into a great angelic whale who sings the joyous songs of heaven." May we all be similarly moved.