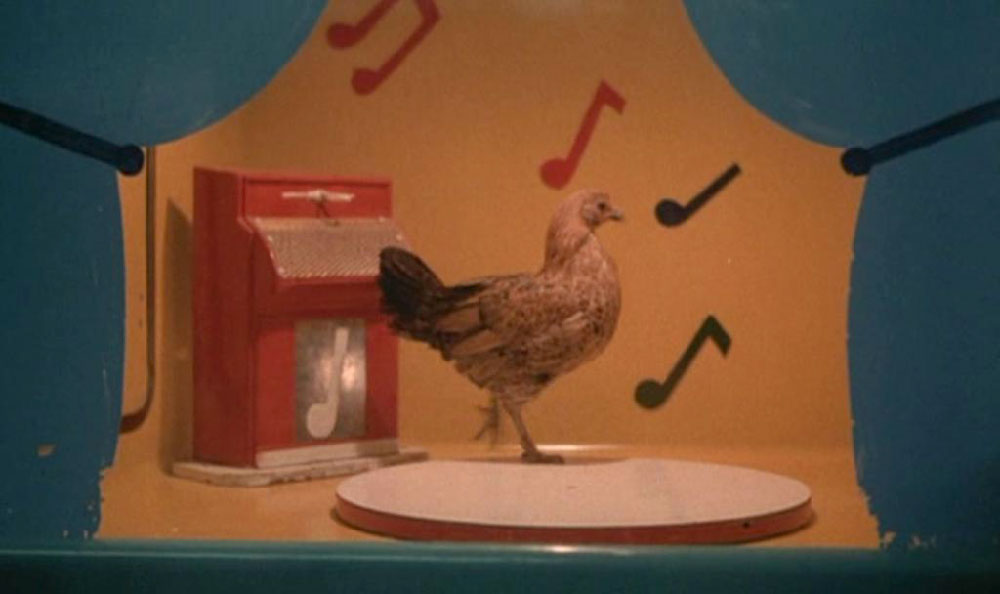 August 27th 2022
We can thank Werner Herzog's guilty conscience for Stroszek (1977). In 1976, after promising the lead in his upcoming film Woyzeck (1979) to Bruno S.—a musician Herzog had plucked from the streets of Berlin to star in The Enigma of Kaspar Hauser (1974)—the director replaced him with Klaus Kinski. Ashamed of his own fickleness, Herzog hastily produced a substitute film, whittling out a screenplay from Bruno's remarkable life. Stroszek features several elements of the real Bruno: his crowded flat; his courtyard musical performances; his tendency to refer to himself in the third person. Bruno also shares a backstory with his character. Abandoned as an infant, the artist grew up in a series of institutions, where during the Nazi regime he constantly feared for his life, at one point surviving an experimental brain operation authorized for use on orphaned children. His awareness of the world's cruelty is reflected in Stroszek's grim outlook, contorted by dark hilarity.
Stroszek is a film in two acts: the first unfolds in West Berlin, where Stroszek (Bruno S.) has been released from prison. He offers shelter to Eva (Eva Mattes), a down-on-her-luck prostitute, only to have his life made impossible by abuse from Eva's angry pimps. The second act plays out in rural Wisconsin, where Bruno and Eva flee with their neighbor Scheitz (Clemens Scheitz). Their hopes for a free and prosperous life slowly disintegrate as the new world reveals itself to be just about as miserable as the old one.
The '70s midwestern setting is like an uncanny dream, filled with bizarre details. The skyline is dotted by two farmers feuding over a strip of land, hoisting rifles over their tractors like lances in a joust. The set piece recalls another no man's land back in Berlin, also the product of an unremitting conflict, albeit on quite a different scale. So much of the characters' American lives are different, yet the same. Instead of violent gangsters, Stroszek contends with a chipper banker, who similarly robs him of his dignity and drives him from his home. Ultimately, the movie identifies culture and context as mere questions of style; everywhere, mortals are hostage to the same twisted rules and tragic cycles.
Herzog builds Stroszek out of individual moments: Scheitz's American nephew wrenching a tooth from his mouth with a pair of pliers; a premature baby hanging from a doctor's hand by his small, heroic fists; an auctioneer selling Stroszek's possessions in a tongue no person could possibly understand. And of course, there's the Herzog star more infamous than Bruno, or even Kinski: a dancing chicken, who reflects the pathetic condition of humanity through its hypnotized eyes.
Stroszek screens this morning and next, August 27 and 28, at Nitehawk Williamsburg.