Featured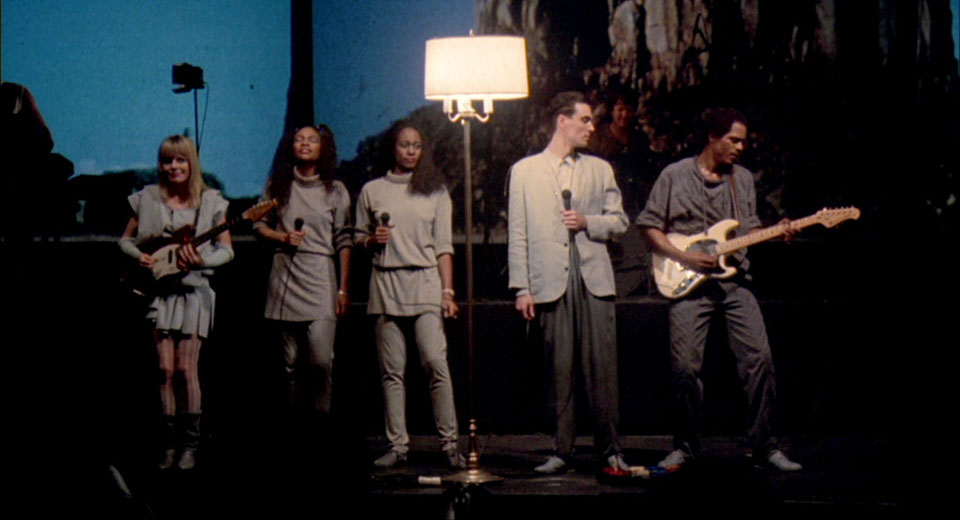 August 3rd 2017
Jonathan Demme's passing last April came as a deeper-than-expected blow. Despite working on plenty of big-budget Hollywood films, he wasn't a hit-maker; the wild success of Silence of the Lambs was an anomaly in a career encompassing indie dramas, intimate documentaries, classic remakes, and cinematic monologue. What did we lose when we lost him? Collaborator David Byrne nailed it: "One could sense his love of ordinary people. That love surfaces and is manifest over and over throughout his career. Jonathan was also a huge music fan—that's obvious in his films too."
Brimming with infectious joy, Stop Making Sense is a collision of Demme's passions. It's a deconstructed concert film focusing on the direct concert experience, not camera as experience-documenter or the band as personalities. Unlike the distant voyeurism of D.A. Pennebaker's concert work, where the artist is physically close but removed, we don't watch the Talking Heads "being rock stars" or see them behind the scenes. Stop Making Sense invites us right into the performance, nothing more or less.
Taking place at the tail end of the Talking Heads' 1983 Speaking In Tongues tour, Demme shot the film fast and cheap over four nights at L.A.'s Pantages Theater. The film's genius is that it understands scale. Instead of wasting the camera's privilege by putting us into the audience (where we've been), or tossing faces of idols at us, the first shot tracks feet walking onto the stage, letting us join Byrne in starting the show. When we finally pull back, the set is unfinished, mostly empty—backstage not as mythical realm but practical workspace. From there the show builds before our eyes, the performance becoming backdrop for the process of performing. One by one, singers and musicians come out as individuals and join the growing whole. Black-clad handlers wheel in set pieces. Wardrobes and instruments are carefully coordinated grayscale, with rare pops of colors.
Around 30 minutes, large-screen projections calling back to Talking Heads' art-school roots kick in, but the most compelling visuals are the band themselves—Byrne's frenetic dancing, the synchronized jogging of "Life During Wartime," the backup singers' slow bending back and snapping up during "Once In A Lifetime." The movie's (and the band's) most enduring icon, David Byrne's Big Suit, doesn't appear until an hour into the film, and even then for only one song. But it's an indelible image—a man dwarfed by exaggerated social normalcy. The sense of onstage spontaneity is its own performance—the show was completely storyboarded, right down to the dances. Yet everyone's having genuine fun, enjoying the process.
Filmmaking was a collaborative experience. The band secured all financing, and though Demme pointed out "most...dynamics arose from David Byrne's original vision," Byrne insisted "Jonathan saw things in the show that I didn't realize were there, or didn't realize how important they were." Jordan Cronenweth, cinematographer behind Blade Runner, Brewster McCloud, and Altered States (a triptych summing Byrne's alien mannerisms) lensed the concert. There aren't any audience shots until the end, giving the cozy sense each viewing is a special performance just for "us"—whoever's watching the film.