Featured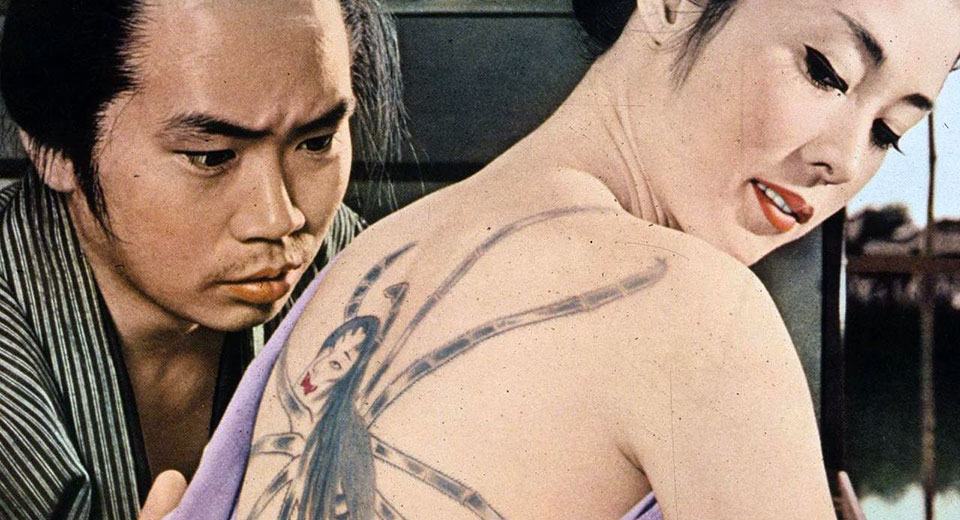 April 16th 2018
Together, Japan Society and Museum of Modern Art present the first major retrospective of supremely influential Japanese cinematographer Kazuo Miyagawa's work in over 35 years. He contributed ingenious camerawork and experimentation with lighting and color to the already innovative work of the era's most renowned directors, including Akira Kurosawa's Rashomon (1950) and Yojimbo (1961), Kenji Mizoguchi's Ugetsu (1953) and Yasujirô Ozu's Floating Weeds (1959). However, a lesser-known work to not miss in this series is the rarely-screened 35mm print of Yasuzo Masumura's The Spider Tattoo (1966).
The supernatural revenge tale stars Ayako Wakao (also of Floating Weeds) as a woman who is abducted, sold to a geisha house, and is tattooed against her will. Her tattoo, a large spider with the face of a human, casts a shadow over her body as well as her soul as she begins to feed on men who attempt to control her. Her vengeful lust becomes all-consuming and demonic as the spider's face becomes redder with each kill. Scripted by Kaneto Shindo (Onibaba, Kuroneko), it's an underrated entry in the proto-grindhouse subgenre of ghostly Japanese feminine retribution.
As for the focus of the film series, Miyagawa's color mastery is on full display in The Spider Tattoo. Inspired by the tradition of ukiyo-e woodblock prints, vibrant colors pop against a more muted tonal palette, emphasizing the emotions of the characters and highlighting the experience and internal turmoil of Wakao's character in particular. With this film Miyagawa creates a truly beautiful and bloody floating world.